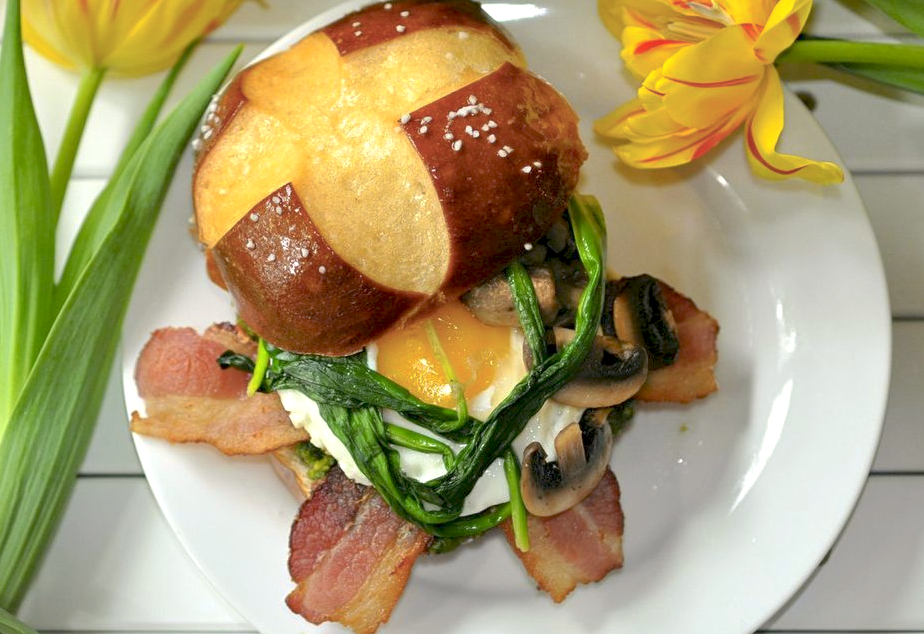 If you're a garlic fiend, ramp season is your friend. The wild-growing onion-garlic relative is hot stuff from March to about May every year. A few years ago, at my favorite D.C. Italian restaurant Bibiana, I had my first ramp pesto and it was killer — a fresher, more seasonal incarnation of a classic Genovese pesto. Now I'm hooked, and make it at home every year. I go through pints of the stuff every spring. As happens when your fridge is full of something, you slap the stuff on everything until it's gone, with varied results.
One morning, when I had a god-awful hangover, this sandwich was born. Eggs and bacon are the antidote to the previous night's excesses, and the ramp pesto gives the sandwich both garlic and heat. It has evolved each year, and mushrooms give it that extra umami kick that makes for the ultimate egg sandwich.
Ingredients
Ramp Pesto (makes about 1 pint)
2

bunches

ramps, leaves only

1

- 2 cups

Parmigiano Reggiano cheese, grated

1

cup

pine nuts, lightly toasted

1

cup

basil leaves

1

cup

olive oil

1/2

lemon
Sandwich
1

pretzel roll, halved, toasted if desired

1/4

cup

vegetable oil

1/2

cup

button mushrooms, sliced

salt

1/2

bunch

ramps, leaves only

3

strips

bacon, cooked crisp

1

egg
Directions
For the ramp pesto:
In a blender or food processor, mix the ramp leaves, cheese, pine nuts, basil and olive oil until you achieve a coarse paste.
Add the lemon juice, mix and taste.
Adjust the seasoning as necessary with cheese for more salt, and set aside in the fridge in an airtight container.
For the sandwich:
Put the roll on a serving plate.
Heat half the olive oil in a sauté pan and sweat the mushrooms with salt until cooked.
Add the ramp leaves and cook until they are wilted, then set aside the mixture.
Clean your sauté pan then set it over a medium-high heat.
Add the remaining oil to the pan and when it shimmers, add the egg and fry, seasoning with a pinch of salt.
For assembly:
Smear 2 tablespoons of ramp pesto on your pretzel roll.
Top with the bacon.
Add the egg, and then top with the mushrooms and wilted ramps.
Add the top of the bun and serve.
Chef's Note: If you want an egg that exactly fits the roll, grab a cookie cutter that's slightly smaller than the roll, spray it with some nonstick spray, and then put it in the oiled sauté pan. Crack the egg into the cookie cutter. Once the egg white is set, remove the cutter using tongs (it will be hot) and finish cooking.
Find more delectable egg sandwiches on Food Republic: