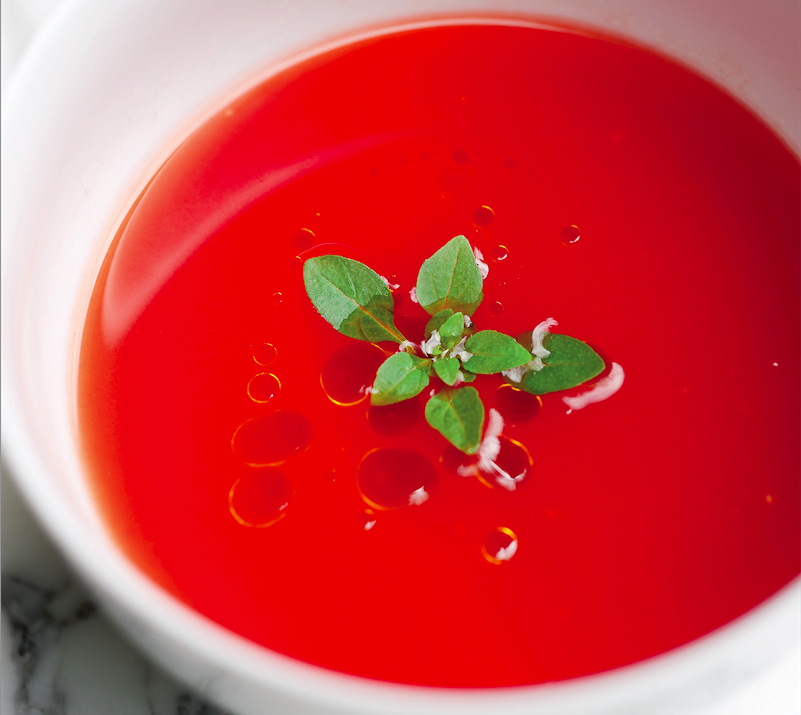 Food writer and cookbook author Belinda Harley is an authority when it comes to the food of the Ionian Islands off Greece's eastern coast. Her new book, Roast Lamb In The Olive Groves, is a contender for our favorite cookbook of the year with stunning photography of fresh Greek dishes we'll definitely be adding to our repertoire. Why ever cook your tomato soup when you can eat it raw?
This is an elixir: delicate and fresh. It is so simple that it hardly requires a recipe. Unlike the cold Spanish soup gazpacho, it is innocent of green peppers, cucumber, garlic, vinegar, olive oil, croutons and ice cubes; and it is kept at room temperature, so that the tomatoes' taste is uninhibited by refrigeration. First, bite into one of your tomatoes. If you experience a rush of fresh, explosive flavor, don't mess around with it! Forget cooking it, reducing it, drying it or adulterating it. When home-grown tomatoes are in season and you have a glut, this raw soup allows a really good tomato to express itself.
Reprinted with permission from Roast Lamb In The Olive Groves
Ingredients
4

pounds

ripe tomatoes

1

teaspoon

sugar (optional)

pinch of

salt (optional)

drizzle of

extra virgin olive oil

tiny leaves

of fresh basil

one hand grind of

black pepper
Directions
Pour enough boiling water over the ripe tomatoes in a bowl to cover them.
After a minute drain them, rinse in cold water and slip off their skins.
Chop roughly and transfer the flesh in batches into a sieve - then simply push the flesh through the sieve into a bowl with the back of a wooden spoon, wiping the underside of the sieve to ensure all the tomato pulp goes into the bowl.
Occasionally you will need to remove the seeds and pith that have accumlated in the sieve.
You will have a soft, pure, pale red liquid; add a teaspoon of sugar if your tomatoes are not very ripe, and a good pinch of salt.
Keep at cool room temperature, so as not to destroy the exquisite aroma and flavor, stir to mix and serve in small bowls.
Add just a drizzle of extra virgin olive oil and some tiny leaves of fresh basil; hand round a pepper mill.
Find more tomato recipes on Food Republic: