The Slanted Door's Famous Pork-And-Shrimp Wontons With Spicy Chile Oil Recipe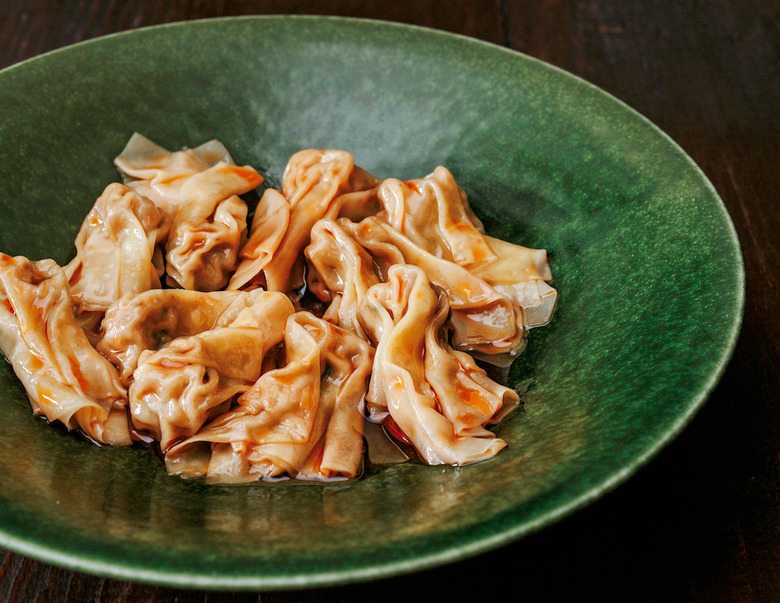 Photo: Ed Anderson
We may receive a commission on purchases made from links.
Charles Phan, chef-owner of San Francisco's pioneering the Slanted Door, was boiling up bowls of Vietnamese noodle soup long before most Americans had ever heard of pho — or knew how to pronounce it properly. That is to say, way before it was cool. In his second cookbook, a tribute to the chef's modern restaurant in the Ferry Building, he details the stories behind his favorite dishes.  
Wontons are ravioli-like meat dumplings that are traditionally boiled and served in soup or with a dipping sauce. Start with meat that is very cold — it will stick together better — and avoid the urge to overstuff the wontons. You should only use about half a teaspoon of filling per wonton. It's easy to make a big batch and freeze for later use. Once you've formed the wontons, freeze them in a single layer to prevent them from sticking together. Once frozen, transfer to a freezer bag. The frozen wontons will keep for a month. Do not thaw before boiling.
The Slanted Door's Famous Pork-And-Shrimp Wontons With Spicy Chile Oil Recipe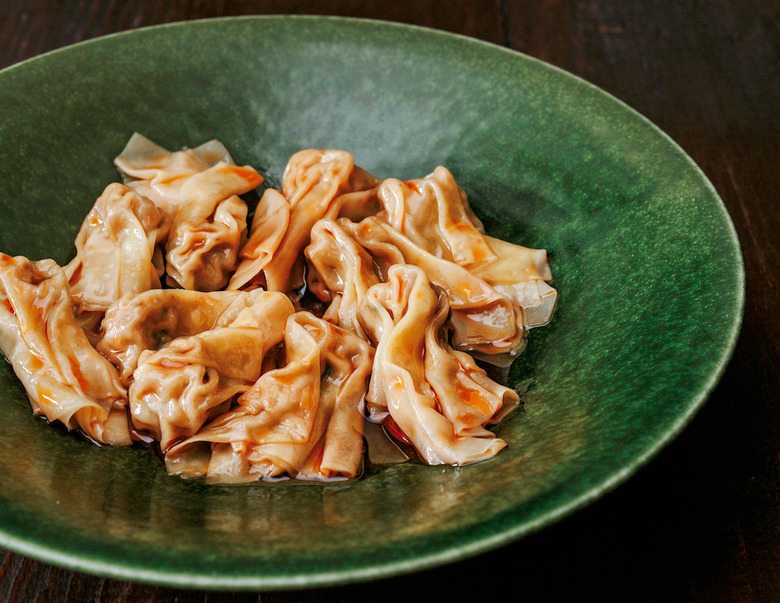 Ingredients
6 ounces ground pork
3 ounces shrimp
3 tablespoons chopped water chestnuts
1/4 cup finely sliced green onions
1/4 cup fried shallots
1/4 teaspoon fish sauce
1 tablespoon cornstarch
Kosher salt and ground black pepper
100 wonton skins (about two 1-pound packages)
2 tablespoons canola oil
1/3 cup canola oil
2 tablespoons red-pepper flakes
1/4 cup soy sauce
2 tablespoons rice vinegar
1/2 teaspoon sugar
Directions
To make the filling, in a large bowl stir all the ingredients together.
To test the seasoning, fry a small piece in a skillet and taste, adding more salt and pepper if necessary.
To form the wontons, turn the filling out onto a plate.
Hold a wrapper in one hand and, using your other hand, scrape about 1/2 teaspoon of the filling from the plate with a small spoon.
Place the filling in the center of the wrapper and pinch the wrapper so that the filling forms a ball and the extra dough forms a skirt.
Keep the wontons covered as you continue wrapping; you don't want them to dry out.
Bring a large pot of salted water to a boil over high heat.
Add 2 tablespoons of canola oil to the pot.
Add the wontons, about a dozen at a time, and boil until they float to the top, about 2 minutes.
Using a slotted spoon or a spider, remove the wontons from the water and set aside to drain in a colander.
To make the chile oil, in a skillet over medium-high heat, warm the oil until shimmering.
Turn the heat off and add the chile flakes.
Let sit for about 5 minutes, then strain into a serving bowl, discarding the red-pepper flakes.
Add the soy sauce, vinegar and sugar to the bowl and stir until the sugar is dissolved.
Sprinkle the sauce generously over the wontons.
Serve warm.
Spicy Cajun Crab Rangoon Recipe
Crispy Shrimp Gyoza Recipe
Smashed Shrimp Shumai Recipe