The Quintessential Baked Ziti Arrabbiata Recipe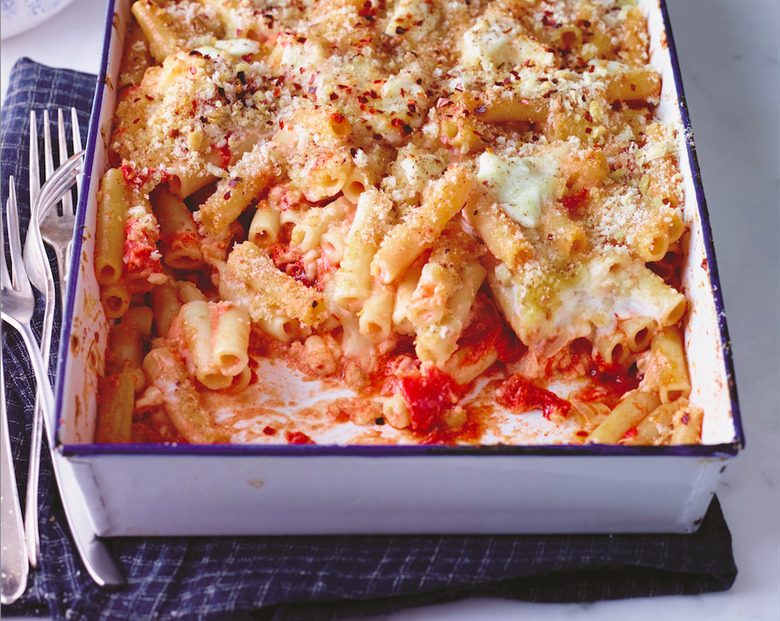 Photo: John Kernick
We may receive a commission on purchases made from links.
Dana Cowin is the longtime editor-in-chief of Food & Wine magazine, so you might think her kitchen skills are as strong as her editorial prowess. Take it from a self-professed dish-ruining home cook: sometimes you need a real chef to step in and show you the ropes. Cowin's new book, Mastering My Mistakes In The Kitchen, was inspired by (and with help from) some of the country's most beloved chefs, to bring your confidence up to your taste buds' level.
The last time I made baked ziti arrabbiata, based on one from the maestro of Italian cooking, Mario Batali, I started cooking early in the afternoon, giving myself ample time to "fail and fix" the dish if necessary. When I made the béchamel, I thought it was too thin, so I decided to reduce it — but it wouldn't reduce. I assumed my problem was using skim milk (the only milk I had in the house), but my diagnosis was incorrect, as I found out when I told the story to the Food & Wine test kitchen crew. They explained that béchamel never, ever gets reduced. If you want a thicker béchamel, you add more flour at the start. I realized I had to stop using my ill-informed instincts to solve a problem. Mistakes aside, this is my absolute favorite baked pasta, particularly when I'm cooking for a crowd. Mario told me it was one of his favorites, too, so I got a little more advice from him on perfecting it.
Reprinted with permission from Mastering My Mistakes In The Kitchen
The Quintessential Baked Ziti Arrabbiata Recipe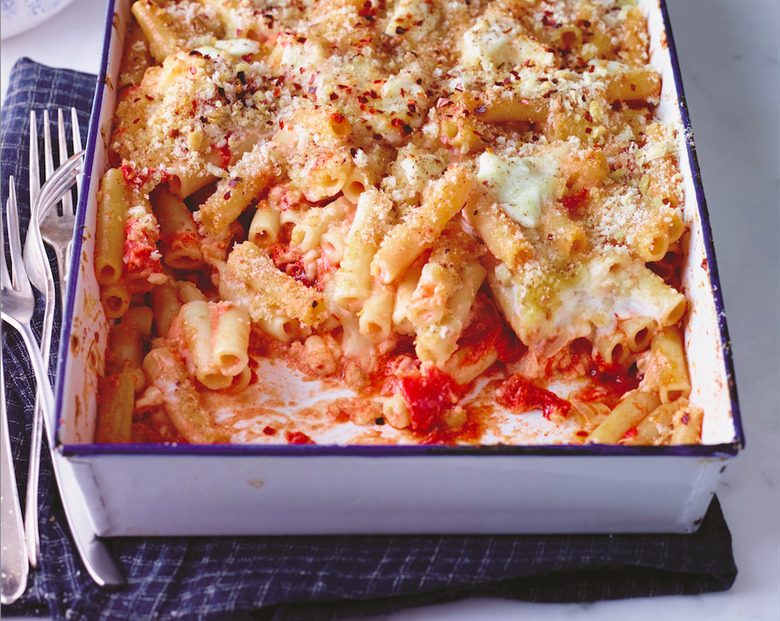 Ingredients
1/4 cup olive oil
1 clove garlic
1 1/2 teaspoons crushed red pepper
1 (28-ounce) can whole peeled tomatoes
kosher salt
2 tablespoons unsalted butter
2 tablespoons all purpose flour
2 cups whole milk
freshly grated nutmeg
1 1/2 pounds ziti
1/2 pound mozzarella cheese
1 cup freshly grated Parmesan cheese
1 cup coarse bread crumbs
Directions
Heat 2 tablespoons of the oil in a medium saucepan over medium-high heat until shimmering.
Add the garlic and 1 teaspoon of the crushed red pepper and cook, stirring, until fragrant, just a minute or so.
Add the tomatoes, with their juices, and a very large pinch of salt, turn the heat to high and bring the mixture to a boil.
Lower the heat and simmer the sauce until just slightly thickened, about 10 minutes.
Set aside to cool.
Meanwhile, melt the butter in a medium saucepan over medium heat.
Stir in the flour and cook, stirring, until a smooth paste the palest shade of brown forms, about 2 minutes.
While whisking continuously, slowly pour in the milk.
Bring the sauce to a boil and cook, stirring, until it is nice and thick, about 5 minutes.
Turn off the heat and season the béchamel to taste with salt and nutmeg.
Set aside.
Preheat the oven to 375°F.
Brush a 9-by-13-inch baking dish with olive oil.
Fill your largest pot with water, bring it to a boil and season liberally with salt. (You might need to cook the pasta in 2 batches, depending on the size of your pot.)
Add the ziti and cook it 3 minutes short of the package instructions—you don't want it to cook all the way through, or it will overcook when you bake it.
Drain the pasta and transfer it to a large bowl.
Add the reserved tomato sauce, the béchamel, mozzarella and 3/4 cup of the Parmesan to the ziti and stir well.
Transfer the mixture to the prepared baking dish and scatter the remaining 1/4 cup Parmesan over the top.
Toss the bread crumbs with the remaining 2 tablespoons of olive oil in a small bowl and season with salt.
Scatter the bread crumbs over the ziti, then sprinkle with the remaining 1/2 teaspoon crushed red pepper and a pinch of freshly grated nutmeg.
Bake the pasta until it is bubbling and the top is browned, about 15 minutes.
Let the pasta rest for 10 minutes before serving.
On how much water to use for cooking pasta: As much as possible. Imagine that you're dancing and want to be expressive, you need room. The pasta needs room to dance, too. If you're cooking less than 2 pounds of pasta, 8 quarts of water is fine. But you don't need to measure—just use your biggest pot.
On precooking pasta before baking: The package tells you exactly how long to cook. For baked pasta, cook it 3 minutes less than what's called for; it'll be super al dente. Drain it; don't ever rinse it.
On the benefits of béchamel:  When you bake stuff with béchamel, it stays moist and rich. You might ask, "Why not just add cheese?" Cheese breaks! Ricotta in the right hands tends to look wrong. Béchamel, even in the wrong hands, looks right.
On béchamel ratios:  For a light béchamel use a ratio of 1 tablespoon butter to 1 tablespoon flour to 1 cup milk.
On making béchamel: Your béchamel will go faster if your milk is warm (you can use the microwave), but don't worry if it's cold. Just take your time! If you add too much milk, just mix some cold butter with flour (this is called beurre manié) and whisk it in pinch by pinch until the béchamel thickens. If it starts to boil over, whisk it.
On other uses for béchamel: Allow it to cool so it gets firmer, then add carbonara ingredients (pancetta, Parmigiano-Reggiano, eggs, black pepper), to make a ravioli filling. Cook the ravioli and toss with butter. All of your pasta fillings will be twice as good if there's some béchamel in them—they will ooze. Béchamel is also great for a croque madame.
On nutmeg: Nutmeg adds exotic flavor to the béchamel; it takes it to another level.
On using canned tomatoes: Always use whole tomatoes because then you are in control of the product and know exactly what quality you're getting. Usually canned diced tomatoes are parts of broken whole tomatoes and crushed ones are a mix of all of the leftovers. Crush the tomatoes for the sauce with your hands. The pieces should be the size of your thumb—pieces that are too big don't let you get a bite along with other stuff. Everything should be in harmony.
On saucing baked pasta: The most important thing about a pasta dish is the pasta. Dress it like a salad. You don't want to lose the noodles—don't blanket them with cheese.
On bread crumbs: Cut slices of day-old bread and pulse them in a food processor. For this, I like what we call "fat boy" crumbs. Save finer ones for something like a Milanese.
On toppings: Sprinkle the Parmesan on top first, before the bread crumbs, so the cheese won't burn. A drizzle of olive oil will help make the crumbs nice and brown. And sprinkle crushed red pepper only on half so if some friends don't want it spicy, they won't go hungry.
On overcooked baked pasta: If it's overdone, just cut the whole thing into pieces, bread them and fry them!
Baked Ziti With Italian Sausage Recipe
Southern Mac And Cheese With Smoked Collards Recipe
Farfalle With Gorgonzola, Ham And Peas Recipe