The One And Only Zeppole Recipe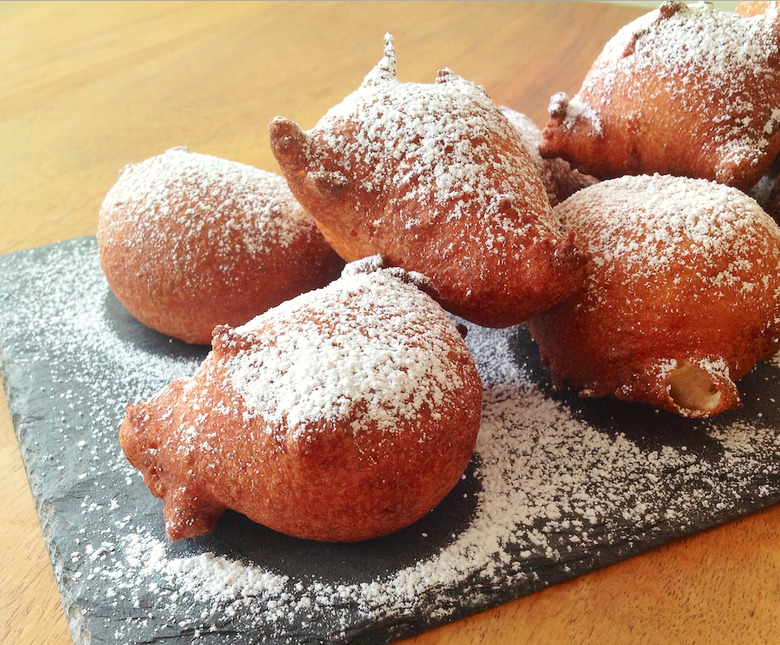 Jill Paradiso is a classically trained chef that blogs about her adventures in the kitchen at SavageandSage.com. This is her first in a series of Italian-American recipes for Food Republic.
Because my father's family is from Naples, come September we always went to the Feast of San Gennaro (Patron Saint of....Naples!) in NYC's Little Italy. For me, the highlight of San Gennaro (or any Italian-American street fair) was eating fried dough balls called zeppole. They were served in brown paper bags or parchment-paper cones and dusted with powdered sugar. Sometimes they had raisins in them, which provided bits of unexpected sweetness. Some of my most vivid childhood memories involve the balancing act of navigating through throngs of people on Elizabeth Street while trying to jam baseball-sized balls of fried dough into my mouth without getting completely covered in powdered sugar.
As it turns out, zeppole are really easy to make at home and require almost no time at all — about 15 minutes. I've adapted the recipe for the home cook and adjusted the size to make them easier to fry and easier to eat — about two bites each, or the size of an egg.
The One And Only Zeppole Recipe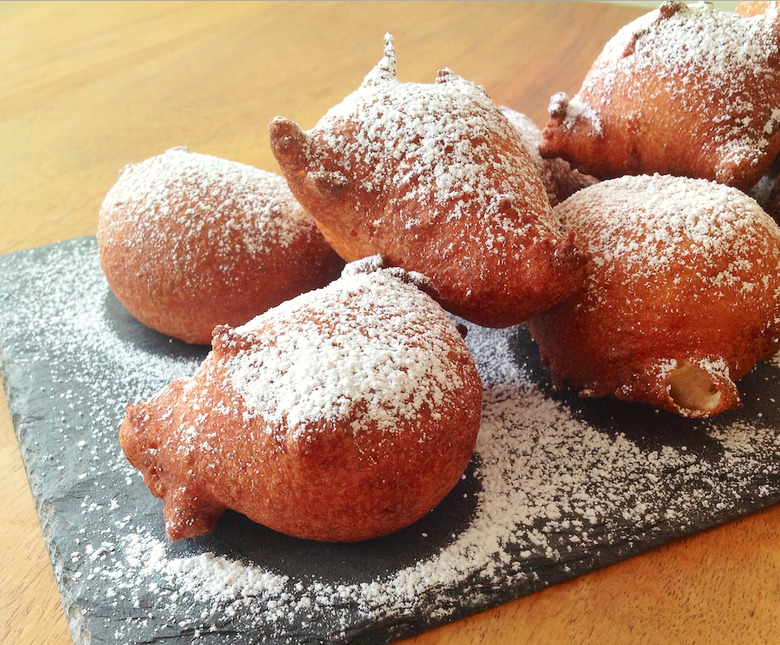 Ingredients
1 cup flour
2 1/4 teaspoons baking soda
1/4 cup sugar
1 cup ricotta
1 teaspoon vanilla extract
2 eggs
Powdered sugar
Vegetable vegetable oil for frying
Directions
Pour about 2 inches of oil into a 3-quart pot and heat over medium-high flame.
Combine all dry ingredients in a medium mixing bowl.
Add in eggs, vanilla and ricotta and stir to fully incorporate. The consistency will be like a thick batter.
When oil is hot (about 375 degrees), start frying in small batches of 3 or 4 at a time using about 1 tablespoon of batter for each zeppola. The batter will puff up when dropped in the hot oil.
Fry about 3 minutes or until deeply and evenly browned on all sides, flipping over about half way through.
Transfer fried zeppole to paper towels to absorb excess oil and garnish liberally with powdered sugar.
Zeppole are best when warm, but can be served up to 2-3 hours after cooking.
Fried Apple Pie Recipe
Asian Pear Fritters Recipe
Deep-Fried Coke Recipe