The Le Pigeon Spinach, Artichoke And Foie Gras Dip To End All Football Dips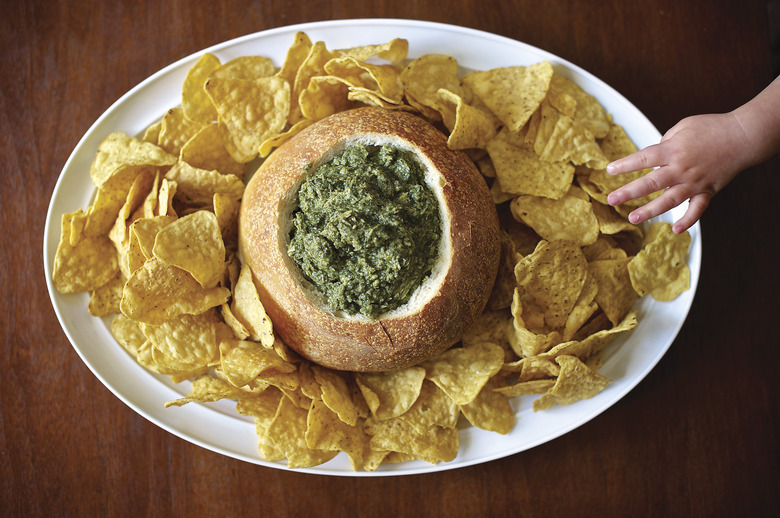 Send the other dips packing, this one's here to win the day. (Photo: David L. Reamer.
We may receive a commission on purchases made from links.
You haven't done dinner in Portland until you've done dinner at Le Pigeon, James Beard Rising Star Chef Gabriel Rucker's outrageously popular outpost. Combining the usual suspects with something totally unexpected is Rucker's game, so it's no surprise this spinach and foie gras dip appears in his new cookbook just in time for some seriously fancy football watching.
Gabriel grew up eating spinach-artichoke dip with tortilla chips while watching San Francisco Giants games in his parents' den. So this is one of those favorite home dishes we adapted for the restaurant. At Le Pigeon we serve this dip in a brioche cup with seared foie gras — kind of like those bread bowls that people liked to do in the 1980s. But you can also serve it with tortilla chips or toasted slices of baguette.
The Le Pigeon Spinach, Artichoke And Foie Gras Dip To End All Football Dips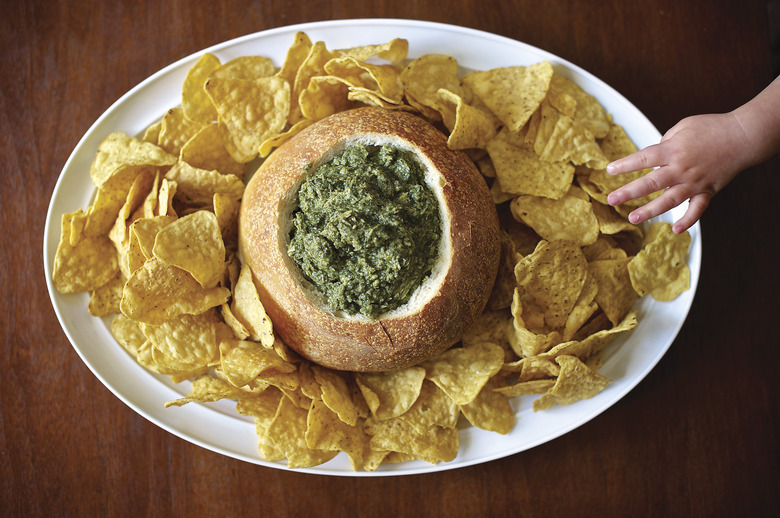 Ingredients
3 tablespoons unsalted butter
2 yellow onions
5 cloves garlic
2 pounds spinach
1 (3-pound) can cooked artichoke hearts
Kosher salt and freshly ground black pepper
1 1/4 cups sour cream
1/2 cup aioli
2 cups grated Parmesan
1 pound foie gras cubes
1/2 teaspoon Tabasco
zest of 1 lemon
Directions
In a large pot over medium heat, melt the butter. Add the onions and garlic and sauté for 4 minutes. Add the spinach (in batches if necessary, adding more as the spinach cooks down) and cook until the leaves are wilted, 2 to 3 minutes.
Add the artichoke hearts and cook until any excess liquid is evaporated, 6 to 7 minutes more.
Remove the pot from the heat and season the spinach with salt and pepper. Stir in the sour cream, aioli, Parmesan, foie gras cubes, Tabasco and lemon zest.
Transfer to a food processor and purée until you have a nice dip consistency.
Adjust the seasoning and serve warm.
Bavarian Cheese Spread Recipe
Buttermilk Blue Cheese Dip Recipe
Easy Queso Dip Recipe