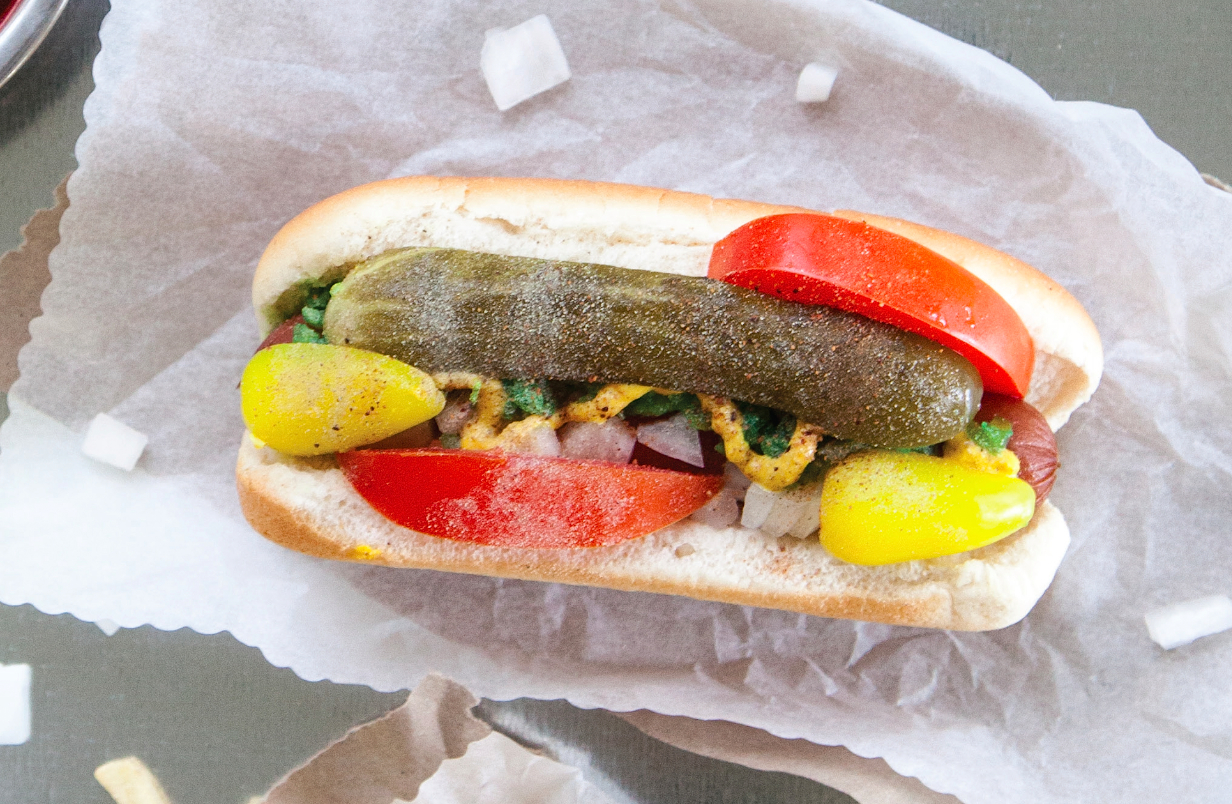 Give your tubesteak a little flair…or a ton, with food writer Russell van Kraayenburg's ultimate hot dog book, Haute Dogs. Wherever you hail from, there's a hot dog that speaks to you. Not literally, that would be terrible. But believe us, these franks have some serious soul. First up, the iconic dog that didn't put Chicago on the map — it's just really delicious. Ready the pickle spears!
The pickles, tomatoes, celery salt, neon-green relish and other vegetables common to the modern Chicago Dog were introduced a few decades after the Depression (and the original Depression Dog). So, how did this modern vegetable-laden version come to be? Some claim it was the work of Vienna Beef and its marketing department (some Depression Dog purists even go as far as to claim that Vienna Beef added pickles to the Chicago Dog to drive up pickle sales after the company purchased a pickle factory). Whether you believe Vienna Beef had a hand in its genesis, one thing is certain: you must keep the ketchup bottle far, far away. In fact, it's against Illinois state law to add ketchup to the Chicago Dog. (Okay, I made that part up. But seriously — no ketchup on these dogs.)
Ingredients
poppy seed or classic bun

all-beef hot dog

Yellow mustard

neon-green relish

tomato wedges

whole sport peppers

dill pickle spear

celery salt
Directions
Get out a poppy seed bun and a setup to steam it.
Panfry an all-beef hot dog on a flattop. Toward the end of cooking, steam the bun.
Place the dog in the bun.
Top with a line of yellow mustard, a spoonful or two of neon-green relish, tomato wedges, sport peppers and a dill pickle spear.
Sprinkle with a dash of celery salt. And don't even think about adding ketchup.
Find more inventive hot dogs on Food Republic: