The Definitive 45-Minute Pizza Dough Recipe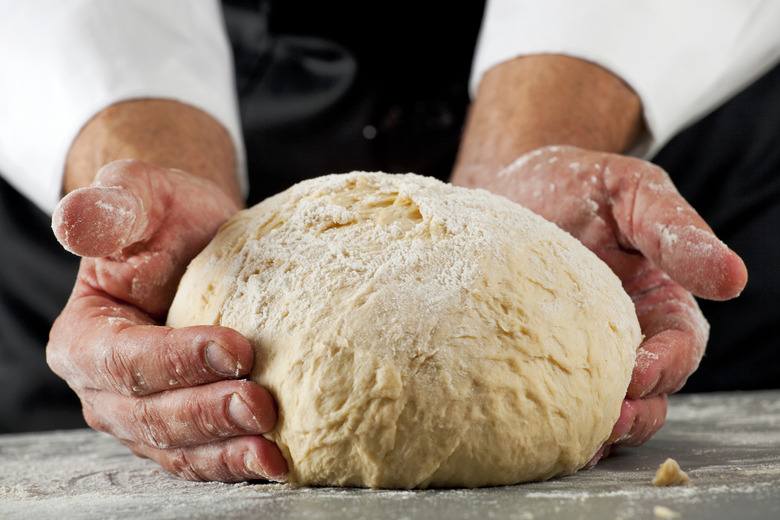 6-time World Champion pizza chef Bruno Di Fabio knows his dough. But not everyone has time to go through the lengthy process of rising, kneading, rising, kneading and so on. Want to slap the sauce and cheese on in under an hour? Stick to the pizza king's 45-minute dough recipe that won't stick to you.
I recommend this dough for people who want to make a pizza at home on a whim. You can complete the dough making process and while it is undertaking a room temperature fermentation you can preheat your oven and prep all of the rest of your toppings just right. A tip or a trick would be to slack out the dough into an oiled pan and let it rise for an additional 45 minutes in a warm oven before applying the toppings.
When you stretch out the dough CO2 gases are forced out. However, the yeast is still active in the dough. If you let the dough re-gas itself for a little while longer, a secondary ferment occurs. This will give the crust a lighter and airy finish. It will also add to the crispness and flavor of the crust.
Editor's note: 2 pounds of flour may sound like a lot, but trust the World Pizza Champion and reap the rewards!
The Definitive 45-Minute Pizza Dough Recipe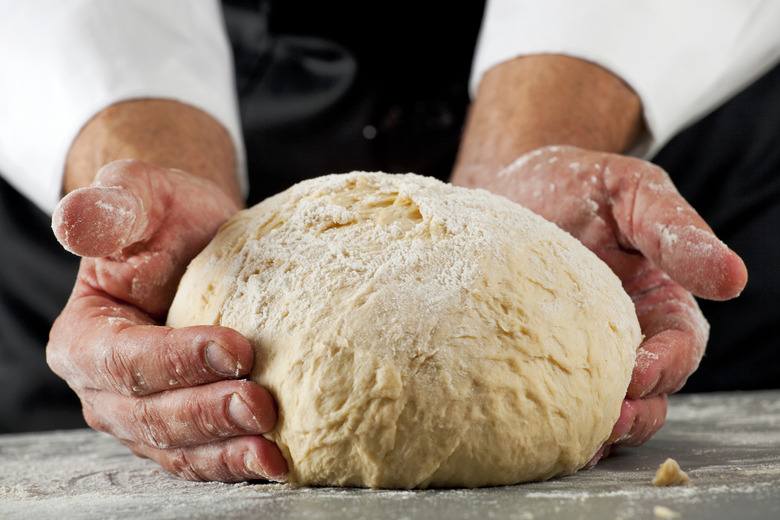 Ingredients
2 1/4 teaspoons active yeast (should be one supermarket packet)
2 1/2 cups warm water (95-115 degrees)
2 pounds all-purpose flour
1/2 teaspoon sugar
1/2 teaspoon salt
1 ounce olive oil
additional flour to apply to work surface after dough has risen
Directions
In a large mixing bowl, add warm water and yeast, mix gently and let rest for five minutes.
Add sugar and gently mix yeast water to ensure that all of the sugar has dissolved.
Add flour and mix by hand until there are no more traces of flour residue (or mix on low speed, with dough hook, for 5 minutes).
Remove dough onto a lightly dusted work surface, make well in the dough and add salt. Aggressively fold or knead dough until salt is incorporated (or mix on low speed, with dough hook, for 2 minutes)
Make well in the dough and add oil, and aggressively fold or knead dough until the dough is smooth and not slick with the oil. (Or mix on low speed, with dough hook, for final 2 minutes or until dough is not slick with the oil).
Divide the dough mix into 3 dough balls and roll into round forms.
Let dough rest in a large bowl lightly coated in olive oil and covered with a cheese cloth for 30 minutes or until double in size.
Andrew Carmellini's Pappardelle With White Bolognese Recipe
Sicilian Spiced Duck Breast With Preserved Orange Recipe
Focaccia Stuffed With Taleggio And Pancetta Recipe