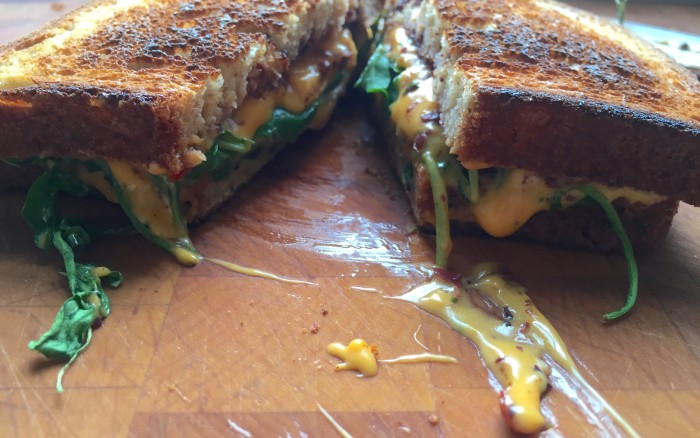 We all know the Fancy Grilled Cheese that evolved from humble white bread and Kraft singles to headline-grabbing versions stuffed with lobster and gilded in edible gold. But as someone with a functioning cerebral cortex, I refuse to spend more than $10 on a cheese sandwich. This is a more difficult — and often blander — task when compounded by lactose intolerance. But these challenges don't preclude me from enjoying highbrow, dairy-free iterations.
Since Daiya, my dairy-free cheese of choice, doesn't have the natural umami salty-savoriness of cheese, I find that a truly exceptional melt needs a little extra help. Here are some other handy tips for using this small miracle. Using homemade condiments is the simplest, most effective way to elevate grilled sandwiches at home. Not only are condiments like pickles, radishes, chutneys and other spreads cheap to make (and look adorable in Weck jars!) but I always have leftovers, making my preemptive hangover sandwich much easier to assemble at 1:14 a.m.
My recent sandwich du jour was a dairy-free pepper jack and cheddar combo with spicy harissa and a slice of well-salted avocado on cracked wheat bread. The harissa adds a much-appreciated spiciness against the cool, creamy avocado. But it's not avocado season (and I'm out of harissa), so we're going with my second-favorite child: olives and leafy greens.
Olive tapenade adds a brininess that really sings with rosemary bread. The arugula wilts slightly, then binds with the cheese to become a cheesy, peppery blend. Plus, hey, it's a vegetable! A few strategically placed artichoke hearts would also make a noteworthy addition, but be sure to pat them dry first to avoid sogginess.
Ingredients
Olive tapenade
1

cup

pitted kalamata olives

1/4

cup

sun-dried tomatoes in olive oil, (depending on size, I use 3-4 dried tomato halves from the antipasto section at my local market)

1-2

tablespoons

good-quality olive oil

1

garlic clove, peeled and smashed

1

teaspoon

anchovy paste (omit if vegan/vegetarian)

1

teaspoon

lemon zest

1

tablespoon

fresh thyme

1

tablespoon

fresh basil, julienned

Pinch of red chili flake

Salt and pepper
Sandwich
2

slices

Daiya-brand cheddar

Small handful of arugula

2-3

tablespoons

olive tapenade

2

slices

of fresh sourdough bread (I prefer rosemary sourdough here)

Olive oil to coat the pan
Directions
For the olive tapenade
Combine all ingredients in a food processor, with the exception of the olive oil. Pulse until just incorporated. Add half the olive oil and pulse again. Taste and season as necessary. The tapenade should be thoroughly mixed and glistening, but not sopping in oil. If it looks dry or overly chunky, add the remaining oil and pulse again.
For the sandwich
Heat a medium-sized skillet — ideally cast iron — on medium-low heat. Schmear tapenade generously on both slices of bread and layer both sides with cheese.


Place both slices in the pan and tent loosely with foil. Allow to toast for a few minutes until cheese begins to melt, monitoring carefully to ensure that the bread isn't burning.


Remove the foil and place the arugula on top of one slice, then carefully place the other slice on top to make the sandwich.


Any cheese that hasn't melted yet will melt very quickly at this point. Press down lightly with a spatula, then remove from pan, slice and serve.