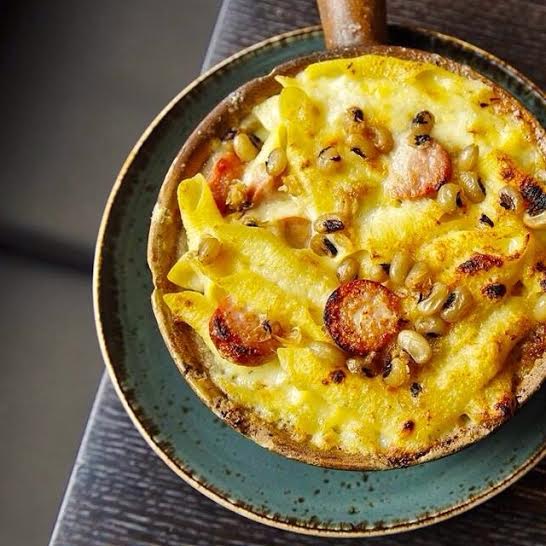 The Cecil has quickly shifted from Harlem upstart, to Harlem institution since opening on the corner of West 118th Street and Saint Nicolas Avenue — they were recently named the country's best new restaurant by Esquire. Lead by chef Joseph "JJ" Johnson, the cooking travels the world, with plates of "Afro-Asian-Oxtail" dumplings landing next to salt cod fritters and braised goat udon noodles. But one of the early favorites is a mac and cheese casserole, loaded with caramelized shallots and pepper ham. For the first time the chef reveals the recipe. Here, Johnson explains the beauty of marrying rosemary, smoked gouda and ham.
"Mac and cheese is that universal food that brings everyone together, and that's what happens when you come to The Cecil: You see everyone. We took this feeling to heart and added a few extra elements like pepper country ham and caramelized shallots. The smoked gouda gives it flavor and a hint of smoke while the cheddar keeps it classic. Nobody turns down mac and cheese right out of the oven at our restaurant, and I think your home will be the same."
Ingredients
1

tablespoon

olive oil

kosher salt

1

pound

garganelli or penne rigate pasta

1

pounds

shallots, whole and peeled

4

cups

whipping cream

4

cups

white cheddar cheese, grated

4

cups

smoked gouda cheese, grated

2 1/2

tablespoons

fresh rosemary, chopped

2

- 3 teaspoons

freshly ground pepper

1/4

cup

country ham, roughly chopped
Directions
Preheat oven to 375°F.
Bring 4 quarts of water to a boil in a large Dutch oven; stir in olive oil, 1 1/2 tablespoons of salt and pasta; cook according to package directions. Drain well.
While the pasta cooks, in a large skillet over low heat add a few drops of oil and whole shallots. Cook shallots over low heat until shallots begin to fall apart and caramelize, around 15-20 minutes. Once caramelized, remove from skillet and set aside.
Bring cream to a simmer in a medium saucepan over medium heat. Do not boil. Stir in Cheddar and smoked Gouda.
Add rosemary and cook, whisking often, over medium-low heat 2 to 3 minutes or until melted and smooth. Remove from heat.
Whisk in pepper and 1 tablespoon salt.
Stir in pasta, caramelized shallots and ham (you can also use cooked sausage, if you have that laying around).
Pour mixture into a lightly greased 3-quart baking dish.
Bake for 30 to 35 minutes or until golden brown and bubbly.
Remove from oven; let stand 10 minutes before serving.
Find more mac and cheese on Food Republic: