The Balmy Sandwich Recipe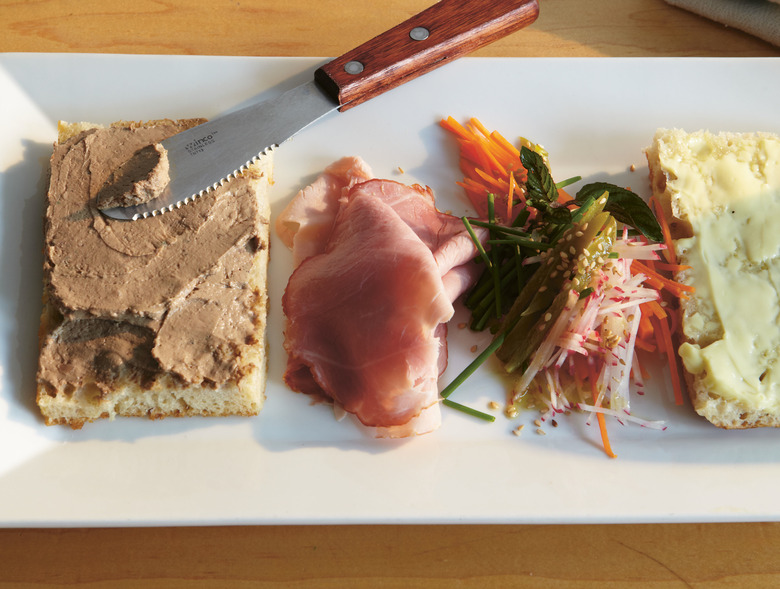 Photo: Gentyl & Hyers
One night, I was having dinner with our friend Gerard at a Vietnamese noodle-ish restaurant. I was excited to be there, in good company, eating flavors that I don't get often enough. Gerard is a phenomenal eater, one of those people who would impulsively travel to Queens to eat a sesame bun at a favorite Chinese restaurant. That evening, he assumed the role of cookbook coach, delivering me his copy of Fannie Farmer, saying only that I should read the introduction. I had never given much thought to this particular classic—and worse, probably dismissed it as irrelevant. I read the first paragraph at the table that night, and immediately put it aside, realizing that there was something too big in there to take in right then.
I still can't comprehend the magnitude of that introduction. The very first line—"Every meal should be a small celebration"— is all that needs to be said, forever. I was completely overcome, as I had been when I first read Elizabeth David or M. F. K. Fisher, moved by the fact that these authors, writing in some cases nearly a century ago, are so utterly timeless in both style and subject matter; their voices remain relevant, clear, and contemporary. For them, thinking and writing about cooking and eating was thinking and writing about life—the pleasures of and meditations on both are tightly woven together.
As we began to eat our dinner, I started thinking about expanding the palette of Saltie. Nudging it a little farther east. Gerard happily jumped in, and the Balmy was created.
This is our version of a bánh mì, a classic French-Vietnamese sandwich. Like the East India Trade Chicken, this sandwich serves as an example of the positive results of European imperialism.
The Balmy Sandwich Recipe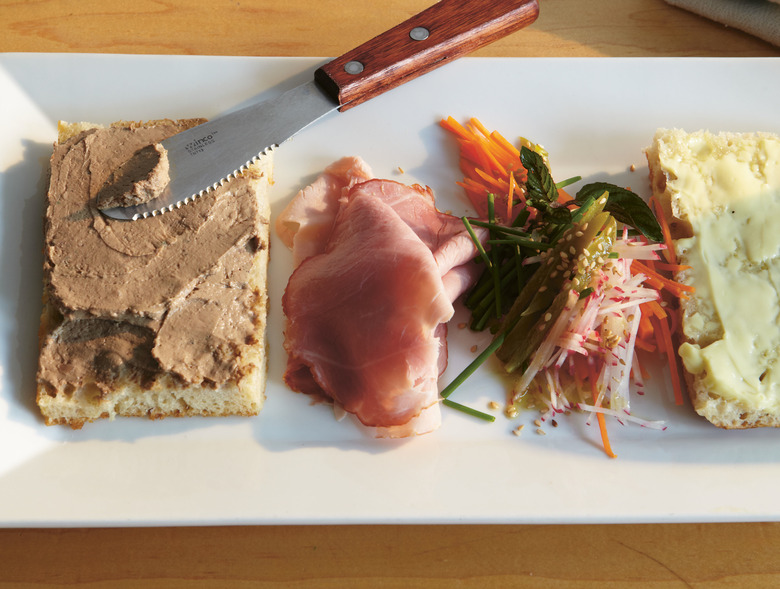 Ingredients
2 tablespoons carrot pickle
2 tablespoons pickled beets
2 tablespoons pickled red onions
1 teaspoon seeded and minced pickled jalapeño
1/4 cup total equal parts fresh cilantro leaves
1 teaspoon toasted sesame seeds
sea salt
extra virgin olive oil
1 sandwich-size piece focaccia
3 tablespoons chicken liver mousse
1 tablespoon mayonnaise
3 slices cured and smoked ham
Directions
In a bowl, combine the pickled carrots, beets, red onions and jalapeño. Add the herbs, scallion and sesame seeds and stir to mix well. Season with sea salt, olive oil and a teaspoon or so of the jalapeño pickling liquid. Taste again and adjust for salt and heat.
Cut the focaccia in half horizontally and put on a plate, cut-sides up. Spread the chicken liver mousse evenly on the cut side of the bottom half. Spread the mayonnaise on the cut side of the top.
Evenly layer three slices of ham on top of the chicken liver.
Place the salad of mixed pickled vegetables and herbs on top of the ham. Replace the top of the bread and press lightly to help hold the sandwich together. Serve right away.
Arugula Pesto "Green Eggs And Ham" Sandwich Recipe
Indian Toastie Sandwich Recipe
Classic Patty Melt Recipe