The $4 Spaghetti Recipe That Tastes Almost As Good As The $24 Spaghetti Recipe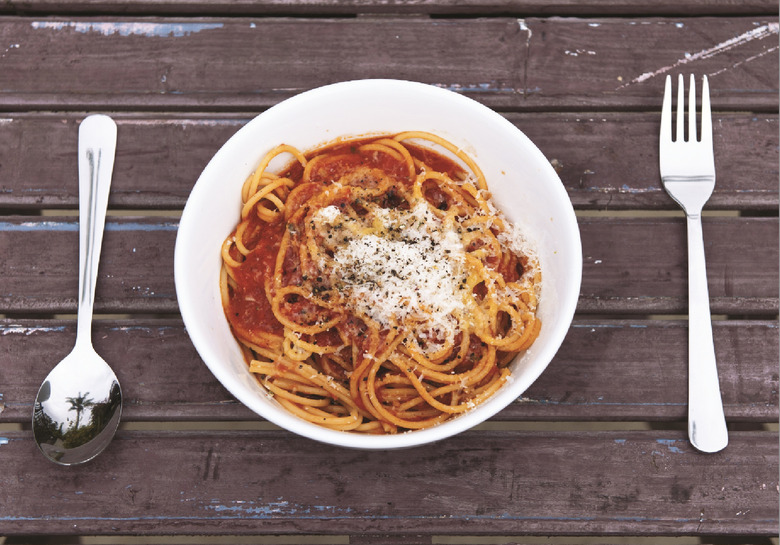 You could make this recipe six times with the money you saved. (Photo: Bobby Fisher.
We may receive a commission on purchases made from links.
For many Korean-Americans and Southern Californians alike, Roy Choi is a hero. His empire of taco trucks, called Kogi, were innovators in their use of social media. Who would have thought Twitter could bring 150 hungry people to a supermarket parking lot? Choi invented that. Ever eaten a Korean short rib taco, an appealing mashup of Asian and Mexican culinary common sense? Choi invented that. Here's a quick fried rice recipe from the chef's great new memoir L.A. Son. Read: Roy Choi Is No One-Taco Wonder
I've always had this thing for Italians. And in a way they've had their thing for me, too. I went to Italy for a little bit after my dark days of gambling and replenished my soul in Genoa, Milano and Venice. Then, during culinary school, I had the good fortune of hanging with many friends from the Italian neighborhoods Bensonhurst and Sheepshead Bay in Brooklyn, and Howard Beach, Bayside and Middle Village in Queens, and even in New Brunswick, New Jersey.
Imagine this: a semi-tall Korean kid from L.A. in his mid-to-late twenties getting weird looks, then immediate hugs from grandmas and mamas. I'd be thrust into the kitchen with "Oh, you go to culinary school with my girl/boy? Let me show you a thing or two." Then they'd have me cook. This was my icebreaker, 'cause a Korean kid in Howard Beach walking a girl home ain't that easy, son.
Once I cooked, even in my early days, it was magic. Big fat kisses from grandma as she let me stir the pot of tomatoes.
So here you go, my $4 spaghetti. Tastes almost as good as the $24 one.
The $4 Spaghetti Recipe That Tastes Almost As Good As The $24 Spaghetti Recipe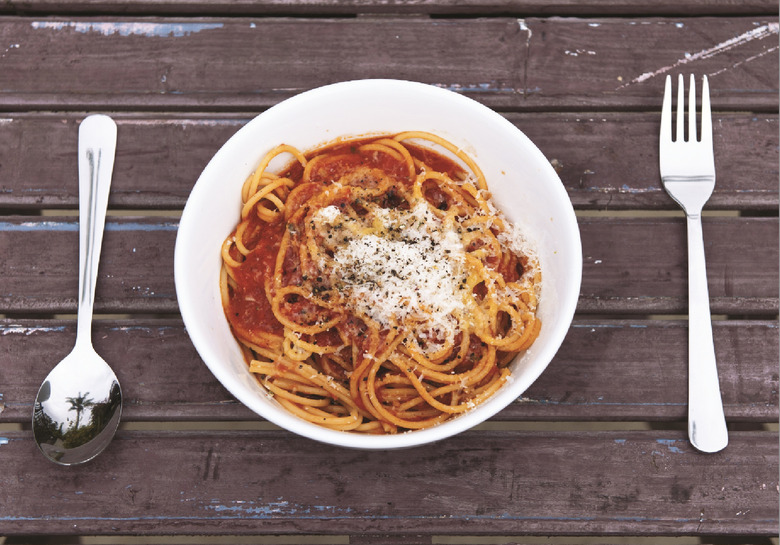 Ingredients
1 pound dry spaghetti
10 leaves fresh basil
1/2 cup Parmesan Reggiano
1/4 pound button mushrooms
3/4 cup garlic cloves
1 cup extra virgin olive oil
2 (28-ounce) cans whole peeled tomatoes
Salt and pepper
Directions
After a quick brushing off of any dirt, put the mushrooms in a large pot and cover them with about 4 cups of water. Bring to a boil, then lower the heat to a simmer. Strain the mushroom stock after about an hour and a half and reserve.
Meanwhile, combine the garlic and olive oil in a small saucepan and cook over the lowest flame possible, low and slow, for about 2 hours, stirring periodically until the garlic is a dark golden brown.
When the garlic is done, add the tomatoes along with all of their juice to another large pot. Bring the tomatoes to a boil then add the garlic confit to the pot, including the oil.
Add the mushroom stock to the tomato-garlic mixture, one cup at first, and blend with a stick blender. You are looking for a smooth consistency. Add more stock if necessary. Season to taste with salt and pepper.
Turn down the heat to the lowest flame and cook for about 2 hours, stirring the sauce periodically. Check for flavor and adjust the salt and pepper if necessary.
Heat up a big pot of water, add 1/2 teaspoon of salt and a touch of olive oil and bring it to a boil. Cook the spaghetti just until it's al dente, about 8 to 10 minutes.
Drain and divide the spaghetti between all the bowls. Toss immediately with the sauce— about a cup of sauce for each bowl of spaghetti. Garnish with the basil and Parmesan Reggiano.
Grandmas will kiss you too.
Spaghetti With White Puttanesca Recipe
Pasta Cacio E Pepe Recipe
Roman-Style Spaghetti Alla Carbonara Recipe