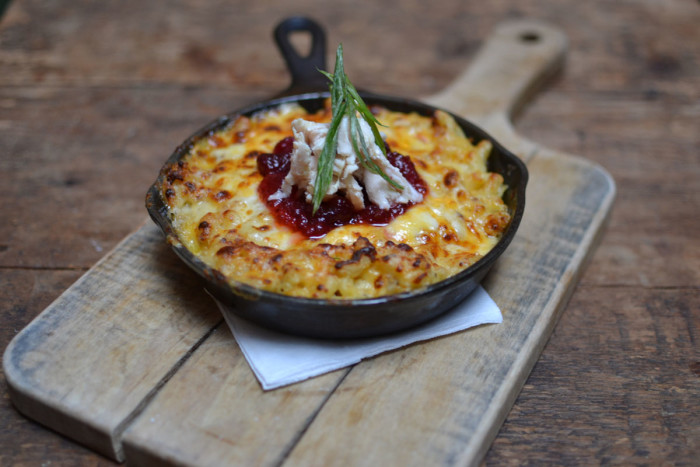 Sometimes the most logical thing to do with leftovers is make macaroni and cheese around them. If you think this way, we're going to get along just fine. NYC Delicatessen chef Michael Ferraro takes leftover-repurposing to a whole new level. Because what was your Thanksgiving dinner missing? Nothing? Really? How about copious amounts of melted cheese.
The day after Thanksgiving is no time to be calorie-conscious. You need your strength for Black Friday (take a drink).
Ingredients
1

pound

cooked elbow macaroni

1

pound

shredded turkey meat

3

cups

medium sized sweet potatoes, diced then cooked in salt water until tender

1

cup

cooked peas

1/2

chopped onion

5

sage leaves, minced

2

garlic cloves

minced

1/2

cup

cranberry relish

1 1/2

quart

milk

1/4

cup

butter

1/4

cup

flour

4

cups

grated cheddar cheese

1

cup

mascarpone cheese

1

cup

grated fontina cheese
Directions
In a large pot add butter, onion, sage and garlic and sauté for 5 minutes.

Add flour, whisk and cook for another 5 minutes.

Add milk and continue to whisk till milk comes to a boil and thickens.

Whisk in the mascarpone, fontina and one cup of the cheddar cheese.

Once cheese in melted and sauce is smooth, fold in the turkey meat, sweet potatoes, peas and pasta.

Season with salt and pepper.

Transfer to a baking dish, cover with remaining cheddar cheese and bake at 350F for 20 minutes until browned on top.

Serve with a tablespoon of cranberry sauce.