Thanksgiving Classic: Maple Pumpkin Pie Recipe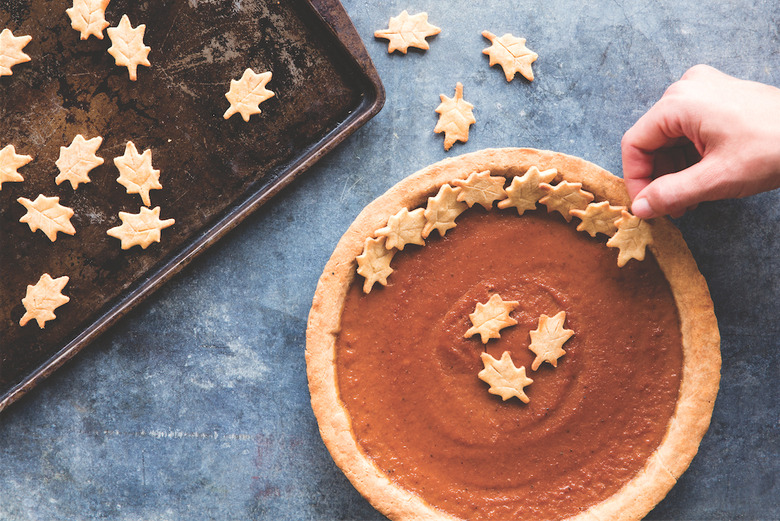 We may receive a commission on purchases made from links.
Holiday season should be about being together and enjoying spectacular food, not worrying about who can't/won't eat what. New York Times best-selling cookbook author Danielle Walker brings her signature style of everyone-friendly cuisine to the feast season with Against All Grain Celebrations. Maple syrup pumpkin pie for everyone!
This is my favorite dessert of the season, and I cannot wait for the excuse to make it every year. A little secret: My favorite way to eat it is cold, straight from the fridge, and sometimes for breakfast!
Make It Ahead: This pie keeps well, covered tightly with plastic wrap, for up to 3 days in the refrigerator and actually gets better with time.
Reprinted with permission from Danielle Walker's Against All Grain Celebrations
Thanksgiving Classic: Maple Pumpkin Pie Recipe
Servings
1
(9-inch) pie, serves 8 to 10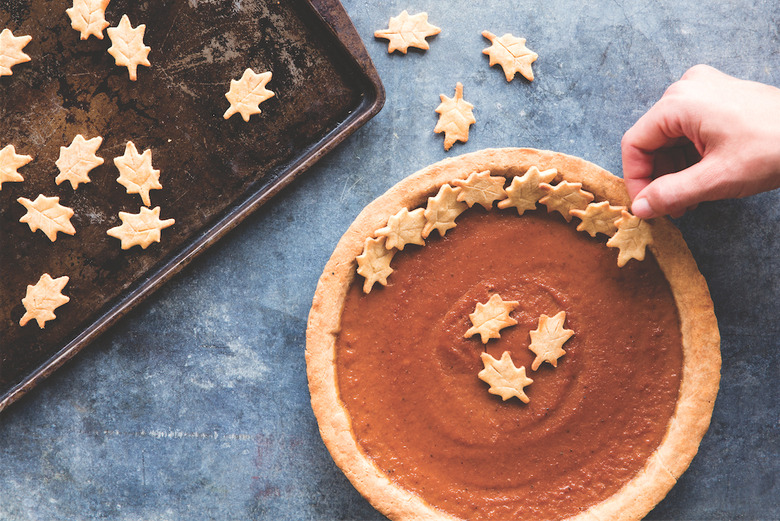 Ingredients
2 1/2 cups blanched almond flour
1 cup arrowroot powder
1/4 cup coconut sugar
2 eggs
3 tablespoons cold water
1/2 teaspoon fine sea salt
4 tablespoons palme shortening
Basic Pie Pastry Dough
1 egg yolk
1 tablespoon full-fat coconut milk
2 cups fresh pumpkin puree or 1 (15-ounce) can pure pumpkin
3 eggs
1/2 cup full-fat coconut milk
1/2 cup pure maple syrup or light-colored raw honey
1 teaspoon ground cinnamon
1/2 teaspoon ground ginger
1/2 teaspoon ground nutmeg
1/4 teaspoon ground cloves
1/4 teaspoon ground cardamom
1/2 teaspoon finely grated lemon zest
1 teaspoon pure vanilla extract
1/4 teaspoon kosher salt
whipped cream
Directions
:::pie dough:::
Combine the almond flour, arrowroot, coconut sugar, eggs, water and salt in food processor. Process for 10 seconds, or until combined. Add the palm shortening, spacing out where the tablespoons are dropped into the dough. Pulse 4 or 5 times, until pea-size bits of dough form.
Gather the dough into a tight ball and flatten it into a disk. Wrap tightly and freeze for 1 hour.
:::pie:::
Preheat the oven to 325°F and line a baking sheet with parchment paper.
Reserve one-fourth of the dough to make decorative toppings. Press the remaining dough into the bottom and up the sides of a 9-inch pie plate, using the palms of your hands to ensure the crust is even throughout. Press together any breaks in the dough, then crimp or flute the edges with your fingers. Cut a round of parchment paper to fit the bottom of the crust and fill with pie weights or dried beans. Freeze until firm, about 15 minutes.
Bake the pie shell for 10 minutes, remove the weights and parchment paper, and bake for 5 minutes more, or until the crust is golden. Cool completely on a wire rack.
Roll out the reserved pie pastry between two sheets of parchment paper. Use cookie cutters to cut out shapes. Make an egg wash by mixing together the egg yolk and coconut milk and brush onto the pastry shapes. Transfer to the prepared baking sheet and bake for 15 minutes, or until the shapes are golden. Cool completely on a wire rack.
Increase the oven temperature to 350°F. Place the pie shell on a rimmed baking sheet and brush the edges with the remaining egg wash.
To make the filling, whisk together the pumpkin, eggs, coconut milk, maple syrup, cinnamon, ginger, nutmeg, cloves, cardamom, lemon zest, and salt. Pour the filling into the prepared pie shell. Bake for 15 minutes, then cover the crust with foil and continue baking for 20 minutes, or until the custard has set but still jiggles slightly in the center. Turn off the oven and leave it cracked open for 30 minutes while the pie cools.
Cool to room temperature on a wire rack, then place the decorative cutouts around the perimeter of the pie and place it in the refrigerator to fully set, about 2 hours. Serve with the whipped coconut cream or whipped cream.