Tempura Cheese-Stuffed Chillies Recipe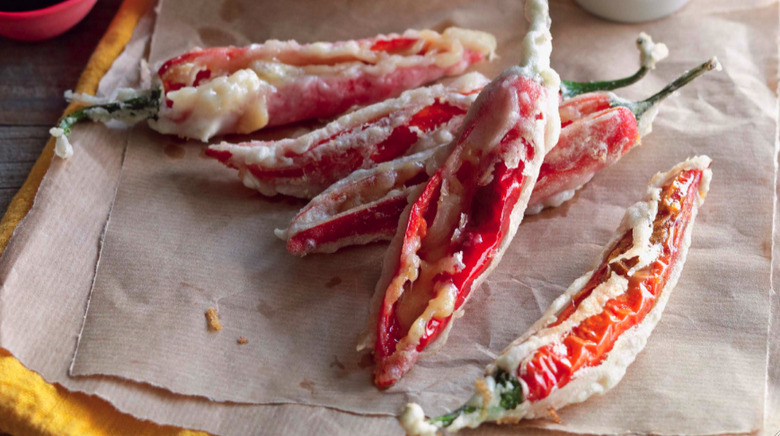 We may receive a commission on purchases made from links.
We're not getting any less obsessed with great food stuffed into great food, particularly when cheese and deep-frying are involved. That's only one of many reasons we're plowing through Hardie Grant Books' new izakaya cookbook — the Japanese have truly mastered the art of the bar snack. Next up, hot red chillies stuffed with cheddar, battered and fried tempura-style.
Tempura Cheese-Stuffed Chillies Recipe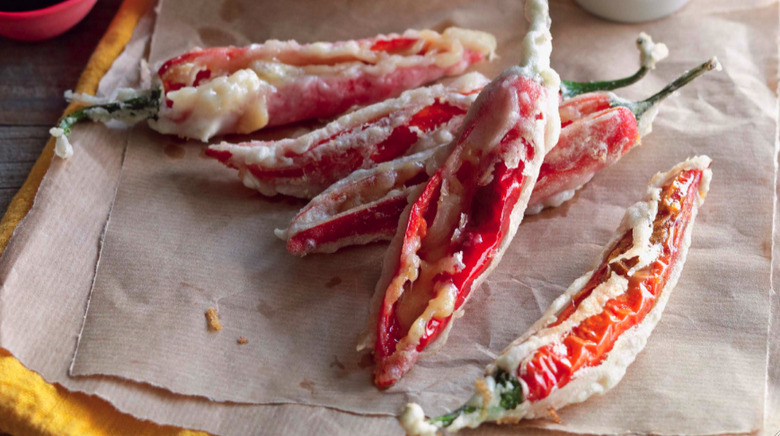 Ingredients
8 long red chillies
2 3/4 ounces cheddar cheese
1/2 cup all-purpose flour
2 tablespoons potato flour
2/3 cup iced water
oil
2 tablespoons all-purporse flour
Japanese soy sauce
Directions
Slice the chillies in half lengthways, keeping the stalk intact. Use a small, sharp knife to remove the seeds. Divide the cheese among the chillies and enclose.
Combine the flours in a small bowl. Add the iced water and stir until just combined but still lumpy.
Pour enough oil into a small frying pan to come 2 cm (3/4 in) up the side and place over high heat until shimmering. Working quickly, dust the chillies in the extra flour, then coat in the batter. Add to the oil and cook, turning, for 2 minutes, or until lightly golden and crisp.
Drain on paper towel and serve with the soy sauce.
Pork Belly Onigiri Recipe
Soba Noodle Salad With Spring Vegetables
Wasabi Flank Steak Recipe