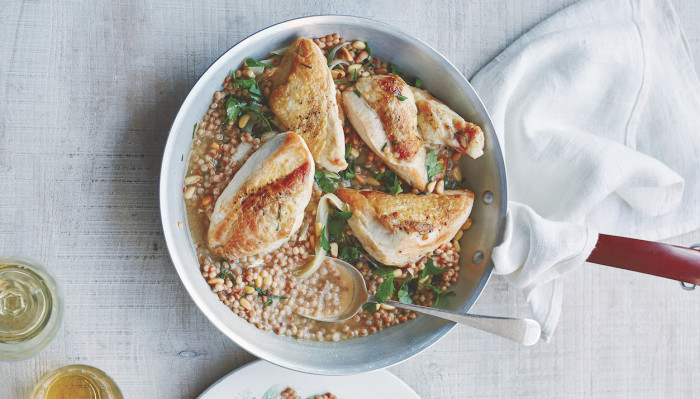 Cooking for a hungry crowd never has to be a "whole thing" with this fantastic collection of recipes from Scottish food writer Flora Shedden. Freshen up your dinner party repertoire or simply add a new favorite to your weeknight meal lineup. This simple sherry-spiked tarragon chicken with pearl couscous is packed with flavor. 
This very subtle dish is perfect for midweek suppers when you want something warming but fairly quick to prep. By cooking the couscous in the same pan as the chicken, you can guarantee that no flavor is lost. I adore giant wholewheat couscous for its bite and slightly nutty flavor, but you can of course use the regular stuff if preferred.
Ingredients
4

large chicken breasts, halved on the diagonal

olive oil

2

banana shallots, cut into eighths

5

tablespoons

sherry

5

tablespoons

dry white wine

small bunch

tarragon, leaves picked

1

cup

chicken stock

Scant 1

cup

giant couscous

Salt and freshly ground black pepper
To Garnish
1/2

small bunch

fresh flat leaf parsley, leaves picked

3 1/2

tablespoons

pine nuts, toasted
Directions
For the chicken and couscous
Preheat the oven to 400ºF.

Season the halved chicken breasts with a little pepper. Heat a good glug of olive oil in a large frying pan, then add the chicken pieces and cook over a medium heat for 2 minutes or so until the undersides are light golden in color. Turn over the chicken pieces and cook for a further 2–3 minutes. Transfer the chicken to a deep ovenproof dish and set aside.

Reduce the heat under the frying pan to medium-low, then add the shallots and cook for just a few minutes until lightly coloured. Spoon the shallots over the chicken in the ovenproof dish.

Add the sherry, white wine and tarragon to the frying pan, then increase the heat to high and boil for 2–3 minutes to allow the liquids to reduce a little. Add the stock and continue to boil for a few minutes.

Pour one-third of the sauce on top of the chicken in the ovenproof dish or enough so that both the meat and the shallots are submerged in the golden liquid. Transfer the dish to the oven and cook for 15–20 minutes or until the chicken is cooked through.

While the chicken is cooking, make the couscous. Add the grains to the frying pan with the remaining sauce and bring to the boil. Cook for about 15 minutes, stirring regularly and keeping an eye on the grains to avoid overcooking. You may need to add a little boiling water if the liquid dries up towards the end of the cooking time.

Once everything is cooked, add the chicken, tarragon, shallots and any juices in the dish to the cooked couscous in the frying pan and stir to combine. Season to taste. Serve directly from the pan, scattered with the fresh parsley leaves and toasted pine nuts.