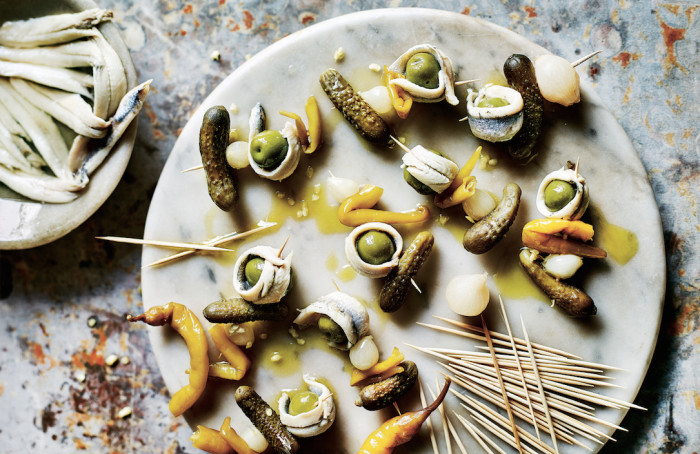 One of the most beautiful things about Spanish cuisine is its simplicity. Each ingredient plays a starring role — bread, tomatoes, cured ham, olives, potatoes and so much more. That's why we love Spanish Made Simple. It takes the already pared-down cuisine and spins it into something you'll be delighted to make at home. Learn how to make these banderillas with pickles and get ready for a salty-tangy happy hour nosh that requires no cooking. 
Pickled banderillas – customized skewers with your favorite pickles – are another ubiquitous tapa in bars around Spain. We love all pickles; in our supermarkets you will find a wide range of brined vegetables from garlic to artichokes, and fish, from mussels to anchovies. The vinegar flavor tastes exciting in your mouth and it is the perfect match for a beer or two, as an aperitivo. In Spain you can find banderillas ready made, but we prefer to make them ourselves and choose the ingredients we fancy.
Ingredients
White or salted anchovies

Green Spanish queen olives

Green chili peppers in brine (preferably hot Spanish green)

Pickled silver (pearl or baby) onions

Gherkins

extra virgin olive oil

7-inch wooden skewers or strong cocktail sticks (toothpicks)
Directions
For the pickles
Roll an anchovy around an olive and poke a skewer through the middle, getting both sides of the fish and making sure they are well stacked.

Next, introduce a chilli pepper. Because they are normally quite long, I recommend you cut it in half or fold it over. Follow this with a baby onion and lastly, introduce the gherkin. This ingredient should not be missing in any combination; it is the main pickle of the banderilla. Prick the gherkin horizontally. Of course, you can change the order of the ingredients, as you like.

Repeat to make all the skewers you require. Pour over a drizzle of extra virgin olive oil and serve.