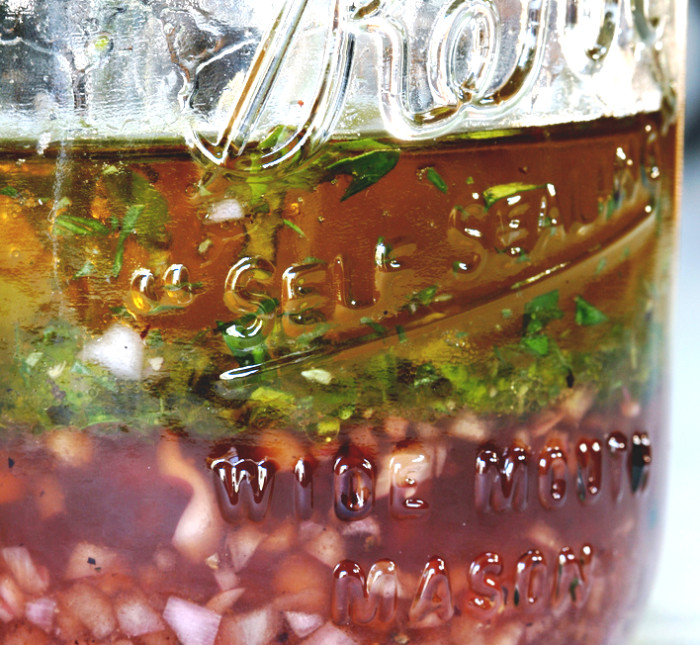 Adding butter to vinaigrette might seem strange, but once you taste it, you'll wonder why you haven't done it before. The nutty, rich brown butter gives the dressing some extra flavor and richness, and the mild acidity of the tangerines is the perfect foil. This sauce is beautiful on delicate fish such as albacore tuna and richer fish such as salmon or on steamed broccoli, or on roasted rings of butternut squash.
Ingredients
2

tangerines

2

tablespoons

sherry vinegar

1

tablespoon

finely chopped shallot

4

tablespoons

unsalted butter

1/2

teaspoon

Dijon mustard

1

tablespoon

extra virgin olive oil

kosher salt

1

tablespoon

thinly sliced fresh chives
Directions
Using a rasp-type grater, finely grate 1 teaspoon lightly packed zest from the tangerines and reserve. Squeeze the juice from the tangerines into a small saucepan, taking care not to let any seeds fall into the pan. You should have about 1/2 cup. Add the zest, vinegar, and shallot; bring to a simmer over medium heat; and cook, stirring often, until reduced by about half (to 1/4 cup), about 4 minutes. Remove from the heat and reserve.
In another small saucepan, melt the butter over medium heat. Continue cooking the butter, swirling the pan every few seconds, until all of the water has sizzled off, the milk solids at the bottom of the pan have turned deep gold and the butter smells nutty and fragrant, about 3 minutes. Immediately pour the butter into a small heatproof bowl so it stops cooking; keep warm.
Whisk the mustard into the reduced tangerine mixture in the saucepan. Then whisk in the brown butter (including the milk solids) and the olive oil. Season with a little salt, then taste and adjust the flavor balance and seasoning. Stir in the chives. Whisk again to blend just before using.
Storage: Refrigerate in an airtight container for up to 4 days. The butter will solidify when cold, so take the vinaigrette out of the fridge 30 minutes before using it, or reheat it briefly in a microwave.
Variations: Add a few drops of hot-pepper sauce such as Sriracha or add 1/4 teaspoon sweet Spanish smoked paprika to the reduced juice mixture.
Try out these other sauces on Food Republic: