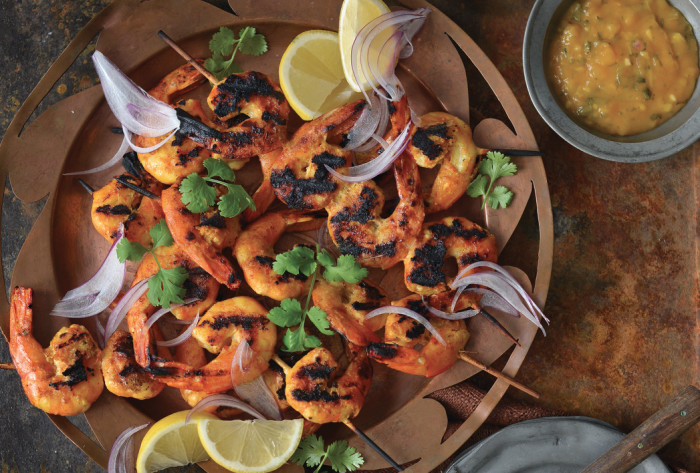 We're huge fans of grillmaster Steven Raichlen's smoky, meaty cookbooks. His latest work focuses on what makes signature grilled foods around the world so delicious. Dive into recipes for sauces, rubs, marinades, bastes, butters and much more. These tandoori shrimp are marinated in a spiced yogurt paste and infused with earthy, spicy goodness.  
Tandoori shrimp is one of the glories of Indian gastronomy. To get the full effect you should serve the shrimp with a kaleidoscopic assortment of side dishes. A bare minimum would include raita and tomato chutney, as well as basmati rice. The more people you have, the more elaborate your spread should be. In India, the shrimp would be cooked in a tandoor, an urn-shaped clay barbecue pit. A kamado-style ceramic cooker will give you a similar effect, and you can also direct grill the shrimp over a hot fire.
Reprinted with permission from Barbecue Sauces, Rubs, And Marinades
Ingredients
2

pounds

jumbo shrimp, peeled and deveined

4

tablespoons

unsalted butter, melted

1

small red onion, peeled and thinly sliced

1/2

cup

fresh cilantro sprigs

1

lemon, cut into wedges

Raita

Tomato Chutney

Fresh Mango Chutney
Indian Tandoori Marinade
2

teaspoons

coriander seeds

1

teaspoon

black peppercorns

1

teaspoon

cumin seeds

1

teaspoon

mace blades

1/2

teaspoon

fennel seeds

4

cardamom pods

2

whole cloves

1/2

cinnamon stick (about 1 inch)

1/2

teaspoon

saffron threads

1

tablespoon

hot water

1

small onion, peeled and coarsely chopped

6

cloves

garlic, peeled and coarsely chopped

6

slices (each 1/4-inch-thick)

peeled fresh ginger, coarsely chopped

2

jalapeño peppers, preferably red, seeded and coarsely chopped

3

tablespoons

fresh lemon juice

3

tablespoons

vegetable oil

2

cups

plain whole milk yogurt, preferably Greek-style

2

teaspoons

coarse salt (sea or kosher)

2 to 4

drops

orange food coloring (optional)
Materials
8- to 10-inch bamboo skewers
Directions
For the marinade
Heat a dry skillet over medium heat. Add the coriander, peppercorns, cumin, mace, fennel, cardamom, cloves, and cinnamon. Toast, shaking the pan, until fragrant, 3 minutes. Transfer the spices to a bowl to cool. Grind to a fine powder in a spice mill.

Crumble the saffron threads between your thumb and forefinger and place in a small bowl with hot water. Let the saffron infuse for 10 minutes.

Combine the onion, garlic, ginger, chiles, lemon juice, and oil in a blender or mini processor and purée to a smooth paste. You may need to add a tablespoon or so of water to obtain a paste.

Combine the yogurt, spices, saffron mixture, onion paste, salt, and food coloring, if using, in a bowl and stir to mix. Use within a few hours of making.
For the shrimp
Place the shrimp in a glass baking dish and pour the marinade over them. Cover with plastic wrap and marinate for 2 to 4 hours in the refrigerator. Stir a couple of times to coat evenly.

Set up a grill for direct grilling and preheat it to high. Brush and oil the grill grate.

Remove the shrimp from the marinade and thread them onto skewers. Place on the grate and grill until firm, pink, and cooked through, 2 to 3 minutes per side, basting with melted butter.

Transfer the shrimp to a platter and sprinkle the onion slices and cilantro sprigs on top. Serve with lemon wedges and bowls of raita and the chutneys.