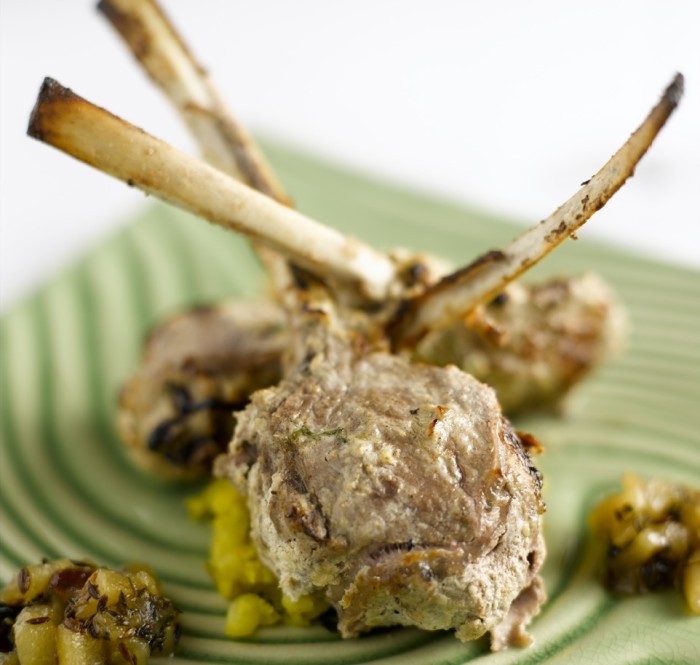 At Devi Restaurant in NYC, Top Chef Masters contestant Suvir Saran and chef Hemant Mathur cook these spicy lamb chops in a super hot tandoor oven. Chances are that you don't have a huge clay oven in your home, so they've adapted this recipe for the grill.
Ingredients
8 to 10

American lamb rib chops, about 2 pounds, cut 1 to 1 1/2 inches thick

1

cup

yogurt, drained in a cheesecloth-lined strainer or coffee filter for 2 to 4 hours, can substitute for 1 cup sour cream or creme fraiche

1/4

cup

malt vinegar

1

lemon, juiced

8

cloves

garlic, peeled and finely minced

1

[3-inch] piece

fresh ginger, peeled and grated

1

tablespoon

garam masala

1

tablespoon

cumin, toasted

1

teaspoon

ground cardamom

1/2

teaspoon

cayenne pepper

1/4

teaspoon

ground mace

1/4

teaspoon

ground nutmeg

2

tablespoons

canola oil

3

tablespoons

unsalted butter, melted
Directions
Cut three or four deep slashes in each of the lamb chops, taking care not to cut all the way through the chop.
Combine the yogurt, vinegar, lemon juice, garlic, ginger, Garam Masala, toasted cumin, cardamom, cayenne pepper, mace, and nutmeg in a gallon-sized reusable plastic bag. Add the lamb chops, then turn to coat them in marinade and refrigerate for four hours or even overnight.
Preheat a grill to medium-high heat (you should be able to hold your hand five inches above the grate for no more than three to four seconds). Add the oil to the marinade bag, reseal, and massage the chops to incorporate.
Transfer the lamb chops to a baking sheet and let the lamb rest for five minutes.
Brush each lamb chop with melted butter and place on grill. Grill until each side is evenly browned, about five more minutes per side, and serve.