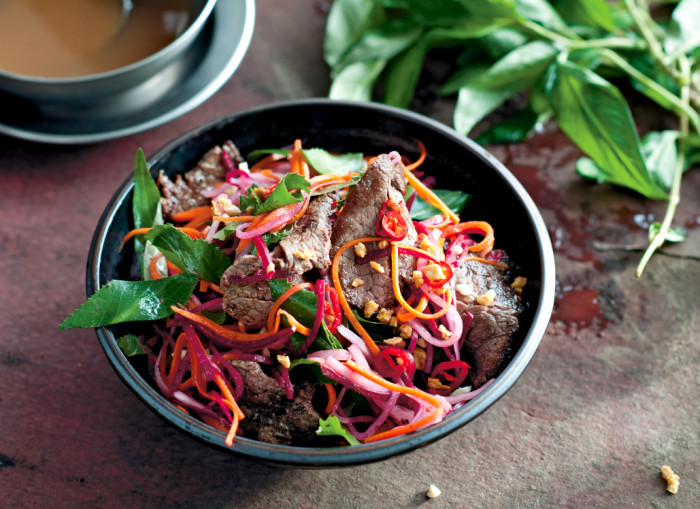 Vietnamese-Australian chef and TV host Luke Nguyen's new cookbook, The Food Of Vietnam, is an impressive, thick tome of first-hand tales and history, and of course, beautifully photographed dishes. All your favorite Vietnamese food lies within, plus a few extras you never saw coming (unless of course you're from Vietnam). Try this light, tangy beef salad on for size.
Kohlrabi is a root vegetable that is much loved in Vietnam as it can be eaten both raw or cooked. It is crisp and tastes a bit like a water chestnut crossed with cabbage. When buying tamarind, be sure to buy it in block form. Don't go for the ready-made pastes, as their flavor is inferior to the blocked pulp.
Ingredients
3 1/2

ounces

kohlrabi, peeled and julienned

3 1/2

ounces

carrots, peeled and julienned

3 1/2

ounces

beetroot, peeled and julienned

2

tablespoons

sugar

2

tablespoons

vegetable oil

2

garlic cloves, crushed

10 1/2

ounces

lean beef eye fillet, trimmed and sliced into 1/8-inch slices

1/2

teaspoon

freshly ground black pepper

2

tablespoons

Tamarind water, (2 ounces of tamarind pulp dissolved in 1 cup of water)

1

handful

cilantro leaves, sliced

1

handful

Vietnamese mint leaves

2

tablespoons

fried garlic chips

2

tablespoons

Nuoc mam cham dipping sauce

1

tablespoon

crushed roasted peanuts

1

red bird's eye chilli, sliced
Directions
In a bowl, combine the kohlrabi, carrot, beetroot and sugar. Mix well and set aside for 10 minutes, then drain.
Place a frying pan over high heat. Add the oil and fry the garlic until fragrant.
Add the beef, season with the pepper, then stir-fry the beef for no more than 3 minutes — only until just cooked through. Transfer the beef to a bowl, add 1 tablespoon of the tamarind water and toss to combine.
In another bowl, combine the kohlrabi, carrot, beetroot, saw-tooth coriander, Vietnamese mint, garlic chips and tamarind beef. Add the remaining tablespoon of tamarind water and the nuoc mam cham.
Toss the salad to combine all the ingredients. Garnish with the peanuts and chilli and serve.
Try out these Vietnamese recipes on Food Republic: