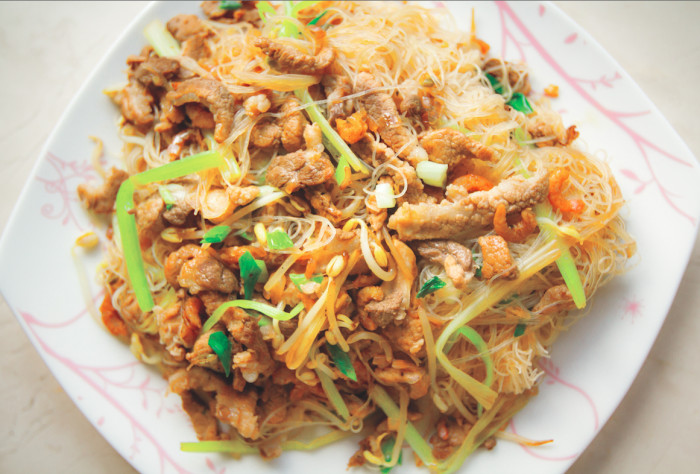 In the city of Hsinchu, in the northwest of Taiwan, the air is much windier and drier. Many rice-noodle factories are located there, as the climate allows the freshly made noodles to dry quickly. Taiwanese rice noodles are often labeled "Hsinchu rice noodles" on packages found in groceries, even in the U.S., and are exceptionally thin. One of the most famous preparations is a steaming platter of pan-fried rice noodles served at the family table for everyday and special occasions. While delicate, these rice noodles can stand up surprisingly well to a lot of tossing and turning in the pan without breaking or sticking as easily as wheat noodles would.
Ingredients
Pork Soup Stock
2

tablespoons

vegetable or peanut oil

1

2-inch piece fresh ginger, cut into thick strips

4

cloves

garlic, smashed

2-3

whole scallions, trimmed and coarsely chopped

2

pounds

pork bones (see note below)

4

quarts

water

salt, to taste
Noodles
1/2

pound

pork shoulder, thinly sliced

1/4

cup plus 1 teaspoon

light soy sauce

1/2

teaspoon

cornstarch

1/2

teaspoon

sugar

1/4

cup

dried baby shrimp (optional)

1

pound

rice noodles

3

tablespoons

vegetable or peanut oil

8-10

dried shiitake mushrooms, soaked in water until fully reconstituted (about 30 minutes), de-stemmed and thinly sliced

1

cup

carrots, julienned

1

cup

fresh or canned bamboo shoots, rinsed well and julienned

2

cups

basic pork soup stock (see recipe above)

salt and ground white pepper, to taste

2

tablespoons

black rice vinegar

2-3

whole scallions, trimmed and thinly sliced
Directions
To make the pork-soup stock:
Heat the oil in a heavy-bottomed soup pot or Dutch oven over medium-high heat.
Add the ginger, garlic, and scallions and cook, stirring occasionally, until very fragrant, about 1 minute.
Add the bones and cook, stirring, until just fragrant, about 1 minute.
Add the water and bring to a boil. Skim the scum that froths to the surface while boiling for 5 minutes. Reduce the heat to a simmer and cook, uncovered, for at least 2 (preferably 3) hours.
Strain the broth through a fine-mesh colander. Season with salt to taste.
Note: Pork bones for soup stock are easily found in Chinese butcher shops, although if you're hard-pressed to find them, you can make a chicken or beef stock version using chicken backs or beef bones instead. Due to the predominance of pork in Taiwan, soup made from pork bones is the most common.
To make the noodles:
In a shallow dish, marinate the sliced pork in 1 teaspoon of the soy sauce, the cornstarch, and the sugar. Cover and refrigerate for at least 20 minutes (or up to 1 day).
Cook the rice noodles according to the package instructions. Drain completely.
Heat the oil in a large skillet or wok over medium-high heat. Add the pork and cook, stirring frequently, until all the pieces are mostly opaque, about 1-2 minutes.
Add the mushrooms, carrot, and bamboo shoots to the pan along with a pinch of salt. Cook, stirring occasionally, for another 1-2 minutes.
Add the stock and the remaining 1/4 cup of soy sauce to the pan and bring just to a boil. Drop in the cooked rice noodles and stir briskly, tossing and turning the noodles with tongs or a spatula. Season with salt and white pepper to taste. Allow the noodles to fully absorb the broth so that there is no liquid in the pan.
Finally, stir in the vinegar and toss to distribute evenly. Transfer to a serving dish and garnish with the scallions.
More noodle dishes from around the world on Food Republic: