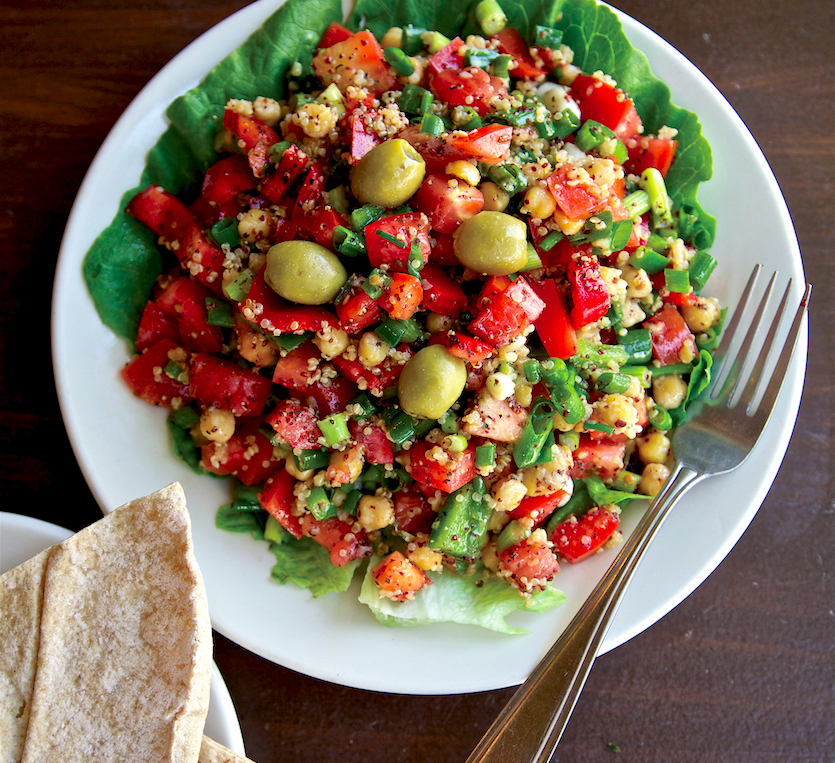 New York City may be a renowned global food hub. But just north of the Tri-State Area lies the rich, verdant Hudson Valley — home to wonderful farms, cheese producers and craft distilleries (plus restaurants that use the local products to their full potential). A new cookbook, Hudson Valley Chef's Table, is a compilation of recipes from beloved restaurants from Westchester to Columbia counties. This quinoa salad recipe comes from chefs Sean Carmody and Florencio Salazar at Taiim Falafel Shack in Hastings-on-Hudson, NY. 
Falafel has had a hard time on these shores. What is (in Israel) a crunchy, satisfying, and juicy treat has become (in the United States) the dry and vaguely punitive fodder of broke college vegetarians who don't know enough about food to know what they are missing. Cue Taiim Falafel Shack, which hit Hastings-on-Hudson with a vengeance. Its mission: to bring authentic Israeli soul food to the banks of the Hudson River.
While this minuscule, cash-only "shack" is an actual bricks-and-mortar restaurant, Taiim offers no bathroom, no bar, and only twelve seats on-site. So what? None of this hinders Taiim's legion fans, who happily cram thigh-to-thigh for tangy, drippy falafel sandwiches, addictive hummus, and carnal shawarmas — all of which are paired with bright, clean salads like this one.
Ingredients
Dressing
2

teaspoons

salt

2

teaspoons

freshly ground black pepper

4

teaspoons

sumac

1/4

cup

lemon juice, freshly squeezed

1/2

cup

extra virgin olive oil
Salad
1

cup

quinoa

red pepper flakes, to taste (optional)

1/2

cup

dried chickpeas

1

small

tomato, diced

2

- 3

scallions, white and light green parts only, chopped

1/2

red bell pepper, diced

1/2

green bell pepper, diced

Salt and pepper, to taste

4

large

romaine lettuce leaves
Directions
For the dressing:
Whisk the salt, pepper, sumac, lemon juice and olive oil together and reserve.
For the salad:
Cook the quinoa according to package directions. If you'd like to use the red pepper flakes, add them to the boiling water in which you cook the quinoa.
While the quinoa cooks, place the dried chickpeas in a small saucepan.
Cover the chickpeas with water and bring to a boil.
Reduce the heat to simmer and cook chickpeas for 30 minutes, or until tender.
When the chickpeas and quinoa are fully cooked, drain and place in a large bowl.
Add the tomato, scallions, peppers and the dressing and gently toss the salad together.
Season with salt and pepper to taste and serve on the romaine leaves.
Find more quinoa salads on Food Republic: