Tahchin Time: Persian Spinach Upside-Down Rice Recipe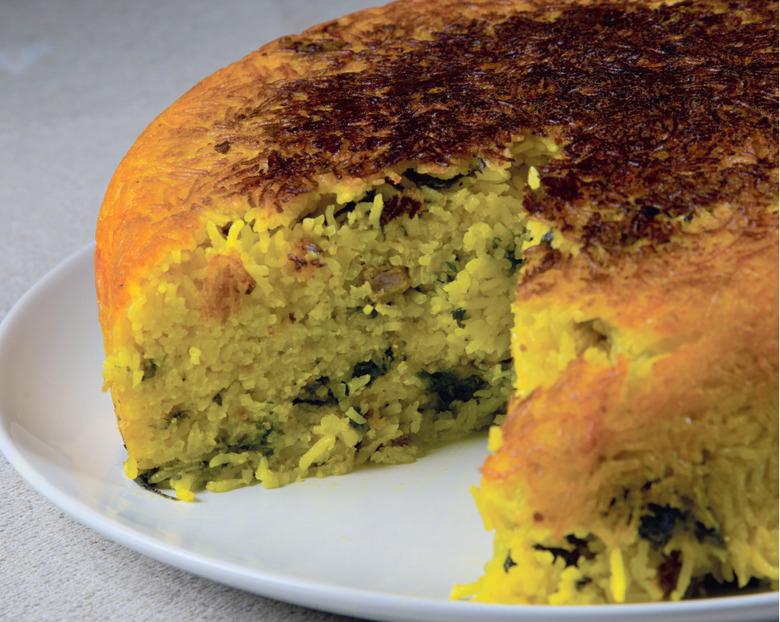 We may receive a commission on purchases made from links.
You probably don't make Persian food enough, which is why you should cook your way through culinary authority Jila Dana-Haeri's From A Persian Kitchen. Learn to make rich khoresh sauces and the rice dishes that love them, bright salads, hearty soups, a million uses for pomegranates and fresh herbs and no shortage of lamb. Speaking of the rice dishes that love them, you're going to love this iconic rice preparation that creates a layer of crisp, flavorful rice at the bottom.
Tahchin means literally 'arranged at the bottom,' referring to the layering of meat and rice to form a thick tahdig (crust) at the bottom of the pan. It is a very popular rice dish which can be made with either lamb or chicken. Some versions contain spinach or aubergine. A good, thick tahdig is the distinctive feature of this rice; to obtain that, traditionally the rice is mixed with egg in addition to yogurt.
Tahchin should preferably be cooked in a non-stick pan, so that it can be served upside down with the golden crust on top like a cake. The classic tahchin recipe can be found in New Persian Cooking. This version with spinach combines the special flavor of spinach with the delicate aroma of saffron. It is aesthetically pleasing with alternating layers of saffron rice and green spinach.
Tahchin Time: Persian Spinach Upside-Down Rice Recipe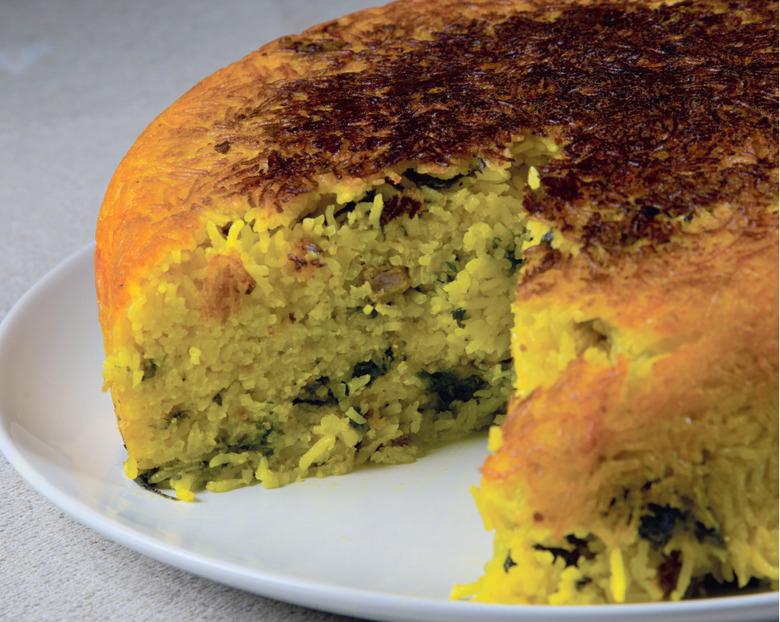 Ingredients
1 pound 2 ounces basmati rice
1 pound 10 ounces shoulder of lamb (boned)
2 medium onions
2 teaspoons turmeric
6 tablespoons liquid saffron
1 1/4 cups plus 2 tablespoons Greek-style yogurt
1 pound 10 ounces fresh spinach (cooking dramatically reduces the volume)
1 3/4 cups plus 2 tablespoons water
1 cup plus 2 tablespoons boiling water
6 tablespoons vegetable oil
2 tablespoons butter
1 egg
salt
Directions
Wash the rice several times and soak in cold salted water.
Wash and trim the lamb, cut into approximately 4-inch chunks and sprinkle with salt.
Peel the onions, cut one into 4 pieces and finely chop the other.
Wash the spinach, discard the tough stems, dry in a salad crisper and chop with a wide-bladed knife.
Mix the yogurt and 4 tablespoons of liquid saffron and beat the egg into the yogurt, add salt to taste.
Choose a heavy-based saucepan, preferably non-stick and large enough to allow room for all the ingredients to steam well together.
Heat 2 tablespoons of oil and lightly fry the onion chunks, add the meat, 1 teaspoon of turmeric, 1 tablespoon of liquid saffron, salt and pepper. 
Add the boiling water, stir well, bring back to a boil, reduce the heat, cover and allow to simmer for 1 to 1 1/2 hours. The meat should be almost cooked by this stage.
In a frying pan, heat 2 tablespoons of the oil and fry the chopped onions until golden. 
Add the chopped spinach and fry for 5 to 10 minutes. The spinach will shrink in volume considerably. 
Add the rest of the turmeric, salt and pepper, stir well and remove from heat. Set aside to cool.
Make the rice in the same pan that the meat has been cooked in. Take the meat pieces out and put to one side. 
Add enough cold water to the already existing juices in the pan to end up with a volume of 15 fluid ounces. 
Add 1 dessert spoon of salt and bring to the boil.
Drain the rice and add to the pan with 2 tablespoons of oil and half of the butter and a tablespoon of liquid saffron. 
Gently simmer on medium heat until the water has evaporated, and small holes start to appear on the surface of the rice. 
Empty the rice into a large colander or a bowl. 
Mix the rice with the meat and yogurt saffron mixture, making sure that the meat pieces are coated with yogurt and saffron and evenly distributed.
Return the pan to the heat, add 2 tablespoons of oil and 1 tablespoon of liquid saffron. 
When hot, place some of the rice and meat mix evenly in the bottom of the pan, reduce the heat to low and add a layer of the spinach and onion mixture. 
Continue alternating a layer of rice and meat with a layer of spinach to the top, making sure that the spinach layer is distributed evenly and thinly.
Add to the pan the rest of the butter, oil and any liquid saffron that is left.
Wrap the lid in a tea towel and jam tightly into the pan. Steam the rice for at least 1 hour.
Remove from the heat and stand the pan in 3/4-inch of cold water in the sink for a couple of minutes to loosen the tahdig. 
If you have used a non-stick pan, turn the rice upside down onto a flat dish. Alternatively, take the lamb pieces out and arrange in a flat serving dish and then spoon the rice over the lamb. 
Spiced Lamb In Toasted Pita With Tomato & Red Onion Salad
Spicy Moroccan Shrimp Tagine Recipe
Persian Spiced Lentil Patties Recipe