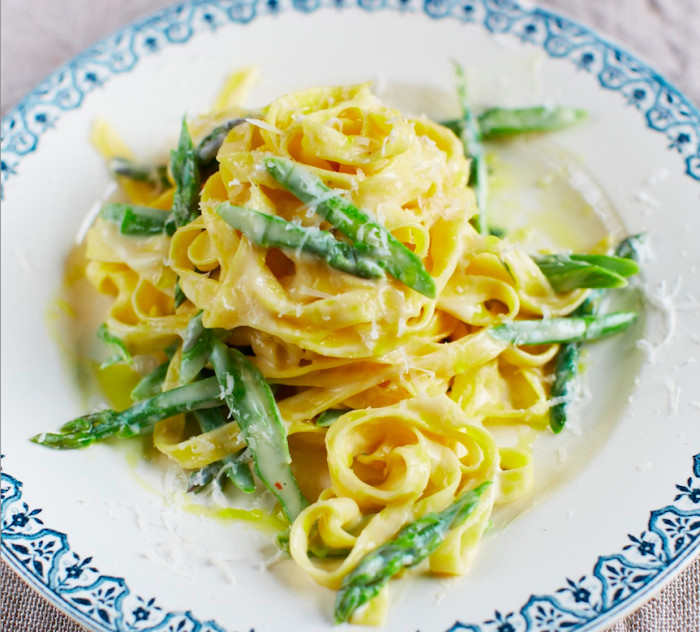 Hungry for something new? Look no further than a cookbook by renowned chef April Bloomfield, of NYC's Spotted Pig and the Breslin. Her latest cookbook, A Girl and Her Greens, highlights vegetable-focused cuisine. Get in season with delicious spring asparagus and fresh pasta — this recipe will jump-start your spring cooking repertoire. 
This entire dish is right out of Rose and Ruthie's River Café playbook, with just a few tweaks of my own. They taught me how to make fonduta, a silky sauce rich with crème fraîche and egg yolks. It takes less time and just a bit more effort than tomato sauce and turns a plate of pasta into an elegant and impressive meal. Get yourself some asparagus spears that are as thick as your pointer finger — not those thin or sprouty ones — and you'll enjoy the juicy slivers in each bite.
Reprinted with permission from A Girl and Her Greens: Hearty Meals From the Garden
Ingredients
2

large egg yolks

1 1/2

cups

creme fraiche

5

ounces

finely grated Parmesan cheese

1

medium clove

garlic, finely grated on a rasp-style grater

Kosher

salt

1

pound

asparagus, woody bottoms snapped off, stalks cut on the diagonal into long 1/2-inch-thick pieces, tips left whole

1/2

pound

fresh tagliatelle (you can use half of the recipe for fresh egg pasta from A Girl And Her Greens)
Directions
Bring a large pot of water to a boil.
Meanwhile, bring an inch or two of water to a boil in a small pot. Whisk together the egg yolks, crème fraîche, Parmesan, and garlic in a large heatproof bowl that will fit snugly in the pot without making contact with the boiling water.
Set the bowl in the small pot and whisk the egg mixture constantly, occasionally scraping the sides and removing the bowl from the pot every couple of minutes as you whisk to keep the cooking nice and slow (don't let it bubble). The mixture will look thick and clumpy for a few seconds, then will become liquidy, and then, once the cheese has melted, silky smooth. Cook just until the liquidy sauce has thickened slightly (it should thinly coat the back of a spoon), about 6 to 8 minutes. Set the bowl aside in a warm place.
Salt the large pot of boiling water generously until it tastes slightly less salty than the sea. If you're confident that the pasta and asparagus will finish cooking at the same time, add them both to the water. If you're a worrywart, cook the asparagus first, scoop it into a colander to drain, then cook the pasta. Cook the asparagus until it is juicy with a slight bite, 3 to 4 minutes; and cook the pasta until it is fully cooked, 3 to 4 minutes.
Drain the pasta and asparagus well in a colander, then pop them back into the now-empty pot. Pour in most of the fonduta and toss gently but well. Season to taste with salt and more fonduta, if you'd like. Transfer to bowls, topped with a little more Parmesan, and eat straight away.
More fresh pasta recipes from Food Republic: