Seasonal Syrian: Make This Pumpkin Kibbeh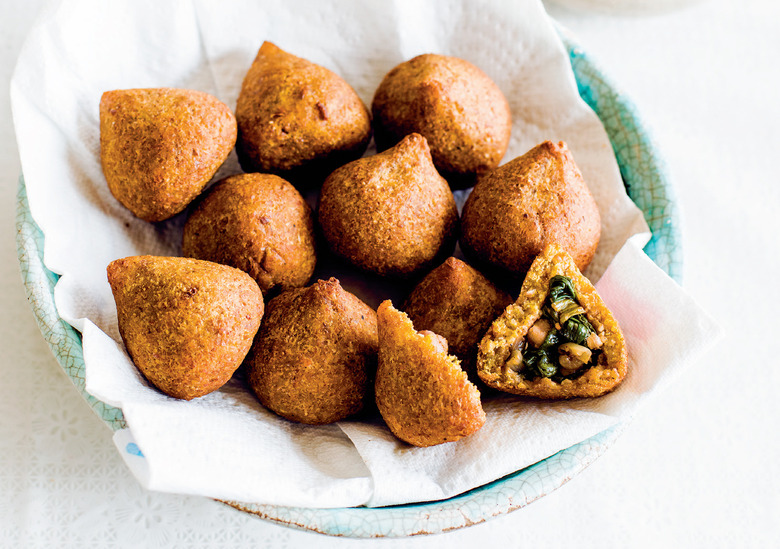 We may receive a commission on purchases made from links.
Chances are, you're not all too familiar with Syrian cuisine. Neither were we, until we picked up a copy of Our Syria, a collection of recipes from recipe developers and food enthusiasts Itab Azzam and Dina Mousawi. Now we're craving all things pomegranate, lemon, parsley and tomatoes, plus spice blends and other seasonings you'll find yourself using in your everyday repertoire. Try your hand at these fall-friendly pumpkin kibbeh — you've never had anything like it! 
In one of the poshest restaurants in an affluent neighborhood of Beirut we met Dzovik, a Syrian Armenian lady from Aleppo. Dzovik has been looking after her disabled husband for more than 15 years. Her son, who was conscripted into the Syrian army before the conflict started, is still serving in the military six years on, because the regime refused to release him at the end of his term of duty, even though he had a wife and child. Intense fighting meant Dzovik left her home with her husband, daughter-in-law and grandson and headed towards the Syrian coast, thinking she would only be away for 2 weeks or so. Those two weeks have now become four years and have taken her on to Beirut, where she waits for her son to be released from the army. She is now responsible for supporting her entire family, which she does by working as a head chef in one of Beirut's best Armenian restaurants.
Seasonal Syrian: Make This Pumpkin Kibbeh
Try your hand at these fall-friendly pumpkin kibbeh — you've never had anything like it! It's time to make Syrian food for dinner.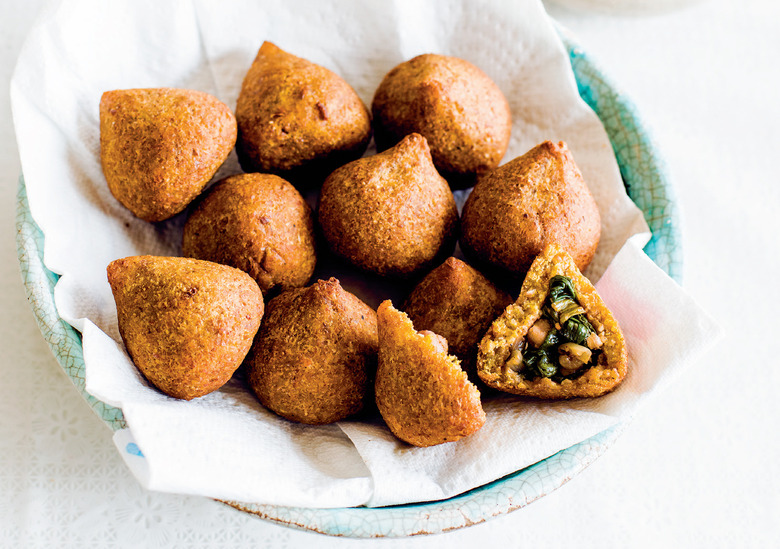 Ingredients
1 1/2 pounds pumpkin or butternut squash
1 small onion
1 1/3 cup fine bulgur wheat
1 teaspoon salt
1 teaspoon black pepper
1/3 cup all-purpose flour
vegetable oil
1 small onion
oil
1 1/2 teaspoon 7 spice
1 teaspoon salt
1 teaspoon pepper
1/2 teaspoon Aleppo Pepper
4 to 5 handfuls baby spinach
3/4 cup cooked chickpeas
4 cups walnuts
2 tablespoons pomegranate molasses
4 tablespoons pomegranate molasses
2 tablespoons walnuts
4 tablespoons red pepper paste
Directions
Boil the squash in a pan with enough water to cover until it is soft but not mushy. Drain very well and leave to cool in the colander.
Blend the onion in a food processor, then, using a sieve, squeeze as much of the water out as you can. Return to the food processor.
Add the squash, bulgur, salt, and pepper to the food processor and blend well. Pour into a large mixing bowl, add the flour and knead very well with your hands. Leave to rest in the fridge for at least 30 minutes.
Meanwhile, make the stuffing by frying the onion in a bit of oil over low heat until they caramelize. Add the spices and fry for a couple of minutes, stirring to coat, then add the spinach, walnuts, chickpeas, and molasses. When the spinach has wilted, take off the heat and leave to cool.
Take the dough mixture out of the fridge and divide it into individual balls each slightly smaller than a golf ball. Having a small bowl of water next to you for dipping your hands will help to make them smooth. Make sure you knead each piece really well before rolling into a ball, then use your forefinger to carve out a hole while rotating the ball with the other hand. You should end up with a hollow egg-shaped shell with a thin outer edge. Be careful not to tear the shell.
Put 1 teaspoon of the stuffing inside and seal the ball by pinching the edge. If the outside breaks slightly once you have stuffed and sealed it, use a bit of the water to smooth over the tear. Make each ball into an oval shape with a little pointy edge on one side using your fingertips. If you find this difficult, you can just make normal balls.
Deep-fry the balls in vegetable oil for about 5 minutes until they turn golden brown. Serve with the dip, which you make my mixing all the ingredients together in a bowl.