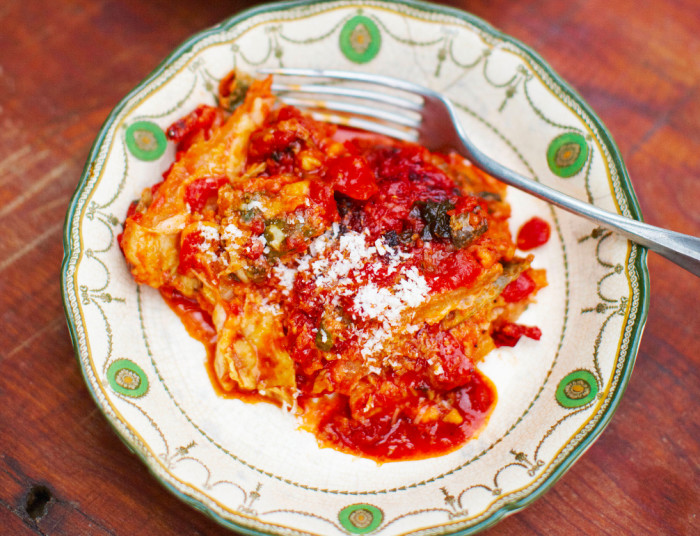 Family Italian, a new cookbook release from famed Italian chef (and Jamie Oliver mentor) Gennaro Contaldo, is packed with the recipes we want to cook. From haute cuisine to rustic peasant food — we love the whole spectrum — Family Italian is one of those books that puts you in the mood for a big, hearty dinner. Pick up this instant Meatless Monday classic and get ready to devour this seasonal leafy green.
It's a shame Swiss chard is not popular in this country, but it can be found at the market during late summer and autumn. When I was a young boy, the Parmigiana would be served as a side dish and it amazes me now how we could eat this along with a starter of pasta and a main course! When I make it, it is usually a main course, served with good bread, to mop up the sauce, and a green salad. Although only the stalks are used for this recipe, don't throw away the green leaves – boil them for a minute or two, then drain and serve with a drizzle of extra virgin olive oil (you could serve this as an accompaniment to the Parmigiana).
Ingredients
2

pounds

Swiss chard

1/2

tablespoon

all-purpose flour, plus extra to dust

3

eggs

6

tablespoons

freshly grated parmesan, plus extra to serve

Salt and freshly ground black pepper

olive oil, to fry

3 1/2

ounces

hard mozzarella, cut into small cubes

a few basil leaves for the tomato sauce

3

tablespoons

extra virgin olive oil

1

small onion, finely chopped

1 1/2

cans

chopped plum tomatoes

6

Fresh Basil leaves

a pinch of

salt
Directions
For the tomato sauce, heat the extra virgin olive oil in a saucepan, add the onion and sweat on a medium heat until softened. Reduce the heat to low, then add the tomatoes, basil leaves and salt and simmer for 25 minutes, stirring from time to time. Should the sauce appear dry, add a little hot water.
Preheat the oven to 400°F.
You want the white stalks and only the tender inner leaves of the Swiss chard. (The discarded harder green leaves can be used in another recipe or cooked as above.) Wash well and dry, then dust with flour.
Beat the eggs, stir in 2 tablespoons grated Parmesan, the 1/2 tablespoon flour and a pinch of salt and pepper.
Dip the chard in the beaten egg. Pour enough olive oil in a large frying pan to cover the base generously, then place over a medium–high heat. When hot, fry the chard on both sides until golden. Remove and drain on kitchen towel.
Line a 8 x 8 1/2-inch ovenproof dish with some of the tomato sauce, then arrange a layer of the chard on top, followed by some of the mozzarella, Parmesan and basil leaves. Continue layering like this until you have used up all the ingredients, finishing with a cheese topping.
Bake for about 35 minutes, until golden brown. Switch off the oven and leave the Parmigiana to settle in the oven for 10 minutes before serving sprinkled with extra grated Parmesan.
More swiss chard recipes on Food Republic: