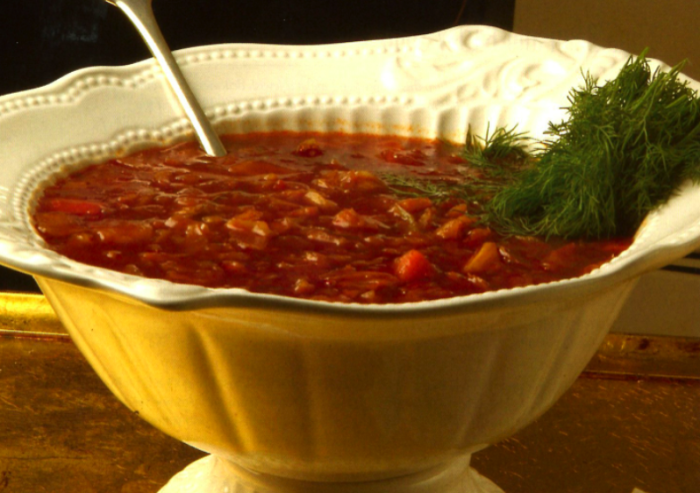 Rosh Hashanah starts today at sundown today and lasts until Friday, and we're super-excited to nosh on some of our favorite Jewish dishes to celebrate the new year. We borrowed a recipe for sweet and sour cabbage soup from cookbook author and executive chef of New England Soup Factory, Marjorie Druker. It's the kind of simple, delicious peasant food you can eat a whole lot of.
As old-fashioned as it sounds, this soup is one of my favorites. I think of it as Jewish soul food. Brown sugar, raisins and maple syrup help mellow the sharpness of the cabbage. The flavor seems to carry with it the grandmotherly wisdom that life is sometimes sweet and sometimes sour, but the combination balances out. This soup is especially popular among our senior customers, who remember when their mothers made it for them back in the Old Country.
Reprinted with permission from New England Soup Factory Cookbook
Ingredients
2

tablespoons

canola oil

2

cups

diced onions

2

cups

sliced carrots

1/2

cup

diced celery

1

head

cabbage, diced or sliced

3/4

cup

golden raisins

3 1/2

quarts

chicken or beef stock

2

cups

canned stewed tomatoes

2

cups

V-8 juice

2

cups

packed brown sugar

1/2

cup

maple syrup

1/2

cup

lemon juice

1

tablespoon

caraway seeds

1/4

cup

chopped fresh dill

kosher salt, to taste
Directions
Heat a stockpot for 2 minutes over medium-high heat. Add the canola oil, onions, carrots and celery. Sauté for 5 minutes.
Add the cabbage and sauté an additional 5 minutes. Add the raisins, stock, tomatoes, V-8 juice, brown sugar, maple syrup, lemon juice and caraway seeds. Bring to a boil.
Reduce the heat to medium and simmer for 1 1/2 hours. Remove from the heat. Add the dill and salt. Adjust the seasonings, adding more lemon juice or brown sugar, if necessary.
Try out these soup recipes on Food Republic: