Sweet Potato Samosas Recipe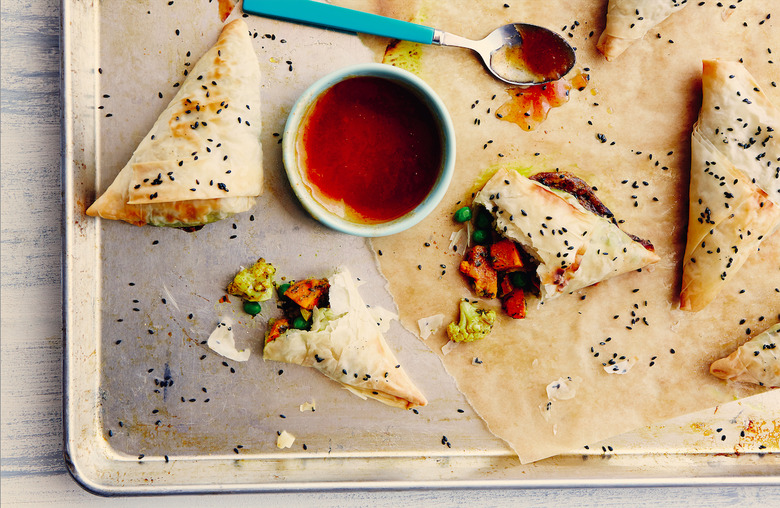 We may receive a commission on purchases made from links.
Afraid to bake because you think you'll mess it up? Grab a copy of blogger-turned-cookbook author Charmian Christie's The Messy Baker and break out that flour. Whether you're a shaky-handed cake fiend or a pie lover who just can't seem to make an aesthetically pleasing pastry, there's a recipe in here for you. Today, the world's easiest sweet potato samosas.
Traditional samosas are not wrapped in phyllo, but this packaged pastry is so versatile and convenient, it's the one pastry I don't bother making by hand. While this recipe calls for rolling the samosas in triangles, you can use any phyllo rolling technique that suits you. Regardless of how you wrap them, these Indian-inspired, spice-laced bundles are a perfect way to enjoy some vegetables.
Sweet Potato Samosas Recipe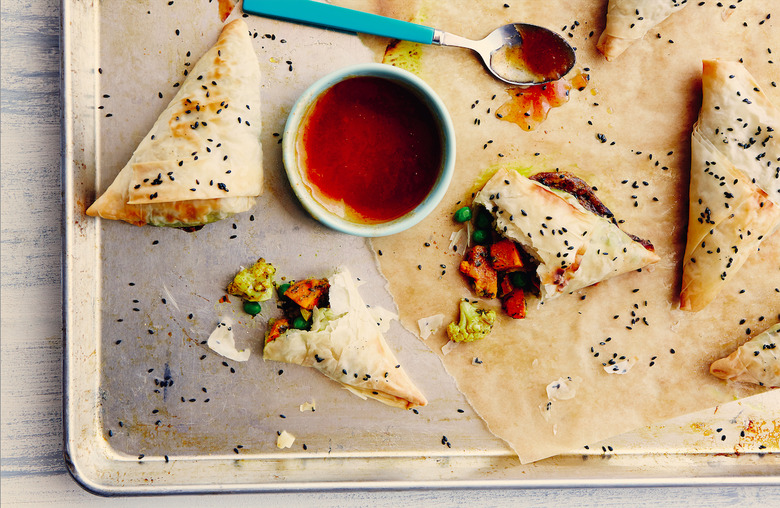 Ingredients
4 cups sweet potatoes
2 cups cauliflower
2 tablespoons vegetable oil
1 large onion
2 tablespoons fresh ginger
2 tablespoons garlic
1 tablespoon ground cumin
1 tablespoon ground coriander
1 tablespoon garam masala
1 teaspoon ground turmeric
1/2 teaspoon red pepper flakes (optional)
1 teaspoon fine sea salt
1/2 cup unsweetened coconut milk
1/4 cup lemon juice
1 cup frozen peas (petits pois are best)
1/2 cup packed cilantro
1 package (16 ounces) phyllo sheets
1/2 cup vegetable oil or melted butter
1 tablespoon black sesame seeds (optional)
Directions
In a large pot over high heat, boil the sweet potatoes for 3 minutes.
Add the cauliflower and boil until both vegetables are tender but not falling apart.
Drain and set aside.
In a large skillet over medium heat, heat the oil.
Cook the onion for 5 minutes, or until tender and golden.
Stir in the ginger and garlic and cook for 1 minute.
Add the cumin, coriander, garam masala, turmeric, pepper flakes (if using) and salt.
Cook for 1 minute, stirring.
Gently fold in the reserved sweet potatoes and cauliflower.
Stir in the coconut milk and lemon juice and cook to heat through. The filling should be moist but not wet. If there's too much moisture in the filling, the pastry will burst.
If the filling is wet, continue cooking to reduce some of the liquid. If it's falling-apart dry, add a bit more coconut milk.
Stir in the peas and cilantro.
Remove the pan from the heat and set the filling aside to let cool before folding the samosas.
Preheat the oven to 350°F.
Lightly dampen a tea towel and place on top of the opened phyllo sheets to prevent the pastry from drying out.
Remove 1 sheet at a time and, using a pastry brush, brush lightly with oil or butter.
Fold the sheet in thirds so you have a sheet about 6 inches long, 12 inches wide and 3 layers thick.
Place 1/4 cup of the filling at the bottom, about 1 inch from the bottom edge and slightly toward the left.
Fold the bottom right corner over the filling to form a triangle.
Fold the filling up, maintaining the triangle.
Place the samosa on a baking sheet and brush with more oil or butter.
Repeat with the remaining phyllo and filling.
Dust the samosas with the sesame seeds, if using.
Bake for 20 to 25 minutes, or until the samosas are golden brown and crispy.
Indian Toastie Sandwich Recipe
Garlic-Cilantro Naan Recipe
Curried Lentil Pies Recipe