Sweet Potato Hummus With Smoked Paprika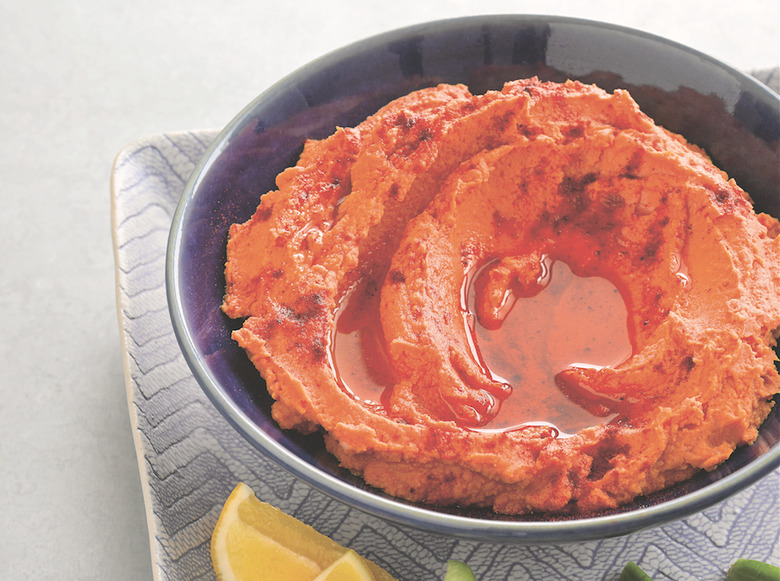 We may receive a commission on purchases made from links.
Food writer and recipe developer Dawn Yanagihara figured out something awesome: Those brightly colored vegetables you're supposed to be eating regularly make beautiful, vibrant-hued dips and spreads. Better still: Those dips and spreads are perfect for blending up the nuts, seeds and other superfoods you're supposed to be eating regularly, too. The combination of silky mashed sweet potatoes and savory chickpeas makes for a perfectly balanced dip that will brighten up vegetable crudité or chips of any kind. 
This dip is smooth, earthy, sweet, nutty and slightly smoky. Serve with crackers, crudités, pita bread or pita chips. It can be refrigerated without garnish for up to five days; bring to room temperature, stir to recombine and garnish before serving.
Sweet Potato Hummus With Smoked Paprika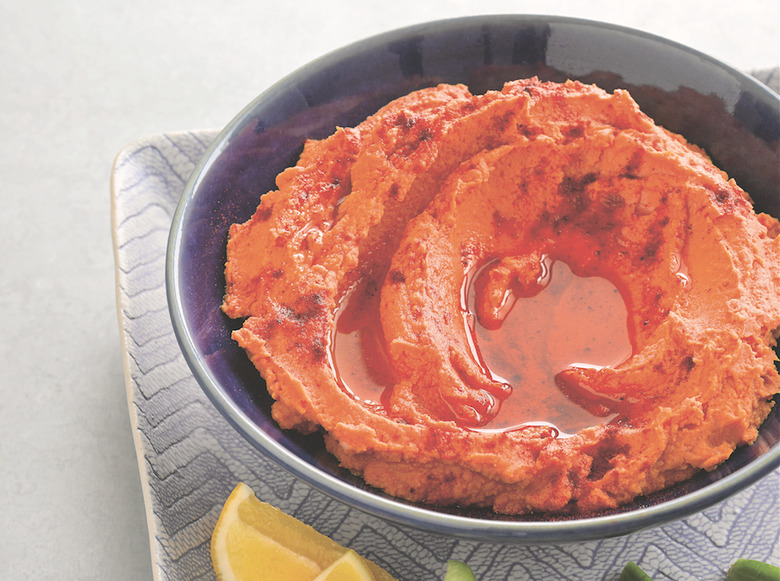 Ingredients
1 8-ounce orange-fleshed sweet potato
2 medium garlic cloves
1 15-ounce can chickpeas
3 tablespoons tahini
3 tablespoons freshly squeezed lemon juice
1 tablespoon water
3/4 teaspoon smoked paprika
3/8 teaspoon ground cumin
fine sea salt
1/4 cup extra virgin olive oil
Directions
Preheat the oven to 375°F [190°C]. Line a small baking sheet with aluminum foil.
Pierce the sweet potato a few times with the tip of a paring knife and set it on the prepared baking sheet. Drop the garlic cloves onto the baking sheet. Roast for 15 minutes, then remove the garlic cloves and set aside. Continue to roast the sweet potato until a skewer inserted into the thickest part meets no resistance, about 1 hour. Let cool completely on the baking sheet.
Peel the garlic cloves and the sweet potato. Cut the sweet potato into largish chunks.
In a food processor, combine the chickpeas, sweet potato chunks, roasted garlic, tahini, lemon juice, water, smoked paprika, cumin, and 1 teaspoon salt. Pulse about ten times, until the chickpeas are coarsely chopped. Scrape down the bowl and process to a thick purée, about 1 minute. Scrape down the bowl once again. With the machine running, stream in the olive oil and continue to process until the mixture is as smooth as it can be, about 1 minute, scraping down the bowl once or twice. Taste and adjust the seasoning with more salt, if needed.
Transfer the hummus to a wide, shallow bowl for serving. Cover and let stand at room temperature for about 30 minutes to allow the flavors to meld.
Use the back of a spoon to swirl the surface of the dip. Drizzle with olive oil, sprinkle with smoked paprika, and serve.