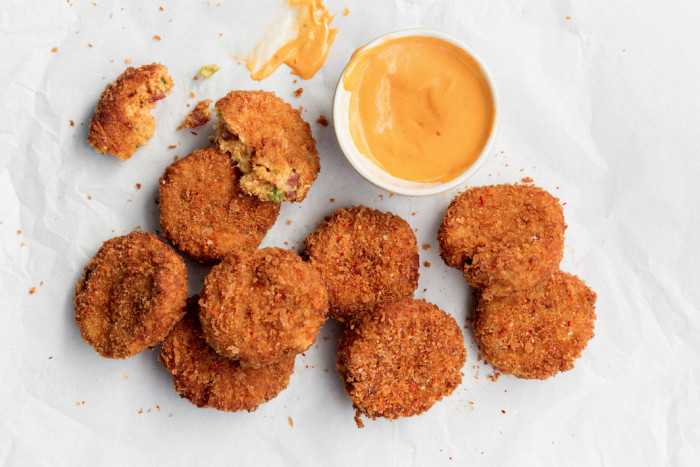 Joanne Chang, mastermind behind Boston's much-loved Myers + Chang, has a new collection of recipes out that will stoke your fire for modern Taiwanese food like you've never imagined. These crispy sweet potato and Chinese sausage fritters will be invited to every party you throw from now on. 
An addictive treat, these fritters are creamy and soft inside and super crunchy on the outside. They get their exceptional crunch from the panko crust. Panko is a Japanese bread crumb that is puffed so that it fries up light and crispy. You can find panko in most grocery stores, along with small cans of red curry paste (often labeled "Thai") and plastic jars of sambal oelek. You'll likely have to visit an Asian grocery store to find Chinese sausage, sometimes labeled "lap cheong." It is a firm, cured sausage that is reddish in color like salami with a distinctive sweet flavor. Feel free to substitute chopped-up chorizo, bacon, or ham, or leave it out altogether for a vegetarian version. If you can find Japanese sweet potatoes, which have a purple skin and are especially sweet, definitely use those; otherwise, regular sweet potatoes or even yams work well here.
Ingredients
2

medium sweet potatoes (about 1 1/2 pounds), scrubbed clean

1/3

cup

finely chopped Chinese sausage

2

scallions, white and green parts finely chopped (about 1/4 cup)

2

tablespoons

unsalted butter, melted

1

tablespoon

Homemade Red Curry Paste or jarred Thai red curry paste (we like Roland brand)

1 1/2

teaspoons

kosher salt

1

large egg

3/4

cup

panko breadcrumbs

1/4

cup

vegetable oil, such as canola, plus more as needed

1/2

cup

Sriracha Aioli or 1/2 cup mayonnaise mixed with 2 tablespoons Sriracha
Directions
For the fritters
Preheat the oven to 350°F and place a rack in the center of the oven.

Place the sweet potatoes directly on the oven rack and roast for about 1 hour, until they are completely cooked through. You should be able to easily poke a small knife directly into the middle of the potatoes when they are done. Remove from the oven and let cool. When they are cool enough to handle, peel the skin off with a small paring knife and place the flesh in a bowl. Mash the potato with a fork until smooth. Add the sausage, scallions, butter, curry paste, and salt. Mash with a fork or wooden spoon until well combined.

In a shallow bowl, whisk the egg with a fork and pour the panko crumbs onto a large plate. Shape the sweet potato mixture into small cakes, 2 to 3 inches round and 1 inch thick. Dip the sweet potato cakes in the egg to coat both sides, then in the panko crumbs, covering them completely.

In a large, heavy, flat-bottomed skillet, heat the oil over medium heat. Carefully place the fritters a few at a time in the hot oil and fry them until they are golden brown on both sides, about 3 minutes per side. Drain them on a plate lined with paper towels. Serve the hot fritters with the Sriracha Aioli.