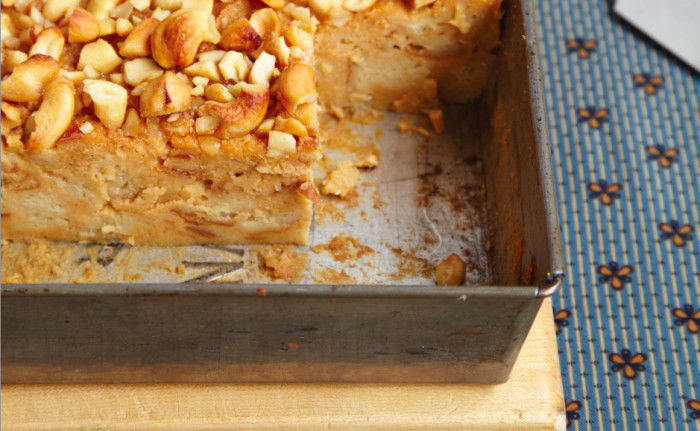 We're loving award-winning cookbook author Jenny McCoy's new dessert cookbook, Desserts For Every Season, which highlights the sweeter sides of seasonal fruit. When a famed pastry chef develops recipes for some of the nation's top restaurants, we're going to need her cookbook. This sweet potato bread pudding is a must-have for your holiday dinner repertoire.
My friend Jessica Cutter, a former pastry chef for Emeril, shared the recipe for this twist on New Orleans's most well-known dessert with me. Over the years I've adapted it by adding cashews as a crunchy topping.
Reprinted with permission from Jenny McCoy's Desserts for Every Season
Ingredients
2

pounds

sweet potatoes

1

cup

whole milk, divided

4

large eggs

1/4

cup

granulated sugar

1/2

cup

packed dark brown sugar

3/4

teaspoon

fine sea salt

3/4

teaspoon

pure vanilla extract

1

tablespoon plus 2 teaspoons

whiskey

finely grated zest of

1/4 orange

1/2

teaspoon

ground cinnamon

1/2

teaspoon

ground nutmeg

1/4

teaspoon

ground ginger

1/4

teaspoon

ground allspice

1

cup

heavy cream

6

cups (about 8 ounces)

soft white bread, cut into 3/4-inch cubes

non-stick cooking spray

1/2

cup (about 2 1/2 ounces)

whole cashews, roughly chopped

1

tablespoon

turbinado sugar
Directions
Position a rack in the center of the oven and preheat to 375 degrees F.
Wrap the sweet potatoes individually in aluminum foil. Place them on a baking sheet and bake until soft when pierced with a fork, 1 to 1 1/2 hours. Let cool until just warm. Remove the foil, cut the potatoes in half and scoop the flesh from the skins. Transfer the cooked sweet potato to a food processor, add 1/2 cup of the milk and process until smooth.
In a large bowl, whisk the eggs, granulated sugar, brown sugar, salt, vanilla, whiskey, orange zest, cinnamon, nutmeg, ginger and allspice together until smooth. Meanwhile, bring the remaining 1/2 cup milk and the cream to a boil in a small saucepan. Slowly pour the hot cream over the egg mixture, whisking constantly. Add the sweet potato puree and stir until evenly combined. Add the bread and gently stir to combine. Refrigerate the bread pudding base for at least 2 hours and up to overnight.
Position a rack in the center of the oven and preheat to 350 degrees F. Lightly coat a 9-inch square baking pan with nonstick cooking spray.
Stir the bread pudding base, then pour it into the prepared baking dish. Sprinkle the top with the cashews and turbinado sugar and bake until golden brown, slightly puffed, and set, 35 to 40 minutes. Serve warm or at room temperature.
Check out these dessert recipes on Food Republic: