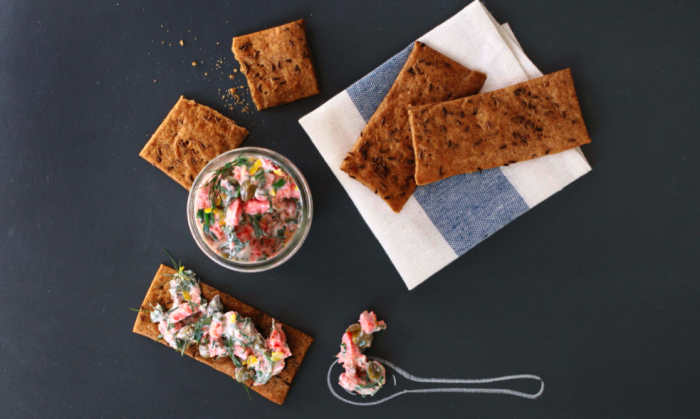 We've bought more boxes of crackers than we're willing to count. It's time to make our own, which is why we picked up a copy of Crackers & Dips. If you're proud of your crackers (and you will be if they're homemade), you're likely to enjoy the toppings even more. These rye crackers are a popular breakfast in Scandinavia, but they make a great snack too.
I fell head over heels in love with dark, crisp rye crackers during a recent trip to Scandinavia. Every morning, my husband and I sat down with his gracious relatives who offered us hearty breakfasts of rye crisps topped with a tantalizing array of gorgeous smoked and pickled fish. It seemed an odd way to start the day at first, but we were quickly hooked. Now the smørbrød breakfast has become something of a weekend ritual in our house; there's nothing better than lingering over the newspaper while nibbling on gravlax, herring, cheese and pickles mounded on crisp rye crackers.
Ingredients
1

cup

dark rye flour

1

cup

unbleached all-purpose flour, plus more for rolling

1

teaspoon

baking powder

1

teaspoon

fine sea salt

1/2

teaspoon

ground caraway seeds

2

tablespoons

chilled unsalted butter, cut into 1/4-inch cubes

1/2

cup

whole milk

1

tablespoon

molasses

1

egg, beaten with 1 tablespoon water

2

teaspoons

caraway seeds
Directions
Preheat the oven to 400°F. Line two baking sheets with silicone baking mats or parchment paper. In a food pro­cessor or large bowl, combine the rye flour, all-purpose flour, baking powder, salt and ground caraway and pulse or whisk to combine. Add the butter and pulse or rub with your fingers until the butter is in tiny pieces and the mixture resembles fine cornmeal, 15 one-second pulses.
In a measuring cup with a spout, combine the milk and molasses and stir until the molasses has completely dissolved. Gradually add the milk mixture to the flour mixture and pulse or stir with a wooden spoon until the dough comes together into a ball.
On a lightly floured surface, knead the dough until smooth, about 25 strokes. The dough will be slightly sticky; add flour only as necessary. Divide the dough into two balls, cover with plastic wrap and let the dough rest for 30 minutes. (The dough can be made up to this point and stored in the refrigerator, tightly wrapped, for up to 2 days.)
Run the dough through a pasta maker following the instruc­tions below until the dough is about 1/16-inch thick, the 5 setting on most pasta makers. Alternatively, pat one ball of dough into a small rect­angle and roll it out on a lightly floured surface until the dough is 1/16-inch thick, lifting the dough and rotating occasionally to make sure it's not sticking, and adding flour only as necessary.

Using a pastry wheel or pizza cutter, cut the dough into long 2-in-/5-cm-wide strips; reserve any scraps. Transfer the strips to a prepared baking sheet and repeat the process of rolling and cutting with the remaining dough and scraps.

Brush the crackers lightly with the beaten egg and sprinkle them with the caraway seeds. Using the bottom of a measuring cup, press down gently to adhere the seeds to the crackers. Prick the crackers with a fork or comb. Use a pastry wheel or pizza cutter to cut the strips crosswise into 4-inch-long crackers.

Bake until the crackers are golden brown around the edges and no longer pliable, 12 to 15 minutes, rotating the baking sheets once from top to bottom and from back to front while baking. Watch carefully to make sure the crackers do not burn. Cool the crackers on racks and store in an airtight container for up to 3 weeks.
Try out these dip recipes on Food Republic: