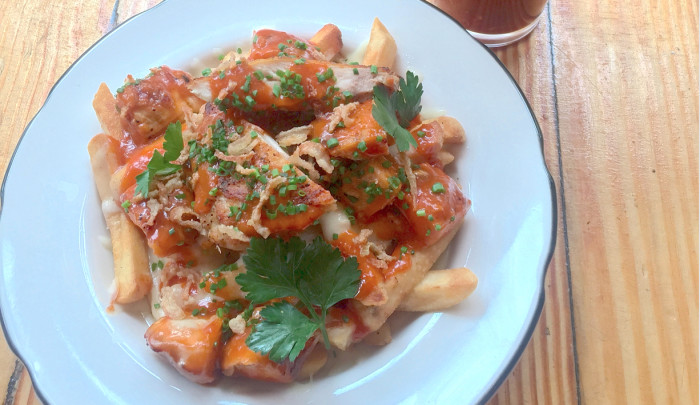 Everyone's gearing up for the Super Bowl, even French chef David Malbequi of East Village restaurant David's Café. His  space is French countryside meets downtown NYC, the food is Frenchy does American, the beers are local, the wine is on tap and the drinks are smart. You may want to just stick with a local beer to wash down this superb Buffalo chicken poutine he loaned us, however. It's a natural pairing. 
I grew up in France, so Buffalo chicken wings were never even on my radar, but in the past couple of decades I've spent in the U.S., I've come to realize that wings are as American as they get. Before opening my restaurant, I took a trip up to Montreal and was inspired by how obsessed they are with poutine and how many different varieties there are, so I added a "hangover poutine" with peppercorn gravy, a beef patty and a fried egg to my brunch menu.
When it came time to think about the Super Bowl,  I figured why not bring these two "fat kid"–type snacks together for the ultimate tailgate snack? We make our own Buffalo sauce with a combination of several hot sauces, adobo, horseradish and Izak spice (a harissa-inspired dry blend with sweet red chilies) to really amp up the heat and intensity. The gravy features blue cheese and mozzarella, and our fries are double-fried to ensure a crispiness that can withstand the sauce and gravy. Top that with some crispy chicken thighs and you've got a flawless game-day indulgence.
Ingredients
Buffalo sauce
1/2

cup

unsalted butter

4

ounces

bacon, diced

1

celery stalk, diced

2 1/2

shallots, chopped

1/4

head of

garlic, peeled

1/4

cup

red wine vinegar

3 1/2

cups

(Heinz) ketchup

2

cups

chicken stock

1/2

cup

Cholula Sauce

2

tablespoons

Valentina Hot Sauce

1

piece

chipotle in adobo sauce

1 1/3

tablespoons

horseradish

1

tablespoon

worcestershire sauce

1/2

tablespoon

Izak spice mix from La Boîte (a harissa-inspired dry blend with sweet red chilies)
Blue cheese and mozzarella gravy
1/3

cup

unsalted butter

1/3

cup

all-purpose flour

1

quart

chicken stock

1/2

quart

heavy cream

3 1/2

tablespoons

blue cheese powder

3 1/2

tablespoons

Shredded mozzarella

salt and black pepper to taste
Poutine
2/3

pounds

Idaho potatoes, cut into fries with skin on

2

chicken thighs, skin on

2 1/2

ounces

Shredded mozzarella

7

onces

blue cheese and mozzerella gravy

1/2

cup

buffalo sauce

Canola oil (enough for frying potatoes and cooking chicken)
Directions
For the Buffalo sauce
In a medium pot over low heat, melt the butter, add the bacon, celery, shallots, and garlic, let it cook until golden brown, deglaze with the vinegar and add all the other ingredients. Cook for 25 minutes on low heat. Use a hand blender or regular blender to puree the sauce and pass through a chinois or strainer to end with a smooth consistency.
For the gravy
In a medium pot over low heat, melt the butter and then add the flour and let cook for 3 minutes. Add the chicken stock and continue to stir with a whisk to avoid lumps. Add heavy cream, blue cheese powder and mozzarella cheese and season the sauce with salt and black pepper to taste. Allow to cook for 15 minutes.
For the poutine
Bring a pot of canola oil up to 300 degrees. Blanch the French fries for 4 minutes, until tender, and remove. Raise the oil to 375 degrees, then cook the French fries again until golden brown. Remove the fries and let sit on a wire rack or paper towels and season with salt to taste.

Meanwhile, season the chicken with salt and pepper and get a saucepan hot. Drizzle enough canola oil to simply coat the pan and place the chicken skin-side down in the pan. Cook for 6 minutes on the first side, turn and cook another 4 minutes until the meat is fully cooked.

To prepare, pile the French fries high on a plate and top with chicken (quartered or cut into pieces). Drizzle the gravy on top, then the hot sauce and top with shredded mozzarella. Garnish with fried shallots and chives if desired.