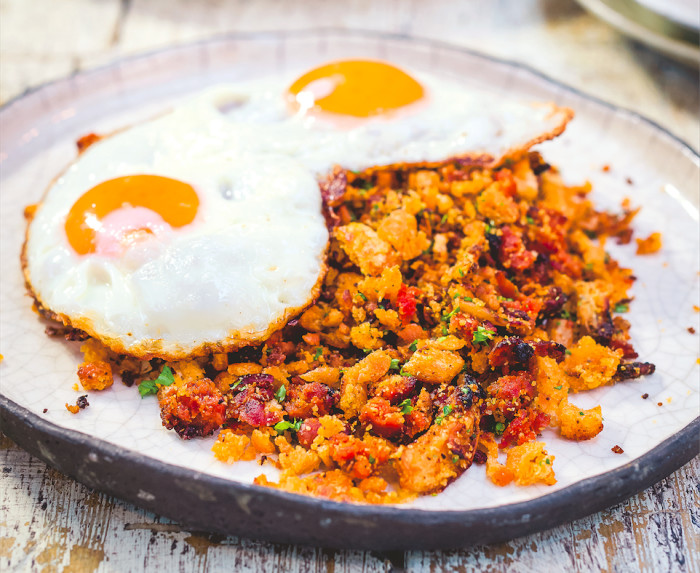 Chef Richard H. Turner is truly a master of meat. From his renowned London outposts (including the heralded Pitt Cue Co.) to the great annual carnivorous festival that is Meatopia (which he cofounded), you can count on Turner for the very best "from snout to squeak." His new cookbook, Hog, is a hefty volume of all things pig. If you're a fan of that mighty animal, you're going to need this book, especially for brunch.
Making migas is a traditional Spanish way of using up leftover bread, and while the ingredients vary from province to province, this version is close to that of Teruel in Aragon, in eastern Spain. I've long been fascinated by migas; in the right hands it's a comforting dish that is a perfect way to start the day.
Reprinted with permission from Hog: Proper Pork Recipes From the Snout to the Squeak
Ingredients
1

pound, 2 ounces

stale bread

2

tablespoons

pork drippings (or bacon fat)

7

ounces

fresh chorizo, crumbled

4

cloves

garlic, halved

Smoked

sea-salt flakes

Large

pinch

hot smoked paprika

1

tablespoon

fresh parsley, chopped

Fried

eggs, to serve
Directions
Cut the stale bread into cubes and put them into a bowl. Sprinkle water evenly over the bread — it should be moist, but not soaking wet. Cover the bowl and let stand for 20 minutes.
Put the pork drippings into a skillet over medium heat, add the chorizo and stir. After 2 minutes, add the garlic and cook until the chorizo is lightly browned on all sides. Remove the garlic and chorizo from the pan and set aside.
Add the moistened bread to the fat in the skillet and begin to stir with a large wooden spoon or a spatula, moving it around constantly and breaking it into smaller pieces. The bread should form small clumps, fried and golden on the outside, and soft on the inside.
Return the chorizo and garlic to the pan and season to taste with smoked salt and hot smoked paprika.
Stir in the chopped parsley, then serve with fried eggs.
More delicious breakfast recipes from Food Republic: