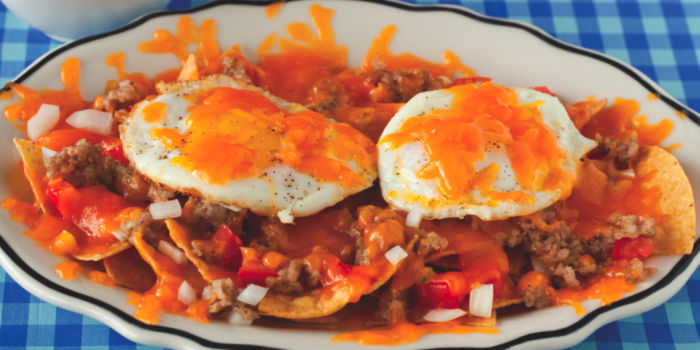 There's no better place for a nachos cookbook than the shelves of the Food Republic library, and no better time for nachos than brunch. That's something we learned after making these Sunny Side Nachos, and we're better people for it.
"Breakfast is the most important meal of the day and nachos are the most important dish ever. So this is a match made in heaven."
Related: Does The World Need 84 Nachos Recipes? These Two People Think So.
Ingredients
1

pound

ground breakfast sausage (vegetarians can substitute Gimme Lean)

cayenne pepper

7

ounces

corn tortillas, approximately half of a store-bought bag or, if prepared fresh, use 15 corn tortillas, each cut into 6 triangles

1

white onion, diced

1

medium tomato, seeded and diced

8

ounces

cheddar cheese, shredded (about 2 cups)

4

large eggs

1/2

cup

chopped fresh cilantro
Directions
Preheat the oven to 350°F.
Crumble and brown the breakfast sausage as per the package directions. Sprinkle in some cayenne for an additional kick.
Layer the tortilla chips in a 9 x 13-inch roasting pan. Evenly distribute the sausage, onion and tomatoes over the chips. Cover the chips with the shredded cheese.
Bake the nachos for 10-15 minutes until the cheese has melted. While the nachos are baking, fry 4 eggs sunny side up, leaving the yolk runny.
When the nachos are done, place the eggs directly on top of the nachos.
Sprinkle the remaining 1/2 cup shredded cheese over the eggs and season generously with salt and pepper. Garnish the nachos with the cilantro.
Serve the nachos with a side of home fries and a hot cup of coffee.
Check out these nachos recipes on Food Republic: