Dip Into This Sun-Dried Tomato Soup With Couscous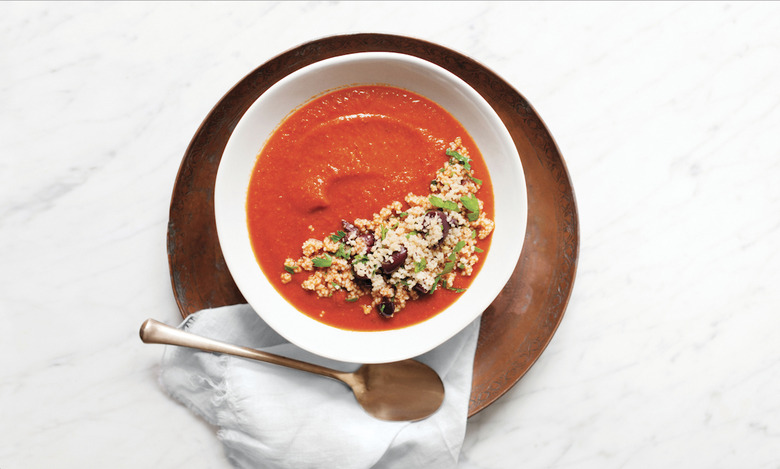 We may receive a commission on purchases made from links.
Food writer, nutritionist and cookbook author Sarah Britton has a new collection of recipes out that every vegetarian should add to their library. These dishes, like sun-dried tomato soup with couscous, are packed with the kind of flavor and nutrition that keep you full and satisfied.
This hearty dish is a perfect meal to enjoy when the first autumn days are creeping in and you need a little coziness, but you can also enjoy it cold. By using a combination of sun-dried and canned tomatoes, you'll add tons of umami notes to a totally vegan soup. The texture of the couscous topping provides a welcoming contrast to the smooth purée, while the olives lend a salty bite and the parsley adds a fresh note.
Harissa is a Tunisian hot chile paste. It's easy to make (the recipe is on the My New Roots blog!), or look for it premade at the grocery store. If you do not have harissa paste, simply add some cayenne pepper or smoked hot paprika as desired.
Dip Into This Sun-Dried Tomato Soup With Couscous
Food writer, nutritionist and cookbook author Sarah Britton has a new collection of recipes out, like this healthy sun-dried tomato soup with couscous.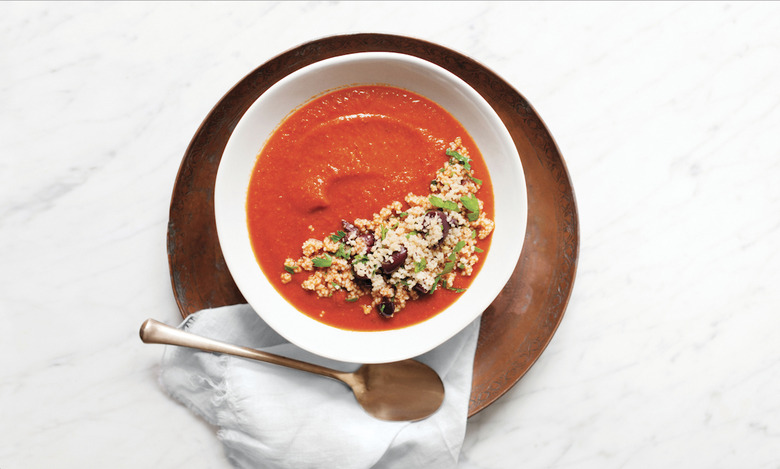 Ingredients
1 tablespoon coconut oil or ghee
3 medium yellow onions
2 pinches fine sea salt
3 garlic cloves
2 teaspoons ground cumin
1 teaspoon ground cinnamon
2 teaspoons ground coriander
1 tablespoon peeled, minced fresh ginger
1 tablespoon harissa paste (available at Middle Eastern grocery stores)
2 large red bell peppers (stems, seeds and ribs removed)
5 to 6 cups vegetable broth
1 14.5-ounce can whole tomatoes
1 cup chopped sundried tomatoes
1 1/2 cups cooked chickpeas
1/2 cup whole wheat couscous
1/4 teaspoon fine sea salt
1/2 cup chopped black olives
1/2 cup chopped fresh flat-leaf parsley
zest of 1 lemon
1 1/2 teaspoons freshly squeezed lemon juice
1 tablespoon cold-pressed olive oil
Directions
Start the soup: In a large stockpot, melt the coconut oil over medium heat. Add the onions and salt and stir to coat. Cook, stirring occasionally, until the onions soften and begin to slightly caramelize, about 10 minutes. Add the garlic, cumin, cinnamon, coriander, ginger, and harissa paste and cook until fragrant, about 2 minutes. Add the bell peppers and cook for 5 minutes, adding a little broth to the pot if the mixture becomes dry.
Add the whole tomatoes and their juices along with the sun-dried tomatoes and the rest of the broth. Bring to a boil, reduce the heat to low, and cook for 15 minutes.
Carefully transfer the soup to a blender and blend on high until smooth. Return the soup to the pot, add the chickpeas, and heat through.
Meanwhile, make the couscous topping: In a small pot, combine the couscous and the salt, and cook according to the package directions. Fluff with a fork, then add the olives, parsley, lemon zest and juice, and olive oil. Season with salt.
To serve, ladle the soup into bowls and top with as much couscous as desired. Enjoy hot or cold.