Sumptuous Steak: Michael Mina's Butter-Poached Rib Cap Recipe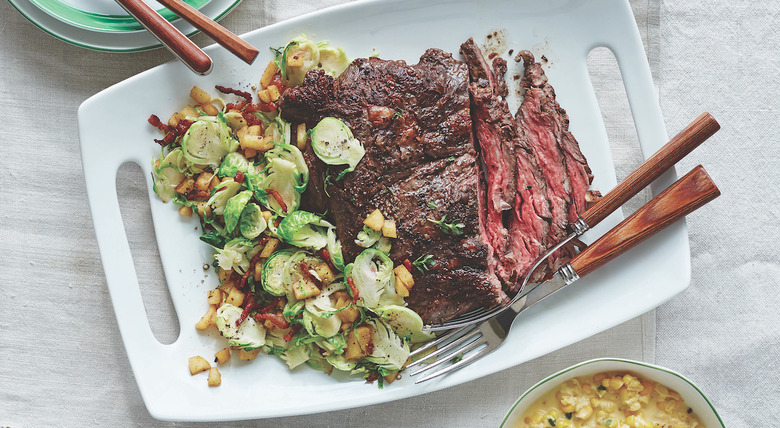 We may receive a commission on purchases made from links.
Food blogger Daina Falk (daughter of renowned sports agent David Falk) just published a cookbook of her favorite tailgating dishes. From rookie recipes to legendary snacks, entrees and desserts, The Hungry Fan's Game Day Cookbook has a winner for every sports fan out there.
These recipes come from celebrity chef Michael Mina, who has won several awards from Michelin and the James Beard Foundation. In 2002, Andre Agassi first dined at Michael's restaurant in San Francisco, and during the course of that evening a great partnership was born. Together, they formed the Mina Group, which owns and operates restaurants in San Francisco, San Jose, Dana Point, Atlantic City, and Las Vegas, where Andre is from and resides today. Michael is Andre and Steffi's favorite chef, and if you ask them for their favorite dishes, they'll point you in his direction. (And for good reason—his food is insanely delicious.) Michael Mina noted to me, "It's very intimidating to cook a steak for Andre Agassi. He puts as much into his steak cookery as he would into a tennis match. So when cooking for him, I always have to be sure I'm on my best game!"
Reprinted with permission from The Hungry Fan's Game Day Cookbook
Sumptuous Steak: Michael Mina's Butter-Poached Rib Cap Recipe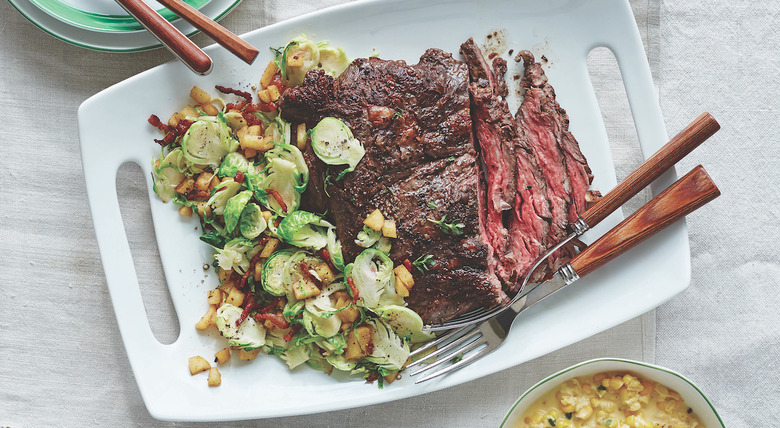 Ingredients
3 pounds unsalted butter
1 20-ounce bone-in rib cap steak
sea salt and freshly ground black pepper
8 sprigs thyme
3 shallots
3 cloves garlic
5 ears corn
1 tablespoon butter
sea salt and freshly ground black pepper
1 1/2 teaspoons jalapeño juice
1/2 jalapeno
1/4 cup heavy cream
1 tablespoon butter
2 tablespoons diced bacon lardon (the fatty part)
1/4 cup peeled and diced apples
sea salt and freshly ground black pepper
1/2 cup shaved Brussels sprouts (use a mandoline, or slice as thinly as possible)
Directions
First you must clarify the butter: Warm the butter in a heavy-bottomed pot over very low heat. Three things will happen: The milk solids will rise to the top as foam, the water in the butter will settle to the bottom, and in the middle will be what you want — the fat. When all the butter is melted, skim and discard the foam, and use a ladle to transfer the butter fat — the very yellow liquid — to a clean container. When the liquid you're ladling out of the pot starts to look much lighter in color, you're done.
Set a deep skillet just large enough to hold the steaks on top of a stockpot of simmering water. Add the clarified butter, and heat to 140° to 150°F, using the probe of an instant meat thermometer to measure the temperature. Keep the water at a gentle simmer throughout cooking, and regularly check the butter's temperature. (Don't let the probe touch the bottom of the pan, because that will give you a false reading.)
Meanwhile, season the steaks generously with salt and pepper.
Add the thyme, shallots, garlic, and steaks to the skillet. For every inch of thickness, poach the meat for 30 minutes, until the internal temperature reaches 120°F. (Note: If the butter doesn't totally cover the steaks, flip them halfway through poaching.)
While the steaks are poaching, make the creamed corn and Brussels sprouts. Scrape the ears of corn using a corn creamer. (What's a corn creamer? Visit peasandcornco.com.) Melt the butter in a large saucepan over low heat. Add the corn, and cook on medium to low heat, stirring constantly, until the corn has thickened and no longer has a raw taste, about 18 minutes. Season with salt, pepper, and the jalapeño juice. Stir in the minced jalapeño and heavy cream, and keep warm.
Make the Brussels sprouts: Combine the butter and bacon in a medium pan set over medium. Cook for 2 minutes, occasionally scraping the bottom of the pan. Add the apples, season with salt and pepper, and cook for another 2 minutes, or until golden brown. Add the Brussels sprouts, and toss in the pan for a final 2 minutes, until softened. Serve hot.
Remove the steaks from the skillet, allowing the excess butter to drip back into the skillet. Season the steaks again with salt and pepper, and transfer them to a very hot cast-iron pan or grill. Sear on each side to develop a brown crust, about 2 minutes total.
Divide the creamed corn between two plates, and garnish with more jalapeño. Add the steak and Brussels sprouts and serve immediately.