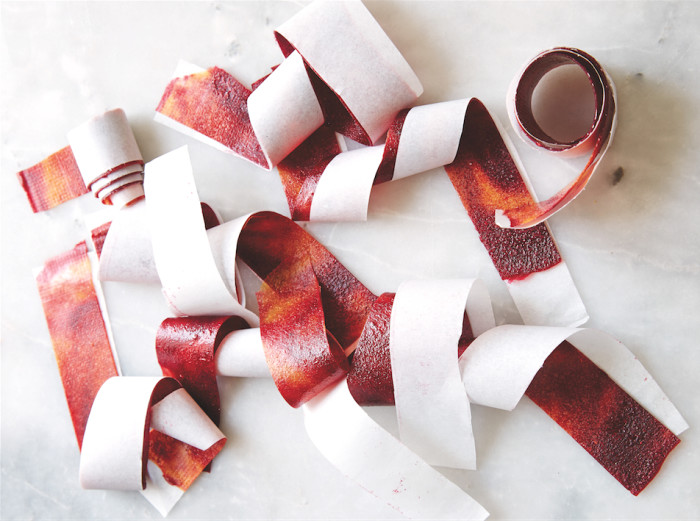 The best gluten-free cookbooks don't mess around with xantham gum and tapioca starch, because the best gluten-free food comes from nature that way. Join author Samantha Seneviratne on a recipe journey through additive-free, wheatless meals — you won't miss the gluten a bit.

 Tip: Convection baking is really the best way to make fruit leather, but if your oven doesn't have a convection setting, bake the leather on the standard setting at the same temperature. It will just take a bit longer.
Ingredients
12

ounces

frozen raspberries

12

ounces

frozen peaches

1/4

cup

sugar or honey
Directions
For the leather
In two medium saucepans, heat the raspberries and the peaches separately over medium-high heat, stirring occasionally, until the fruit has broken down and some of the liquid has evaporated, 15 to 20 minutes. Remove from the heat.

Carefully transfer the cooked raspberries to the bowl of a food processor, and blend until the mixture is smooth. Set a medium-mesh sieve over a bowl and pass the raspberry puree through, using a spoon to help the mixture along. Discard the seeds. You should have ½ cup of strained puree. Add 2 tablespoons of the sugar to the raspberry puree.

Rinse out the bowl of the food processor and blend the cooked peaches until smooth. Transfer the puree to a bowl. Stir in 2 tablespoons of the sugar. Preheat the oven to 200°F, on the convection setting if available.

Set a silicone baking mat into a large rimmed baking sheet. Spread the peach puree in an even layer, leaving a 1-inch border. Top the peach with dollops of the raspberry puree. Use an offset spatula to spread and swirl the purees to make one even layer. Bake until the surface is just tacky to the touch but not wet, 2 to 3 hours (on convection). Let the fruit leather dry at room temperature, 1 to 2 hours.

Peel the sheet of fruit leather off of the silicone mat and transfer it to a sheet of parchment. Roll the parchment up with the fruit leather. Cut the roll into slices and store them in an airtight container at room temperature for up to 2 weeks.