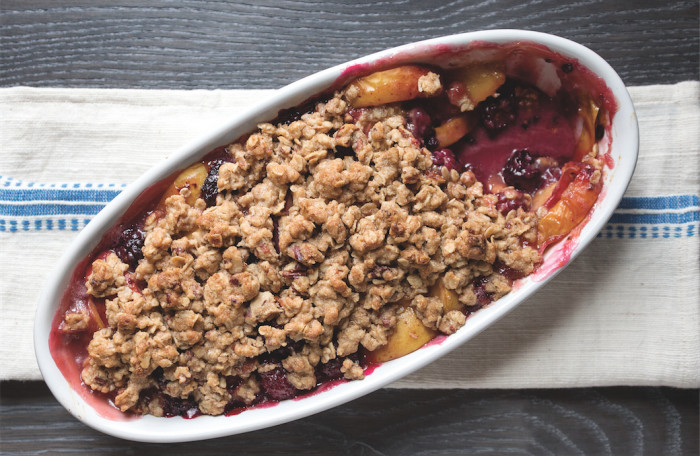 Food writer and chef Anna Watson Carl's book, named after her blog, the Yellow Table, is a dinner party host's best friend. Whether it's an informal gathering of friends or a full-on event, boost your confidence with expert tips and spectacular recipes that are sure to help you pull it off like a pro.  
My friend Kelyn helped me develop this summery crumble, and her suggestions — like adding in lemon zest and vanilla extract — took it from good to extraordinary. Serve this with good-quality vanilla ice cream. It's also delicious eaten cold for breakfast, with Greek yogurt.
Ingredients
Peach-blackberry filling
5

cups

sliced skin-on peaches (about 5 large, ripe peaches)

2

pints

fresh blackberries

1/4

cup

all-purpose flour

1/4

cup

granulated sugar

1

teaspoon

cornstarch

1

teaspoon

pure vanilla extract

1

teaspoon

grated lemon zest and freshly squeezed lemon juice
Oatmeal crumble topping
1

cup

all-purpose flour

1/2

cup

old-fashioned rolled oats (not quick-cooking)

1/4

cup, plus 2 tablespoons

packed light brown sugar

1/2

teaspoon

fine sea salt

1/2

teaspoon

ground cinnamon

1/2

cup (1 stick)

unsalted butter, cut into small cubes

1/2

cup

chopped pecans

vanilla ice cream, for serving
Directions
For the peach-blackberry filling
Preheat the oven to 350°F. Butter a large 9 x 13-inch ceramic baking dish.

In a large bowl, toss together the peaches, blackberries, flour, granulated sugar, cornstarch, vanilla, lemon zest and juice. Pour into the prepared baking dish.
For the oatmeal crumble topping
In a second large bowl, stir together the flour, oats, brown sugar, salt, and cinnamon. Add the butter and use your fingers to rub it into the flour mixture until crumbly. Add the pecans with your fingers, and press the mixture together to create large clumps of topping.

Sprinkle over the fruit and bake until bubbling and golden brown on top, 35-40 minutes. Set on a rack to cool slightly. To serve, scoop into bowls and top with vanilla ice cream.

DO AHEAD: This can be made a day ahead and reheated in the oven. Let the crumble come to room temperature before putting it in the oven — otherwise the dish could break!