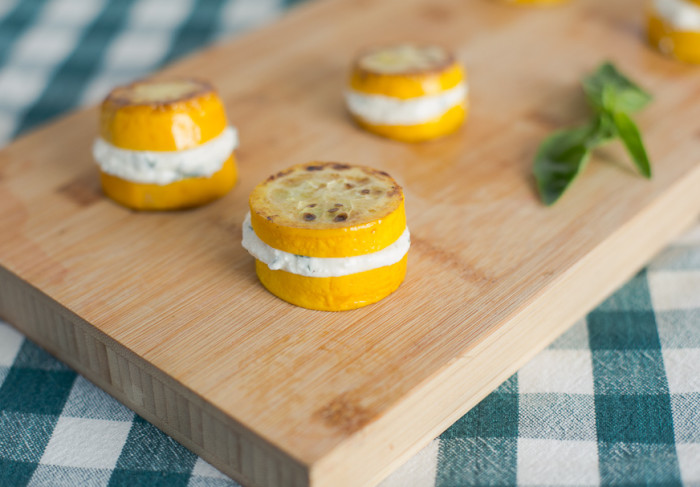 Stuffing things with ricotta is my natural instinct when it comes to excess of anything — pasta dough, squash flowers or even just the squash themselves. These little "sandwiches" are a simple way to put the summer squash glut to good useage and make the perfect crowd-friendly hors d'oeuvre or first course. I've taken down a plate of these delicious bites for lunch at breakneck speed. If you've never made your own ricotta, now's the perfect time.
One crucial tip: make sure your squash slices are slightly cooler than room temperature before you add the ricotta or it'll melt and ooze out of the sides before you can even take a decent photo of it (speaking from experience). But hey, test batches taste every bit as as good as "official" batches.
Ingredients
16

ounces

fresh ricotta

3

tablespoons

good-quality extra-virgin olive oil

juice of

one lemon

1

tablespoon

lemon zest

1

teaspoon

kosher salt

1

tablespoon

freshly ground black pepper

10

large leaves

fresh basil, rinsed, patted dry and chiffonaded

4

large

ripe summer squash, trimmed and sliced into 1 1/2-inch rounds
Directions
In a large bowl, combine ricotta, 2 tablespoons of olive oil, lemon juice, lemon zest, salt, pepper and basil. Cover and refrigerate until ready to use.
Heat the remaining tablespoon of olive oil in large non-stick pan over medium-high heat. When it shimmers, add the squash without overcrowding the pan and cook in batches, flipping after about 3 minutes, until both sides are golden brown and squash is just cooked through. Don't overcook or you'll end up with soggy sandwiches. Remove from pan and transfer to a plate.
When all the squash is cooked, slice each slice in half using a sharp knife and allow to cool to at least room temperature. You shouldn't feel any heat or see steam rising from them.
Top a ricotta slice with about a teaspoon of filling, just enough so that when you place the other slice on it looks kind of like an Oreo.
Serve at room temperature drizzled with a little extra olive oil and garnished with basil, if you like.