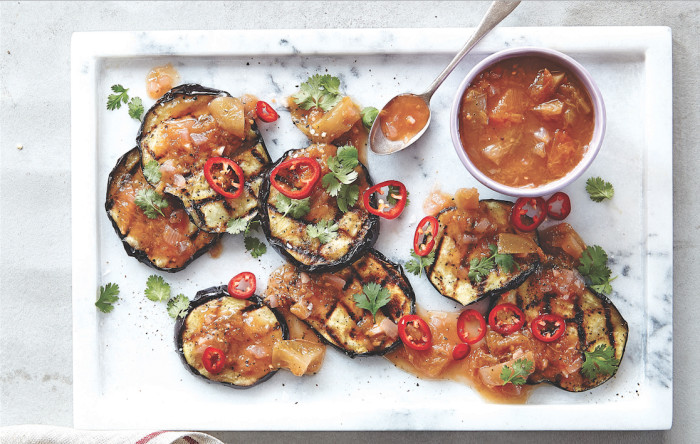 Jarden Home Brands, makers of Ball canning products, recently released a collection of recipes that every home canner needs to know. Whether you're pickling your garden bounty for the winter or canning sauces, jams and other goodies for gifts, pick up a copy of your own and prepare to be inspired.  

This end-of-summer chutney combines late-season green tomatoes with sweet ripe plums and has all the tangy, spicy notes of Thai cuisine. Serve with grilled eggplant, cherry peppers, and cilantro.

Simple Switch: Other varieties of plums, such as Italian prune plums, pluots, and green damson plums work nicely in this recipe too.

Reprinted with permission from The All New Ball Book of Canning and Preserving
Ingredients
2

pounds

red plums, pitted and coarsely chopped

1 1/2

pound

green tomatoes, cored and coarsely chopped

1 1/3

cups

diced onion (1 large onion)

3/4

cup

firmly packed light brown sugar

1/2

cup

rice vinegar

1/4

cup

fresh lemon juice (about 2 large)

2

garlic cloves, minced

2

Thai chile peppers, minced (1/2 to 1 teaspoon ground red pepper may be substituted)

1

teaspoon

salt

1/4

cup

chopped fresh cilantro
Directions
For the chutney
Bring first 7 ingredients to a boil in a 6-qt. (6-L) stainless steel or enameled Dutch oven; reduce heat and simmer, uncovered, 20 minutes or until fruit begins to soften. Add chile peppers and salt; simmer, stirring constantly, 25 minutes or until very thick. Stir in cilantro. Remove from heat.

Ladle hot chutney into a hot jar, leaving 1⁄2 inch (.5 cm) headspace. Remove air bubbles. Wipe jar rim. Center lid on jar. Apply band, and adjust to fingertip-tight. Place jar in boiling-water canner. Repeat until all jars are filled.

Process jars 15 minutes, adjusting for altitude. Turn off heat; remove lid and let jars stand 5 minutes. Remove jars and cool.