Summer Special: Num Pang's Lobster Roll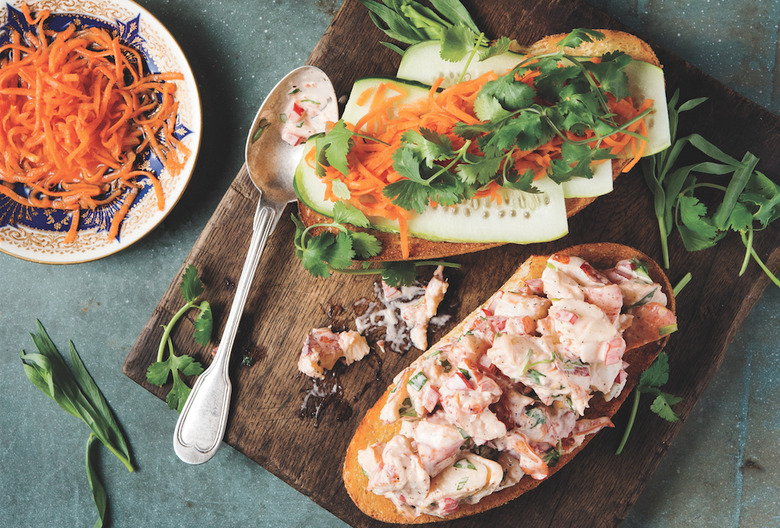 We may receive a commission on purchases made from links.
Move over, bánh mì — there's a new Asian sandwich in town. (We're kidding, there's ample room for both.) Num pang is the name of both this delicious Cambodian sandwich and the NYC shop that slings the best ones outside of Phnom Penh. Join authors and Num Pang co-owners Ratha Chaupoly and Ben Daitz in their quest to fill baguettes with inventive, delicious combinations.
Ben has a special relationship with lobsters. For the first four years of his culinary career, he literally was responsible for cooking and breaking down anywhere from 30 to 80 lobsters a day. Even though he couldn't look at a lobster for a long, long time, he is still as obsessed with a lobster-packed lobster roll as anyone else — except that his has to have Num Pang's signature special blend of flavor and crunch. So we poach the lobster in a gingery court bouillon, then combine the cooked and spice-infused lobster with red bell peppers, Thai basil, scallion, and lemongrass, and top it with our Holy Trinity of Num Pang–ness — cilantro, cukes, chili mayo, and of course pickled carrots.
Heads up: If killing lobsters makes you squeamish (yes, the most humane way is to slice straight through its brain), substitute 1 pound of raw peel-on shrimp poached in the court bouillon. Once the shrimp start to curl, transfer to an ice bath, peel and devein, then proceed. Adding a little vinegar to the lobster poaching liquid is the trick to making the lobster meat a lot easier to remove from the shell.
Summer Special: Num Pang's Lobster Roll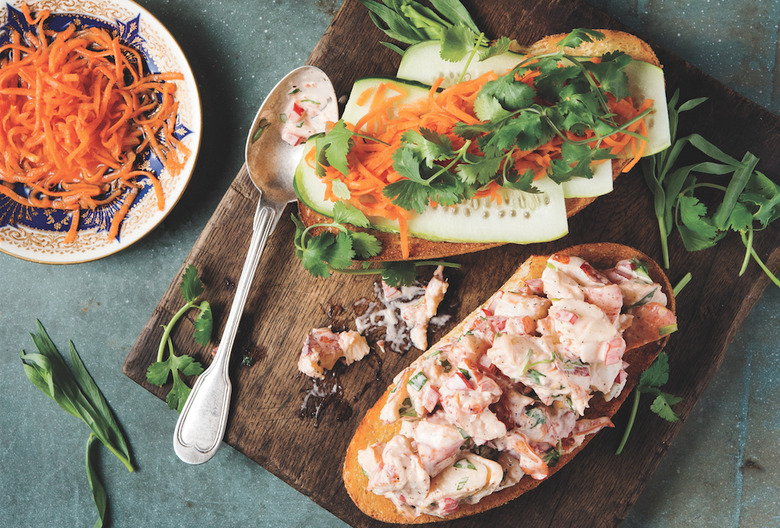 Ingredients
1 (4-inch) piece fresh ginger
4 fresh tarragon sprigs
2 tablespoons whole black peppercorns
2 tablespoons whole coriander seeds
1 lemongrass stalk
Splash of apple cider vinegar
2 (1 1/4-pound) live lobsters
3 tablespoons Most Important Chili Mayo
1 medium red bell pepper
2 scallions
2 fresh tarragon sprigs
1/2 teaspoon finely chopped lemongrass (the tender inner stalk)
1/4 teaspoon kosher salt
1/4 teaspoon finely ground black pepper
2 (6-inch) baguettes
2/3 cup Holy Pickled Carrots
8 fresh cilantro sprigs
1 medium Kirby cucumber
1 cup mayonnaise
2 tablespoons sambal oelek
1 1/2 teaspoons sugar
1/2 teaspoon kosher salt
1/2 teaspoon freshly ground black pepper
1 1/4 cups apple cider vinegar
1 cup distilled white vinegar
1 1/2 cups sugar
2 tablespoons kosher salt
4 medium carrots
Directions
:::carrots:::
In a large bowl, whisk together the vinegars, sugar and salt until the sugar and salt have dissolved. Add the carrots and stir to combine.
Let the carrots sit in the vinegar brine for at least 20 minutes before using. Taste them — they should be balanced, not very salty and slightly more sour than sweet. If the flavor needs to be adjusted, add a little more sugar, salt or a splash of water to lessen the intensity of the vinegar. Transfer the carrots and brine to an airtight container and refrigerate for up to 2 weeks.
:::mayo:::
In a medium bowl, whisk together the mayonnaise, sambal, sugar, salt and pepper. Taste and add more sambal if you want it spicier. Store in an airtight container in the refrigerator for up to 2 weeks.
:::lobster:::
Fill a large, deep pot (a lobster pot, stockpot, or canning pot all work well) two-thirds full with water. Add the ginger, tarragon, peppercorns, coriander, lemongrass, and vinegar and bring the mixture to a simmer over medium-high heat.
Fill a large bowl with ice and water and set aside. Set the lobsters on a cutting board, making sure the rubber bands are securing their claws. Working with one lobster at a time, place the tip of a sharp chef's knife above the head, just where the head meets the body (there is a natural X right at that spot — aim the tip of the knife at the center of the X), then quickly and with force slice down through the head (this kills the lobster immediately, even though its legs and claws might be wriggling). Repeat with the other lobster.
Add the lobsters to the poaching liquid, reduce the heat to medium-low, and cook until the small "thumb" of the claw can be easily pulled off, 10 to 11 minutes. Use tongs or a slotted spoon to immediately transfer the lobsters to the ice water bath. Chill until cool enough to handle, 3 to 5 minutes.
:::lobster roll:::
Remove the lobster meat from the tails and claws and chop it into large, bite-size pieces. In a large bowl, stir together 2 tablespoons of the chili mayo, the bell pepper, scallions, chopped tarragon leaves, chopped lemongrass, salt, and black pepper. Stir to combine, then add the lobster meat and gently toss to combine.
Divide the remaining 1 tablespoon chili mayo among the top half of each of the baguettes. Divide the lobster salad among the bottom half of the baguettes, then top with the pickled carrots, cilantro and tarragon sprigs, and 3 cucumber slices per sandwich. Cover with the top half of the baguettes and serve.