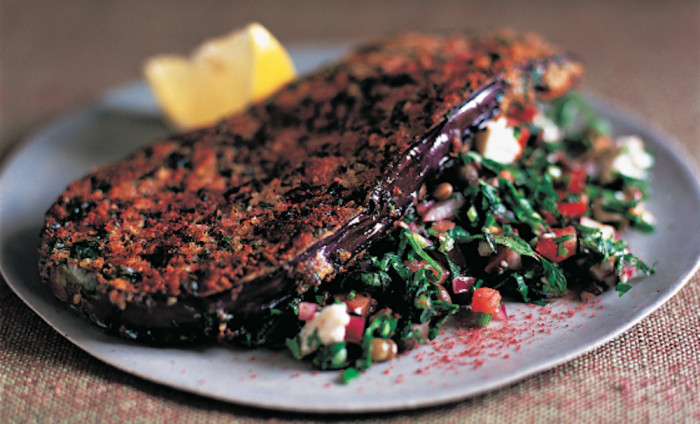 Eggplants lend themselves to all manner of flavors and textures, and just to prove it, here they are "schnitzeled" — coated and fried in a delicate mix of breadcrumbs, cheese and herbs. Sumac is available at Middle Eastern food stores. It's a bright red spice ground from dried berries and it has a tangy lemon flavor. If you can't get hold of it, just double the lemon zest instead.
Ingredients
1

large eggplant

2 1/4

cups

fresh breadcrumbs

2

tablespoons

ground sumac

1

tablespoon

Parmesan cheese, finely grated

1

tablespoon

mint, finely chopped

1

tablespoon

flat-leaf parsley, finely chopped

finely grated zest of half a lemon

sea salt and pepper

2

eggs

dash of milk

1/4

cup

all-purpose flour

olive oil, for frying

lemon wedges, for garnish
Directions
Cut the eggplant into 3/4 inch-thick slices.
Combine the breadcrumbs, half of the sumac, the Parmesan, mint, parsley, lemon zest and seasoning.
Whisk the eggs with the dash of milk and place the flour in a bowl or plate. Dust the eggplant slices with flour, dip them in the egg mix, then coat with the breadcrumbs.
Heat the olive oil in a large non-stick frying pan and fry the eggplant slowly, in batches for about 3–4 minutes or until golden brown on both sides.
Remove with a slotted spoon and drain on paper towels. Season with a little salt, and sprinkle with the remaining sumac.
More eggplant recipes on Food Republic: