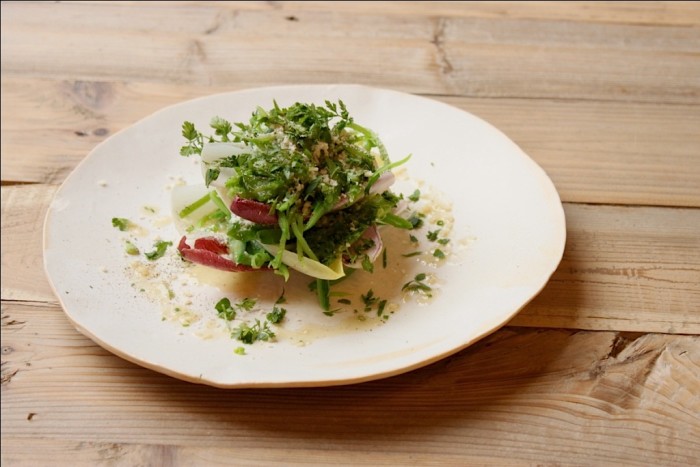 Read: From Turntables To Farm-To-Table, Dan Kluger Has Always Made Noise
Sugar snap peas are really a great versatile vegetable. A quick blanch in heavily salted water and then shocked in plenty of ice water is ideal in bringing out the crispness of the snap peas.
The crunch with the acidity and Parmesan cheese really brings all parts of the salad together. It's a really light and flavorful summer salad.
Ingredients
For the dressing
1

cup

parmesan, grated

1/2

cup plus one teaspoon

champagne vinegar

1/4

cup

lime juice

1 1/2

tablespoons

Dijon mustard

1

tablespoon

kosher salt

1

teaspoon

black pepper, freshly milled

1

cup

sunflower oil

1/2

cup

extra-virgin olive oil
For the salad
3

cups

sugar snap peas

24

leaves

red or white endive, washed and dried

4

tablespoons

chives, finely chopped

grated Parmesan

freshly ground black pepper to taste
Directions
For the dressing:
Combine the Parmesan, vinegar, lime juice, mustard, salt and pepper in a blender. Blend at high speed.
Slowly pour the oil in making sure that it emulsifies together.
For the salad:
Clean snap peas by peeling off strings along the sides.
Blanch for 30 seconds in salted water (1 cup of salt to 2 quarts water), and remove to an ice bath to cool.
Dry the snap peas, and slice into thin, vertical strips.
To plate each serving, place endive leaves in center of a plate. Top with a small mound of sliced snap peas, a drizzle of dressing, grated parmesan and herbs.
Repeat twice using endives each time. Drizzle more dressing around the plate. Finish with black pepper and herbs.