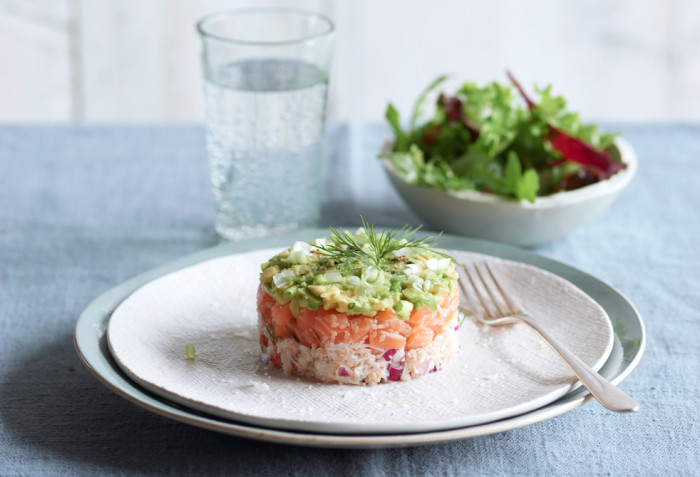 You don't have to commit to the paleo diet full time to reap its nutritional and weight-loss benefits. Pick up a copy of healthy-eating expert Daniel Green's new cookbook, Paleo Monday to Friday, and get your feet wet with this "you'd never know it's paleo" seafood stack. It's a crowd-pleaser!

This is a great dinner party dish as it's so simple but never fails to impress, and no one will ever guess you are on a diet.
Ingredients
2

6-ounce cans

crab meat, drained

1/2

red onoin, finely chopped

1

tablespoon

olive oil

A

handful of

fresh dill, roughly chopped

juice of 1 lemon

sea salt and freshly ground black pepper

1

tablespoon

sesame seeds

1

pound

fresh salmon, cubed (or smoked salmon, finely chopped)

About 4

cups

mesclun

A

drizzle of

olive oil
Directions
For the tower
Place the crab meat in a bowl with the onion, olive oil, dill, and lemon juice. Mix well, season to taste, and set aside.

In another bowl, sprinkle the sesame seeds on the salmon and mix until thoroughly coated.

In another bowl, mash the avocado with a squeeze of lemon. Season to taste, add the scallions, and mash into the avocado.

Place a pastry ring in the center of each plate and spoon in a quarter of the crab mixture, pushing it down well into the mold. Add a layer of avocado and finish with the salmon, pressing everything down so the tower will hold its shape when you remove the pastry ring. Repeat this for each serving.

Serve with a fresh green salad, a drizzle of olive oil, and a pinch of salt.