Stuffed Shells Recipe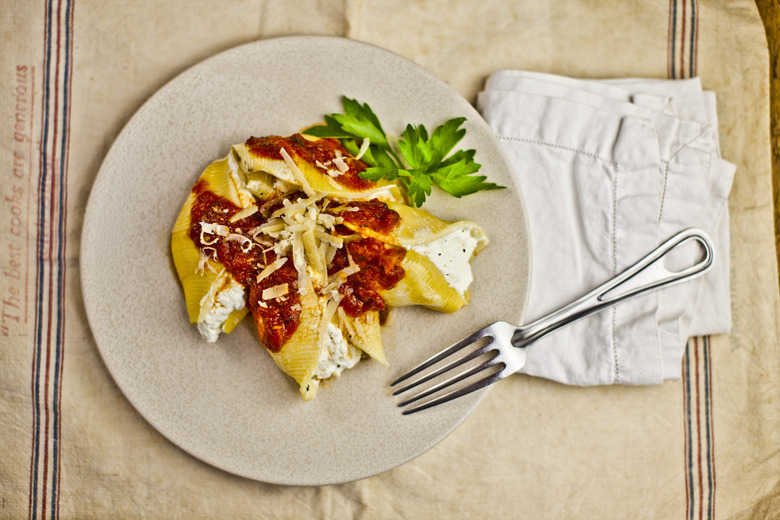 Photo: Mark Shaw
When was the last time you had stuffed shells? However long it's been, these are an awesome comfort food we're bringing back to the table. If you can't bear the thought of another frozen "lasagna" dinner, frozen (read: freezer burned) canneloni, or frozen ravioli skillfully dropped into a pot of water until it floats to the top, stuffed shells just may be your redemption shot.
This dish is pasta, ricotta and tomato sauce at its simplest, and, we think, at its finest. Use good-quality jarred marinara to save time, or try your hand at our favorite super-quick homemade version. Present these to your dinner guests and relish in the sounds of "ooh," "aah," and "I haven't had stuffed shells in years." Continue relishing, and then suggest that maybe someone else do the dishes in your honor.
Stuffed Shells Recipe
When was the last time you made stuffed shells? Filled with a blend of Italian cheeses and topped with red sauce, this is true comfort food.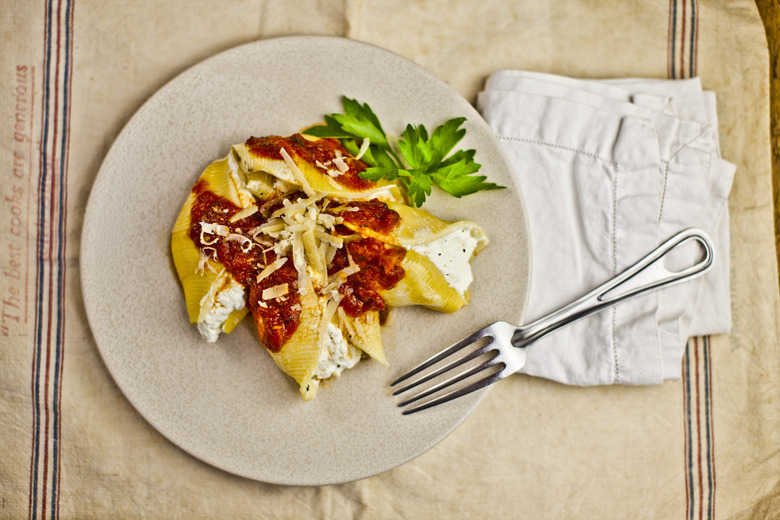 Ingredients
18 jumbo pasta shells
1 15-ounce container ricotta cheese
2 large eggs
1 cup grated Parmesan cheese
2 cups grated mozzarella cheese
1/4 cup parsley
1 26-ounce jar good tomato sauce
Directions
Preheat oven to 350 degrees.
Bring a large pot of generously salted water to boil over high heat. Add pasta shells and cook for about 10 minutes, or until al dente.
While the pasta is cooking, mix together ricotta, eggs, parmesan, mozzarella and parsley in a large bowl.
Drain shells and run under cold water to stop the cooking process.
Spoon about 3 tablespoons of the ricotta mixture into each cooked shell and arrange on a baking sheet.
Pour 1 cup of pasta sauce into a 9 x 12 casserole dish and spread so that it covers the bottom of the dish. Transfer stuffed shells to the casserole dish, arranging them side-by-side, and pour the remaining sauce on top of the shells.
Bake uncovered for 30 minutes or until bubbly.