The Moosewood Collective's Stuffed Poblano Peppers Recipe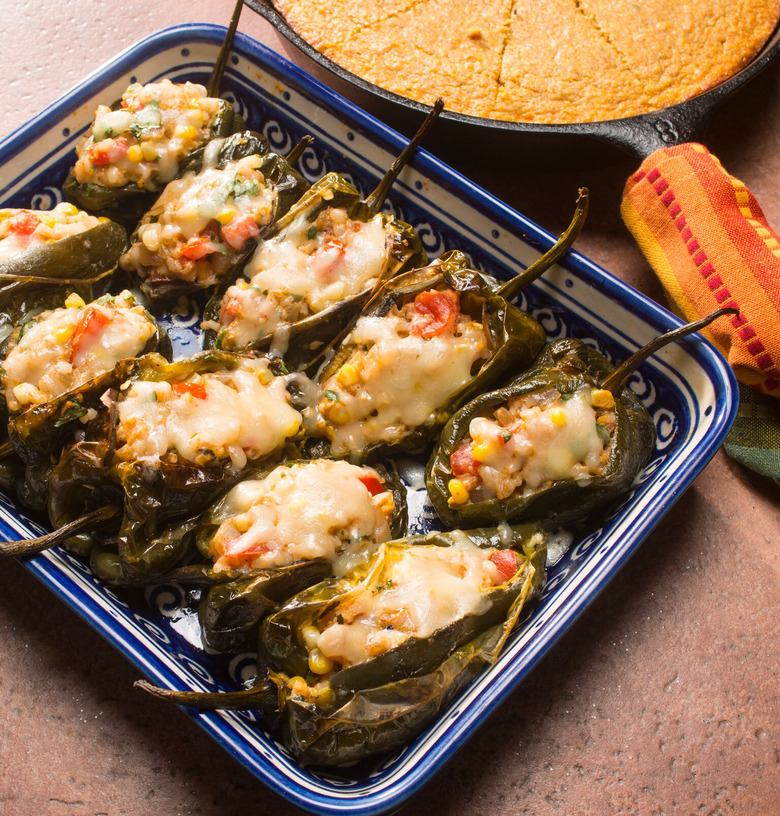 We may receive a commission on purchases made from links.
Home cooks rejoice! Renowned natural food pioneers The Moosewood Collective have a new cookbook out that will quickly become one of your favorites (as reliably happens with their phenomenal volumes). These stuffed poblano peppers are a phenomenal way to utilize fresh market produce to its fullest. 
Dark green poblanos are mild to medium hot and have a complex flavor, especially when roasted. And they are sturdy, so they work well for stuffing. Happily, they have become much more widely available in grocery stores and at farmers' markets.
The delicious filling can be used to stuff other vegetables, too. Try it in bell peppers, winter squash, tomatoes, sweet potatoes, or zucchini.
*If you don't have leftover rice, the first thing to do is cook some.
Reprinted with permission from The Moosewood Restaurant Table
The Moosewood Collective's Stuffed Poblano Peppers Recipe
These stuffed poblano peppers are a phenomenal way to utilize fresh market produce to its fullest. Thanks, Moosewood Collective!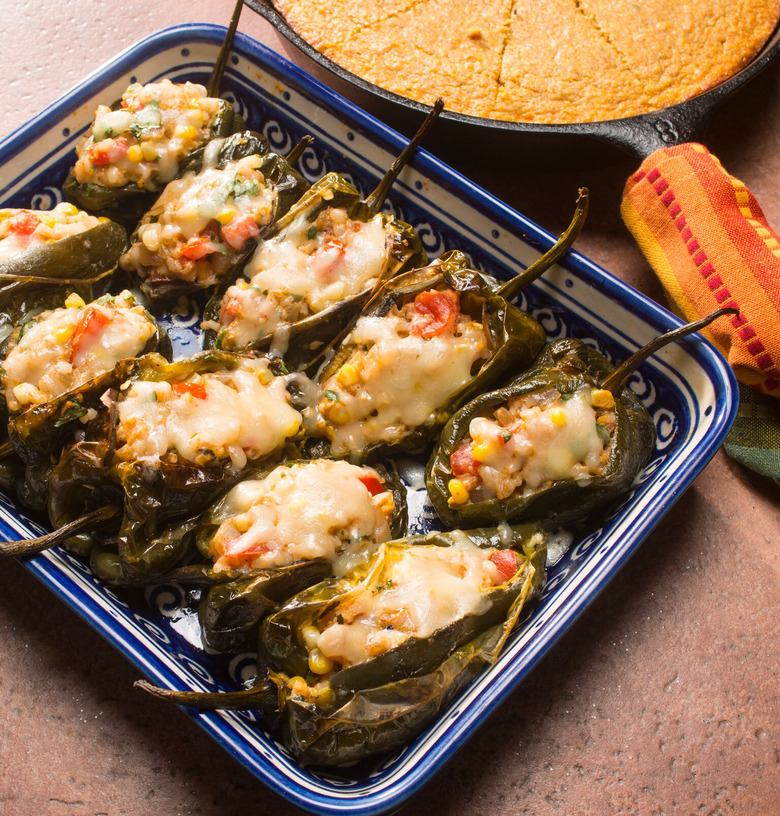 Ingredients
6 medium fresh poblano peppers
2 teaspoons olive oil or olive oil spray
2 cups chopped onions
1/2 teaspoon salt
2 tablespoons olive oil
2 large garlic cloves
2 teaspoons ground cumin
1 teaspoon dried basil
1 teaspoon chili powder
1 cup fresh or frozen corn kernels
1 tablespoon cream cheese
1 cup cooked brown rice*
1 tomato
3 tablespoons chopped fresh cilantro
1 cup shredded Monterey Jack cheese
freshly ground black pepper
Directions
Preheat the oven to 475°F. Line a roasting pan with parchment paper or brush with oil. Rub or spray the poblano peppers with oil. Roast the peppers for about 20 minutes, turning halfway through the roasting time, until the peppers are soft and the skin is somewhat blackened.
Meanwhile, make the filling: In a large skillet on medium heat, cook the onions along with the salt in the olive oil until softened. Add the garlic and cook for a few minutes more until lightly browned.
Add the cumin, basil, chili powder, corn, and cream cheese. Stir until everything is heated through and the cream cheese has melted.
In a large bowl, combine the rice, tomato, cilantro, and ½ cup of the cheese. Stir in the cooked onions and corn mixture. Season with additional salt and black pepper to taste.
When you take the peppers out of the oven, place them in a bowl and cover with plastic wrap or a plate and set aside until cool enough to handle. If any juice has accumulated in the sheet, add it to the filling. Reduce the oven temperature to 350°F.
Remove and discard any blistered poblano skin. Keeping the stem intact, make a lengthwise slit in each pepper. Gently open the pepper and scrape out the seeds. Pack about ½ cup of the filling into the cavity of each pepper; the slit should be open about ½ inch. Sprinkle the remaining ½ cup cheese on top of the filling, place the peppers back on the baking sheet, and return to the oven for about 10 minutes.