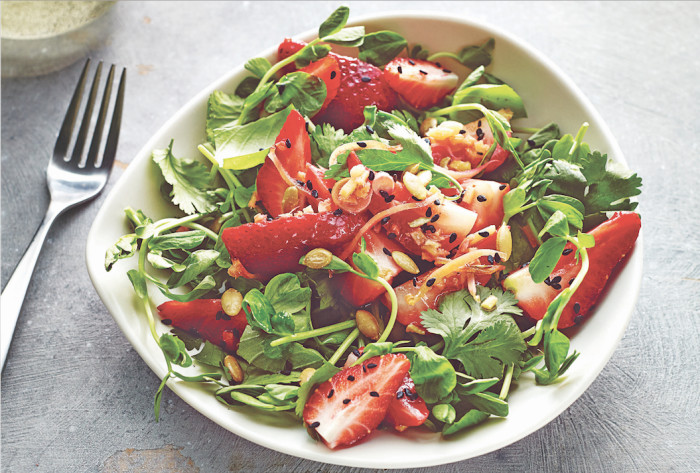 Clean and healthy cooking has never been easier, with nutrition expert Sam Talbot's new cookbook. Ditch anything artificial or processed and get ready to start from scratch. This springtastic strawberry and pea shoot salad is packed with flavor and ready to take its place as one of your favorite seasonal dishes. 
This salad is composed like a delicate serenade, but then the mixture of toasted seeds, roasted ginger and a ton of fresh herbs gives it the needed crescendo to sustain the hungriest salad eaters. The strawberries must be in season and überfresh. Fun to make, with big flavor and big color, this recipe defines seasonal perfection.
Ingredients
2

tablespoons

sesame oil

1

tablespoon

grated fresh ginger

2

teaspoons

finely chopped fresh lemongrass

3

tablespoons

roasted garlic olive oil

1/2

teaspoon

lime zest, plus 2 tablespoons fresh juice (from 2 limes)

1/2

teaspoon

fine sea salt

1/4

teaspoon

black pepper

1/4

teaspoon

chili vinegar (or make your own)

1

cup

chopped fresh strawberries

4

tablespoons

hulled pumpkin seeds (pepitas)

2

tablespoons

black sesame seeds

1

tablespoon

coconut sugar

4

ounces (about 2 cups)

pea tendrils or shoots

1/2

cup

torn fresh basil or Thai basil

1/2

cup

torn fresh cilantro
Directions
For the salad
Heat the sesame oil in a large skillet over medium-high. Add the ginger and lemongrass; cook, stirring often, until fragrant, about 3 minutes. Remove from the heat.

Whisk together the roasted garlic olive oil, zest, juice, salt, pepper, and vinegar in a bowl. Add the strawberries and sesame oil mixture; stir gently to combine.

Combine the pumpkin seeds, sesame seeds, and coconut sugar in a cast-iron skillet over medium-high. Cook until fragrant and the seeds are toasted, 4 to 5 minutes.

Gently toss together the pea tendrils, basil, and cilantro in a bowl. Add 1 tablespoon of the roasted garlic oil vinaigrette from the strawberry mixture to the pea tendril mixture; gently toss to coat.

Divide the pea tendril mixture among 4 plates. Top with the strawberry mixture. Sprinkle with the pumpkin seed mixture.