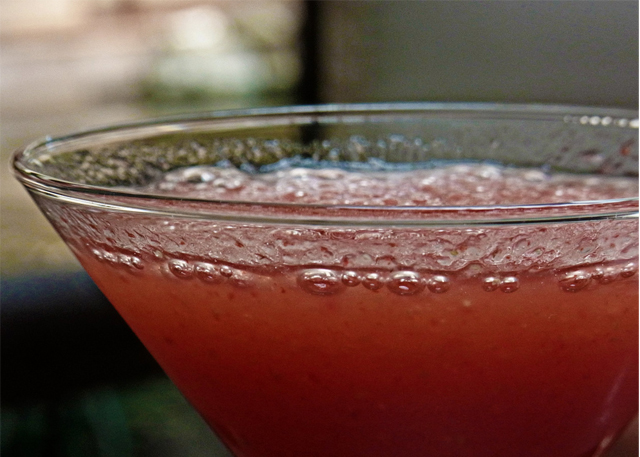 Black pepper gives this strawberry syrup a nice kick, making for a simple way to give liven up your usual vodka rocks or gin and tonic. The syrup can also be used for a non-alcoholic homemade soda or simply mixed with seltzer over ice for a great brunch drink.
Ingredients
2

pounds

strawberries, ripe, organic, washed, hulled, and halved (about 7 cups)

3 1/2

cups

sugar

3

tablespoons

orange juice, (about 1/2 orange)
Directions
In a giant mixing bowl, combine the berries with 2 cups of the sugar, being sure to coat each berry in sugar completely.
Cover the top of the berries in a blanket of the remaining 1 1/2 cups sugar. Let the berries macerate for 12 hours, stirring occasionally to help the sugar dissolve. (Setting this up after dinner and stirring periodically before bedtime is sufficient.) If necessary, cover the bowl loosely with a kitchen towel tied with string to protect the sweet syrup from insects.
After maceration, stir again to dissolve as much sugar as possible from the bottom of the bowl. Set a fine-mesh sieve over a bowl and drain the syrup into it, stirring the fruit (but not pressing on it) to release as much liquid as possible. Reserve the fruit for another use (like jam or pie filling) and taste your syrup.
Stir in the orange juice and the peppercorns and transfer the mixture to a clean, odorless glass jar with a secure lid. Refrigerate for 5 to 6 days to allow the peppercorn flavor to develop.
How to store it:
Store, refrigerated, for up to 1 month. For long-term storage, pour into canning jars and process for 10 minutes. Canned, it will keep for 1 year.
For Strawberry Black Pepper Soda:
Stir 3/4 cup Strawberry Black Pepper Syrup into 1 1/2 cups sparkling water (or any quantity in a ratio of 1:2).
Add ice cubes and enjoy (shot of gin optional).
To make carbonated soda, see
How to Carbonate It
. Drink within 3 days. Note that soda left for longer than that, even at cold temperatures, is in danger of becoming explosively overcarbonated.